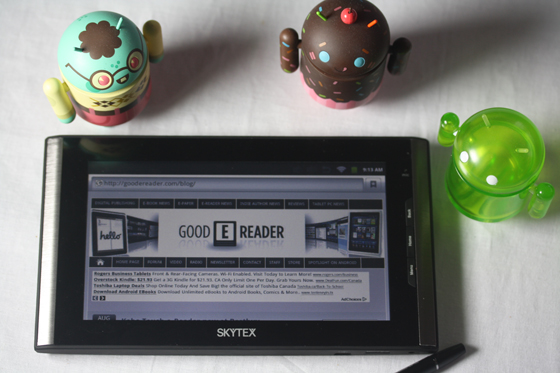 The SkyPad Alpha is the brand new Android 2.3 7 inch internet tablet by Skytex. It allows more flexibility in your tablet experience compared to their other devices. How does it rate up against other tablets on the market?
Hardware
The SkyPad Alpha features a 7 inch resistive touchscreen display with a resolution of 800×480 pixels. It has 512 MB of RAM and 4 GB of internal memory. You can enhance the memory up to 32 GB via the Micro SD card. The tablet is very fast and does common tasks fairly well, thanks to the Freescale i.MX515 ARM Cortex-A8 800 MHZ processor.
You can connect up to the internet via WIFI and it has bluetooth support. It has a mini USB connector on the bottom of the unit to plug in to your computer. When it's plugged in you can transfer music, movies, pictures, and other content to the device. Speaking of music, the speakers are on the back of the unit and even on full volume does not really provide loud audio. You want to use the bundled headphones that come with the unit and plug them into the 3.5 mm headphone jack.
The front of the unit has a clean and crisp design that stands out fairly well. It is mainly black with a gunmetal finish on the right and left hand side. It has a front facing 1.3 MP webcam and a built in mic below it for video conferencing. The back of the unit is solid black and has a hard reset button, this is used if the device becomes unresponsive. The top of the Alpha has a power button and headphone jack. While the bottom has the DC power input, Micro SD, and Mini USB connectors.
The Skypad Alpha is bundled with a fair amount of extras that put it ahead of many other competing tablets. It comes with a resistive stylus to interact with the display. It comes with headphones, DC Charger, screen wipe, Mini USB to USB adapter, and a stand.
One thing that stands out is how light the unit is. It only weighs 0.85 pounds and can be held with one hand fairly well over a few hours.
The one feature that made me very happy from the get-go was how fast switching orientation was. It instantly goes from landscape to portrait mode with ease. Many other tablets have a few seconds of delay when you switch orientation which in many cases can be a deal breaker.
In the end, this tablet is designed really well. It has enough under the hood to handle most common tasks. It looks and feels great.
Software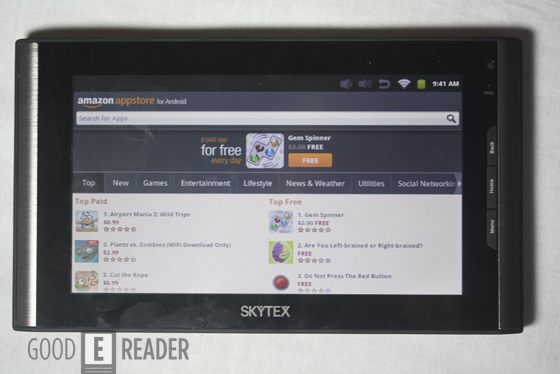 The SkyPad Alpha is running out of the gates with a fairly recent iteration of Google Android 2.3. This means you have more flexibility in crafting your own Android experience.
The Alpha is not bundled with a ton of applications when you turn it on for the first time. It does come with GetJar App Market, so you can download applications. I found the version it comes with was a bit buggy and would not let me download any applications. I used our "Alternative Google Markets" tutorial we wrote a few months ago and installed APPBrain, Amazon Android Market, and a few others to get more applications. It also comes with the Aldiko eBook reading application, so you can start reading right away.
If you purchase this device you will want to install some other e-reading applications. We have a list of direct downloads for popular stores such as Amazon, Kobo, Barnes and Noble, and more at the end of this review.
Speaking of reading, this device does a great job reading books. The 7 inch display is perfect for reading both in landscape and portrait mode. The internal processor is fast enough to handle page turns adequately. Comic books with Droid Comic Viewer also worked very well.
Of course this tablet can be used for much more than just reading. It handles a wide array of audio and video functionality right out of the box. I would recommend an application called Rockplayer and Meridian to handle all your multimedia needs. For music it reads MP3, WAV, WMA, OGG, AAC, M4A, and FLAC. Video can be used to run H.264, MKV, WMV, MOV, 3GP, MPE, and AVI formats. Video is limited to only 720 P and I did notice some artifacting with high quality videos.
The Internet Browsing experience right out of the box is not great! Mainly this is due to the device's inability to display Adobe Flash content. This disallows you from playing Flash based games or watching embedded Youtube videos on websites. This problem is VERY easily solved by manually installing Flash on your tablet via a direct download APK! It is actually fairly cool that this tablet does have the ability to self-install Flash. Many (MANY) tablets fail to let users install it on their device at all, short of rooting it.
Once Flash is installed, this tablet does give you the full multimedia experience that you want to have online with an Android device. You easily listen to podcasts, watch Youtube Videos, play games, and get the full Flash experience. The web browser that comes with it is basic and I would recommend installing Dolphin HD for maximum flexibility.
In the end, the fact that this device has Android 2.3 is a wellspring of excellence! It allows you to do Live Wallpapers and a myriad of other facets such as; better keyboard, better gaming, VOIP support, and more! Once Flash is installed the internet experience is solid, although with the default browser you cannot pinch and zoom.
Essential Apps for the SkyPad Alpha
Our Thoughts on the Skypad Alpha Internet Tablet
I have reviewed other devices put out by this company earlier this year, such as the Skytex Primer Color. The Primer is one of the best $99 investments for a entry level tablet because it reads, plays music, video, and much more. It runs on the Linux operating system so most tasks are robust. The SkyPad Alpha is in my opinion the best tablet Skytex has going for them. It is brimming with great hardware out of the box and a ton of accessories.
The overall software experience is stable with Android 2.3 Gingerbread, and allows you to do most common tasks you would expect out of a tablet in 2011. It does not have the capability to run the Android Market, but you can install a wide array of Alternative Markets to get your application fix.
The hardware is designed really well and looks like an expensive piece of machinery. I would have liked to see physical volume buttons instead of them being purely software based.
Pros
Good Build Quality
Light
Android 2.3
Nice Selection of Bundled Apps
Fast Page Turns on Books and Comics
Cons
Battery Lasts About a Day
Default Browser Does Not Have Pinch and Zoom
No Flash Support out of the Box
Getjar Was Buggy out of the Box, Preventing Downloads from Happening
Resistive Touchscreen – You Need to Be Firm or Use the Stylus Exclusively
[cincopa AsKAitqP64no]

Michael Kozlowski is the Editor in Chief of Good e-Reader. He has been writing about audiobooks and e-readers for the past ten years. His articles have been picked up by major and local news sources and websites such as the CBC, CNET, Engadget, Huffington Post and the New York Times.