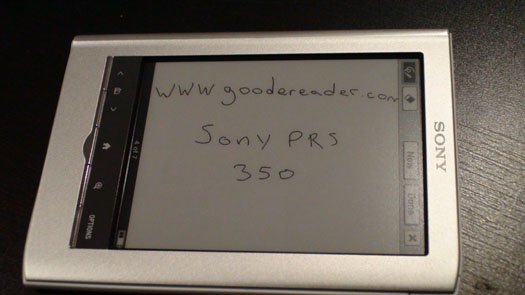 The Sony Touch Screen PRS 350 Pocket Edition is Sony's latest entry into the competitive e-reader arena, and we feel it is one of their best offerings yet.
The Specs
The Sony PRS 350 is a 5 inch e-reader which offers 16 shades of gray scale e-ink and has a resolution of 800×600 pixels. It weighs around 155 G and feels very light in the hands. It has around 2 GB of internal memory which is enough for over one thousand ebooks. It also comes with a Stylus to take advantage of the touch screen.
eBooks
Now let's talk about ebooks. The Sony e-reader allows purchases from their own Sony store, but because this e-reader does not have WIFI or 3G you will have to make your ebook purchases on your computer and then copy them to your e-reader. You can either deal with Sony's own online store, or you can purchase ebooks from other stores and copy them to your e-reader via Adobe Digital Editions. The Sony e-reader supports a ton of different ebook formats including; ePub, PDF, DOC, TXT, RTF, LRF and BBeB.
The PRS 350 allows you to read your eBooks with 6 different font sizes, it starts at small and goes to XXL. Sony seems to give you the font size selection in T-Shirt format. From our experiences we recommend the Medium setting, as it allows lots of text to be displayed on the screen.
You also have access during setup to configure the Time Zone, Dictionary Language and localization. It seems Sony only allows the UK and the USA.
Menu and Settings
The Sony PRS 350 does not have the extensive menu features that the Amazon Kindle Graphite or the Barnes and Noble has, but there is something to be said for the simplistic minimalist approach.
Firstly, lets take a look at the e-reader, in the applications menu it allows you to display a picture slide-show, which this e-reader displays pictures very crisply. It also has an option to take notes via a special handwriting tool. This allows you to take notes in long hand format. Although there are not a ton of options with this application, it does allow you to erase things by just clicking on it, and does not have different brush sizes, like Adobe Photoshop or other imaging programs. Despite this, this application provided us with a ton of fun.
In the settings menu, you can find options such as checking out your Firmware Version and other features. One of the features we really liked was the ability to switch your on-screen orientation. You can manually switch between landscape and horizontal mode. The screen itself does not orientate automatically like the Amazon Kindle DX Graphite does, but this is a boon because while reading you will not accidentally move your e-reader and change the orientation. Finally, the other application worth mentioning is the note taking one, that allows you to write notes, highlight and write things down via a full touch screen virtual keyboard.
Other options include being able to setup a date and time, different clocks, keyboard settings, menu language and more.

Summary
This e-reader is only 5 inches and is one of the lightest e-readers around, the name Pocket Edition really sums up how light and portable this newest offering from Sony really is. We like the fact, it seriously just fits in your jeans back pocket, and more portable then say the Nook, Kindle, Kobo and others.
We also compared the page turning speed vs the Barnes and Noble Nook and Kobo, and in all cases page turns with the Sony PRS 350 were quicker then their competition.
Some of the draw backs include no WIFI or 3G, so you have to load up books on your device manually on your PC, many people find this is no problem. If you are going to go on vacation or commute during the day, you will have a ton of books on your device that you can choose from.
This model is perfect for the person on the go, with e-ink you can read perfectly under direct light and will receive no screen glare. The Silver edition we tested out, looks really polished and professional. This is a great piece of equipment that looks sexy, while menus, books and everything loads super quick, and is worth the $200.00 + price tag.
If you want to purchase this e-reader, you can buy it from our new retail partner Shop e-Readers. All sony e-readers come with 100 free ebooks, a DVD Video Tutorial disk that teaches you how to use your device, load ebooks and shows you step by step every single menu option and setting option. This e-reader makes the perfect holiday gift.
[cincopa AUCAaR6no-I6]

Michael Kozlowski has been writing about audiobooks and e-readers for the past twelve years. His articles have been picked up by major and local news sources and websites such as the CBC, CNET, Engadget, Huffington Post and the New York Times. He Lives in Vancouver, British Columbia, Canada.