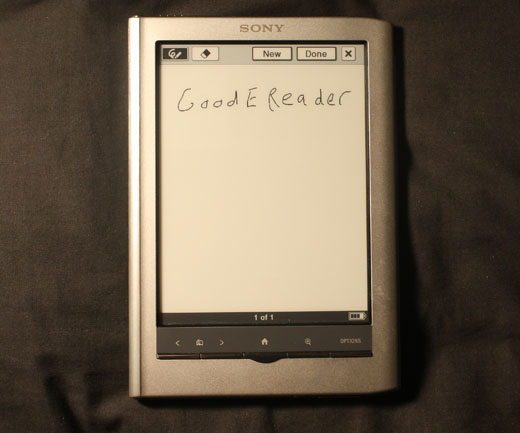 Welcome to another Good e-Reader Review! Today we take a look at the new Sony PRS 650 Touch edition.
This new offering from Sony is the follow up to the original PRS-600 and was just released a few weeks ago. This model is comparable to the Sony PRS-350 Pocket Edition.
Specs
The Sony PRS-650 features a 6 inch e-ink touch screen, with 16 levels of grey scale. It has a built in storage capacity of 2 GB, which means it can store up to 1200 ebooks. It also has dual memory upgrades, which is unique in e-readers! It has a SD Port and a Memory Stick MS DUO. This means you can enhance your memory to more then 32 Gigabytes. This device does not have WIFI or 3G so you will have to download your content first to your computer and then to your e-reader.
You interact with your device via the stylus provided and can leave your e-reader on for up to 2 weeks without a battery recharge. We found from checking the unit out, that is very responsive not using the stylus and using your fingers to open up menus and options.

eBooks and media
This device reads a ton of different ebooks formats, such as ePub, LRF, PDF, Doc, TXT, RTF and more! With the ability to read tons of ebooks, you are not relegated to just doing business with the Sony Store. You can make purchases from any company that distributes their ebooks in ePub format, which is really the industry standard. You can buy easily from Barnes and Noble, Kobo, Borders. You can also deal with independent companies such as Smashwords and iPulpfiction. You also have the ability to get ebooks with your local library which is a solid way to get free content.
There are some subtle differences with the Sony PRS-650 vs the PRS-350 e-Reader. The 650 allows you to listen to audio books and music. Both models have the ability to load pictures on your device, as JPG, GIF, BMP, PNG and others. The supported audio formats are AAC and MP3, but the device has trouble with DRM audio content. Both models have the ability to take notes, via the stylus or with the virtual Keyboard. Both models also have the exact same page turning speed and high degree of contrast.
When you are reading an ebook, you can hit the Magnifying Glass option and have the ability to zoom into any display. You can also select up to six font sizes, from XS to XXL for font size increases. This is perfect if you wear glasses, or want to read on a larger font setting.
You also have the ability to bookmark pages and switch back to them on the fly. As well, you can make annotations to highlight passages on screen.
Finally, the device comes bundled with no real ebooks to speak of, but you do have a 19 page excerpt from Harlan Cobans new book "Caught". It does come bundled with 12 different dictionaries, and 12 translation dictionaries.
Other Features
You can see from our pictures that we reviewed the Silver model, but it does come in Black. The device is only bundled with a Mini USB to USB cable that allows you to plug it into your computer to charge it. The device is very light, and only weighs 220 grams.
Our Thoughts
This is one great e-reader! The page turns are super quick, and when we compared the Sony to the Nook we found the page turns more responsive, as well as the Kobo, and Sharper Image Literati.
Being a pure touch screen device means it weighs less and is more portable then its competition. Most other e-readers, although their screen size is 6 inches the device itself is much larger. If you look at the Amazon Kindle line of e-readers, they all have full QWERTY keyboards, so the device is larger than the Sony to take account these design factors. Even the Nook has a dedicated color touch screen at the bottom, which makes it much larger.
The Sony PRS-650 is one portable device, and is easily more transportable than most of its competition. The PRS-350 basically fits into your back pocket completely, where as this one does not.
We highly recommend the Sony PRS-650 if WIFI or 3G are not essential in your day to day operations. This may be a real big deciding factor in some people's buying decisions. We found that the perks in reading, holding a large amount of books, and being one hell of a sexy device makes this a must purchase.
If you would like to purchase this e-reader, please visit our retail partner Shop e-Readers! Because the Sony does not come with ebooks, they will give you 100 free ebooks in ePub format!
[cincopa AgFARQq4ArMj]

Michael Kozlowski has been writing about audiobooks and e-readers for the past twelve years. His articles have been picked up by major and local news sources and websites such as the CBC, CNET, Engadget, Huffington Post and the New York Times. He Lives in Vancouver, British Columbia, Canada.