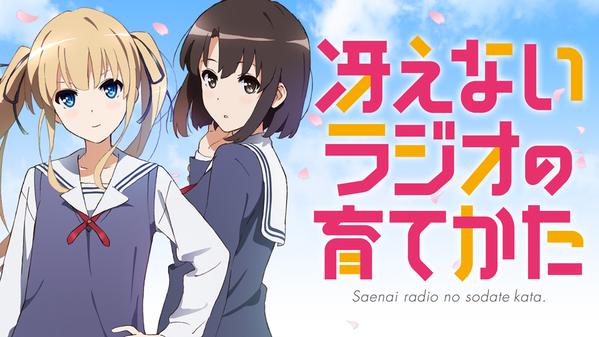 Fans of Saekano: How to Raise a Boring Girlfriend, can be happy to know that that the anime adaption of the light novel series has been green lit for a second season. The good news was announced at an event on Sunday that production will begin for the romantic comedy and the official website now confirms the sequel series. Sadly, there are no further details to that have been released such as release date or format of the sequel series, but we will just have to be patient for more news on the popular show!
The original light novels, with illustrations by Kurehito Misaki, revolve around Tomoya Aki, an Otaku who is working part time to earn money to buy anime on Blu-Ray. On his way home from Spring vacation, Tomoya meets a beautiful young girl ad eventually models the heroine of his own game after. A month later, he learns this mysterious girl is actually a classmate of his named Megumi. Having no artistic ability or writing skills, Tomoya asks ace art club member Eiri Spencer Sawamura to provide the art as well as honour student Utaha Kasumigaoka to write the scenario. With they be able to produce a decent game for Comic Market?
The first season began airing in January in Japan on Fuji TV's Noitamina programming block. Aniplex of America liscenced the series and streamed it on the popular Aniplex Channel, Crunchyroll and Hulu! A PS Vita game based off of the anime shipped last week in Japan!

Thi Lathi Chao is a graduate from Vancouver Fine Arts College and reports for Good e-Reader on all of the latest anime and manga news. In her off hours, she is enamored with playing games, drawing and writing short stories.