We begin a new series at Good E-Reader Blog entitled The E-Reader Wars! We will pit two electronic reader devices against each other, and one shall reign supreme to face the next challengers! There will be two categories for this war, Slates such as the Apple I-PAD, HP SLATE, Notion Ink Adam and E-Readers such as the Kindle, Alex, Nook, Asus and more!
Today's Main Event – The Spring Design ALEX VS the Asus 950
Introducing First the Spring Design Alex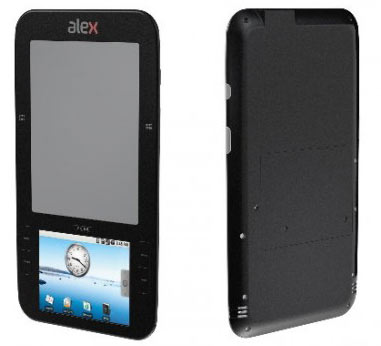 The Spring Design Alex features Dual Screens, one of which is a full color bottom touch screen which is about 3.5 Inches and a 16 BIT 6 Inch Main Screen which displays monochrome E-INK. This device is powered by an Google Android Operating System and has a solid web browser to deliver a great user experience. You can type out your search queries on the virtual keyboard or tap to select and open a web site for more information, and browse Blogs, Social Networking sites and more!
Spring Designs Internet connection speed features 3G WI-FI and supports EVDO/CDMA and GSM, you can use this device via WI-FI anywhere in the world. It gets its books from a partnership with Google Books. Its battery life will support your quest as it will last up to two weeks, tremendous stamina for a long hard fight ahead VS.
The Asus 950 E-Reader
The Asus 950 features one single screen, but is a large heavy weight at 9 inches and features screen resolution of 1024×768 giving you one crystal clear image. The Asus 950 does not use E-INK like its rival for this match, it uses SiPix Microcup electronic paper, which purports to be more a more energy efficient, brighter picture and giving you the illusion of colors, such as reds, blues, greens and yellows.
The Asus 950 will offer RSS feeds, translation and text to speech. It'll also pack 2 or 4GB of internal memory and an SD slot, Wi-Fi and HSDPA and a USB port for side loading, a 3.5m audio port for music. The Asus DR-950 will support PDF, TXT, Audible, MP3, ePub, HTML, JPEG, GIF, PNG and BMP file formats. It has formed a partnership with the Barnes and Noble Book Store.
The Match Begins!
Standing in the right corner, we have the Spring Design Alex! Standing in the left corner we have the Asus 950!
They begin by sizing each other up, both devices are of similar size, then the Asus does something the Spring Design Alex cannot do, and poses in Landscape mode! The Crowd Cheers!
The Alex Counters by pulling up Google and typing in the Goodereader.com website! The Crowd roars with approval! The Asus 950 is not phased at all by Spring Designs posturing with the bottom screen color touch screen, and screams at the Alex, "did not I already see this feature in the Barnes and Noble Nook?" OH, OH! He did not just say that? OH YES HE DID!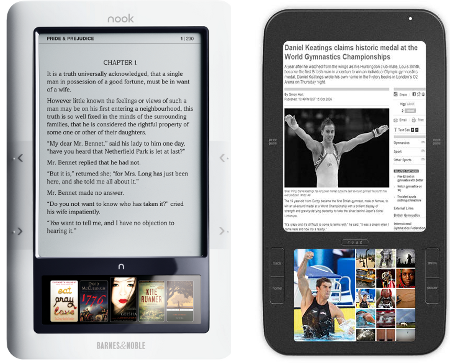 This enrages the Alex, as its parent company was involved in a pricy law suit with Barnes and Noble which delayed both of their releases for the 2009 Christmas Holiday season. The Alex mindlessly charges at the Asus 950 then stops in horror, as the Asus pulls up the Barnes and Noble Bookstore and buys a book! The Spring Design cannot bear the to look, first the lawsuit, now this e-reader has the audacity to purchase books! The Alex momentary recoils, until it to buys a book from Google Books, then Boarders!
The Spring Design on the offensive launches a succession of custom applications powered by Android Developers, it dropkicks with a stereo mp3 track as it throws a mighty haymaker while calculating the Asus odds of victory with a built in Calculator!
The Asus 950 is feeling bruised and battered, but it catches a second wind with its battery life and distracts the Alex with 16 different shades of monochrome colors from its single large screen, like a rake to the eyes. The loyal brand followers of Asus roar with approval while the small cheering section of young Spring Design try and rally their champion.
The Asus nimbly slides behind his dazed foe, using its slender 13.1 ounce weight and winds up to deliver the quintessential knockout punch, with its full sized touch screen body and bear hugs the Alex.
The Alex looks beat, until it receives Emails and twitters of support by its legions of fans! He shakes off the Asus bear hug and delivers a knockout blow empowered by its web driven multi-media content! The Asus Falls! And it is ALL OVER!
After Fight Words!
The Spring Design Alex, although two screens is clearly the winner of this battle. The fact that it can get emails, load up any web page, bookmark and save content and read the next generation of online books mixed with HTML and multi-media content is the clear winner! The Android operating system is a boon, as many independent applications are being made for it, and we will see many interesting possibilities down the road!
The Asus 950 with a large 9 inch touch screen put up a noble fight, but its closed system and lack of features make it a secondary contender for the next breed of Electronic Reader champions!
The Asus 950 hangs its head in shame and walks to the back, as the Spring Design Alex basks in the limelight of glory! But… Waiting in the Wings is a new challenger! Who can it be? Stay tuned! Who do you think should have won this battle? Have your say in the comments below or visit our e-reader forum for the latest e-reader news
Michael Kozlowski has been writing about audiobooks and e-readers for the past twelve years. His articles have been picked up by major and local news sources and websites such as the CBC, CNET, Engadget, Huffington Post and the New York Times. He Lives in Vancouver, British Columbia, Canada.