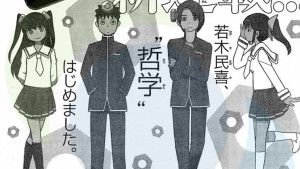 With the end of the popular manga, The World Only God Knows by Tamiki Wakaki last June, fans were at a loss and craved more romantic hilarity. But never fear, this year's 12th issue in Shogakukan's Shonen Sunday magazine, Tamiki Wakaki announced that he will begin a new manga series titled Neji No HitoBito (The Screw People). The new manga will appear in Ura Sunday Manga website on the same day as the announcement.
The story follows a high school student, Yamato Nena, who has many worries that continue to resurface. "Just who am 'I,' who is nothing at all?" No other information has been released but from the sound of the small excerpt, it sounds like the new manga will go towards a different genre, but regardless, we are all looking forward to the new story!
The World Only god knows ended last June at it's 26th volume which inspired three TV anime series, an original video anime (OVA) episodes. Sentai Filmworks has also licenced all the anime projects for a North American release!

Thi Lathi Chao is a graduate from Vancouver Fine Arts College and reports for Good e-Reader on all of the latest anime and manga news. In her off hours, she is enamored with playing games, drawing and writing short stories.