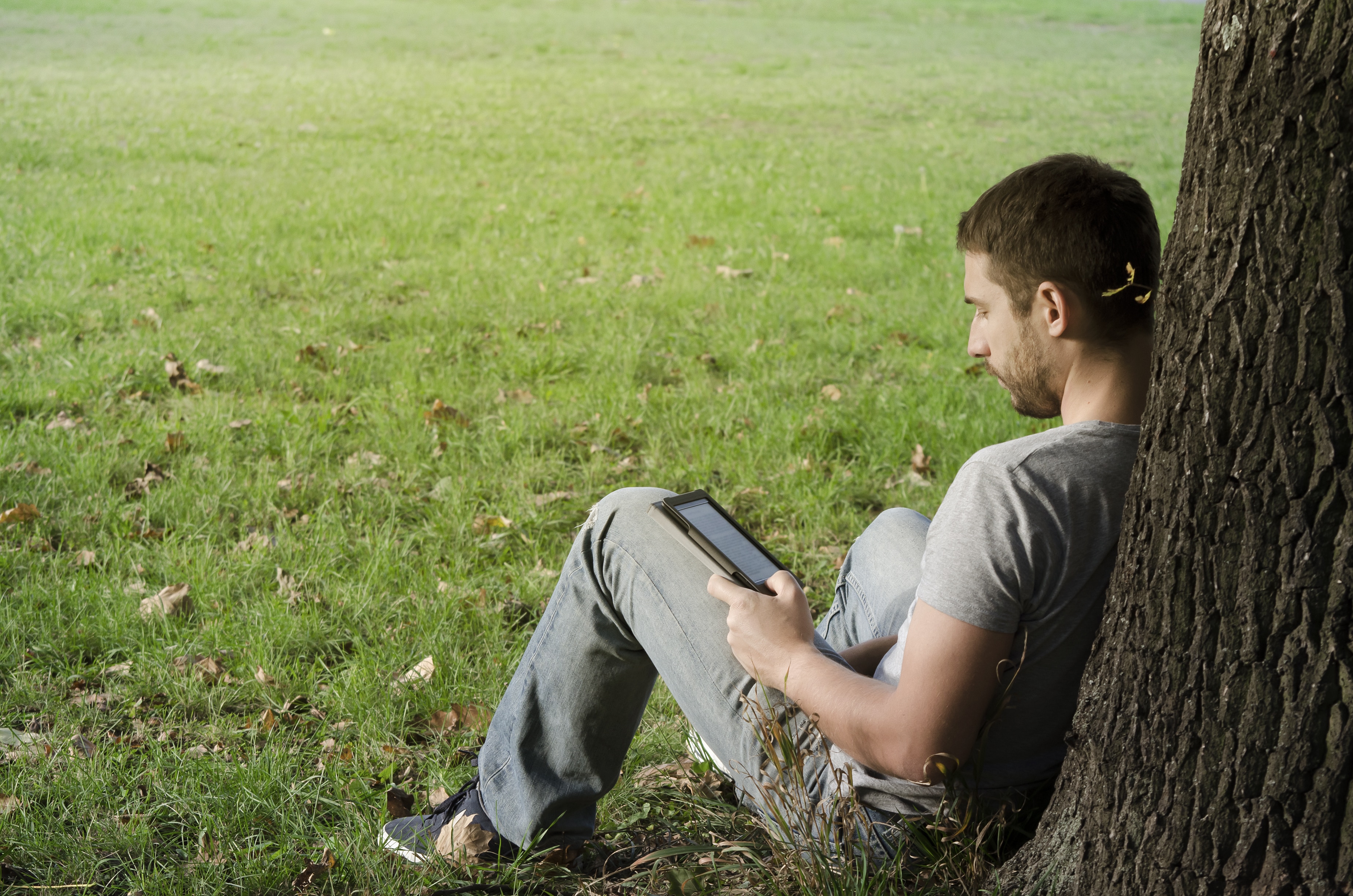 Summer is right around the corner and there have been dozens of new e-readers to choose from. Whether you are at the beach, at the cabin or just chilling at home, what e-readers would be ideal? Good e-Reader has compiled a comprehensive list based on our reviews that answer the question, what are the best e-readers for summer 2019?
The Kobo Forma has a giant 8 inch capacitive touchscreen display with a resolution of 1440 × 1920 and 300 PPI. Many e-readers are using Carta HD or Mobius for the screens, but Kobo is using both. Now you might be wondering, how is this e-reader using two different screen technologies at the same time? The spec sheet for the Forma mentions that it uses both Mobius and Carta HD. Like most display technologies, E Ink displays use an active matrix thin film transistor (TFT) backplane. The TFT backplane is an array of transistors that are typically deposited on a piece of glass. These transistors control each pixel on the display. The layer on top of the TFT backplane determines the actual display type (e.g. E Ink, LCD, OLED, etc.). In the case of E Ink, this layer contains the actual ink particles that creates the image. The Carta technology is the latest version of this layer and determines the optical properties, such as contrast ratio. The Mobius technology replaces the glass TFT backplane with a flexible plastic TFT backplane. This plastic backplane is thinner, lighter and stronger than glass backplanes. This in turn enables Kobo Forma's lightweight and ergonomic design. Kobo claims that by using Mobius the e-reader is 15% lighter than the Kobo Aura One and weighs 197g.
Underneath the hood is a Freescale/NXP IMX6 Solo Lite 1 GHZ processor. It has 512MB of RAM and has two different storage options, 8GB and 32GB. The 32GB version initially will only be available in Japan, but it should have wider availability in more markets next year. Choosing the right storage option is important, because the Forma does not have expandable storage via an SD card. It also has a power button and USB port for charging.
The Clara HD features an E-Ink Carta HD display with a 300 PPI display. The screen is not flush with the bezel, but there is a small dip. There is a USB port and power button on the bottom and the rest of the sides have nothing on them. The back of the Clara has a neat perforated design that makes it easy to hold and a high degree of grip.
Underneath the hood is a 1GHZ Freescale Solo Lite processor, 512MB of RAM and 8GB of internal storage. Kobo has suspended expandable storage a few years and there is no Micro SD on the Clara HD. In order to conserve memory you have a number of options in the settings menu to automatically delete books from the device when you are finished reading them and you can do the same thing with Pocket articles. Speaking of Pocket the Kobo experimental browser also has Pocket integration, so you can save Pocket articles directly on the e-reader, instead of exclusively relying on the plugins for Chrome or Firefox.
The Clara HD has a front-lit display that might be one of the best ones Kobo has ever released. It has even light distribution thanks to the 8 white LED's and the Comfortlight PRO system has 7 orange LED's. If you turn both the front-lit display and the Comfortlight on, all of the LEDS work in concert and it provides a really bright and vibrant reading experience. The comfortlight has an automatic setting that does not use an ambient light sensor, instead of relies on the time of day and your time zone to automatically configure itself. Auto brightness is optional and can be completely turned off, you don't need to use it if you don't want to.
Amazon Kindle Paperwhite 4 – $119
The Paperwhite 4 features a 6 inch E Ink Carta HD capacitive touchscreen display with a resolution of 1072×1448 and 300 PPI. Amazon is using a plastic-backed 300ppi E Ink display, but it isn't E Ink Mobius; it's the company's own design and it is made of plastic, not glass. The screen is completely flush with the bezel and this is done because it is the first Paperwhite that is waterproof with IPX8 certification. This means you can read in the bathtub or at the beach. It is also immune to spills such as coffee or tea.
This InkPad 3 features a 7.8 inch E Ink Carta display with a resolution of 1872×1404 and 300 PPI. It has a front-lit display with 10 white LED lights and 9 orange. I was surprised on how good this new Pocketbook ereader performs in low light conditions or complete darkness. I think this is primarily attributed to Pocketbook using new white LED's than previous models, such as the Pocketbook Touch HD 2.
One of the big advantages of the smartlight/warm light display i s that you can mute the bright white screen into various degrees of orange. Pocketbook really hit a homerun with being able to really configure this experience, resulting in a ton of different options to warm up the screen. This is the first e-reader to really get this right.
Underneath the hood is a 1GHZ dual core processor, 1GB of RAM, 8GB of internal storage. There is a MicroSD port to enhance the storage up to 32 GB. This device does not have a 3.5mm headphone jack or a speaker, but Pocketbook has pioneered the concept of an audio dongle that plugs into the Micro USB port and has an audio output. This allows you to listen to audiobooks, music or podcasts. The InkPad 3 also has a text to speech engine, so you can initiate this function and have your books read aloud. The default is English, but there are 15 language packs to download from the main Pocketbook website.
The Pocketbook Touch HD 3 features a 6 inch E Ink Carta HD screen with a resolution of 1440X1080 and 300 DPI. It has a front-lit display to read in the dark and also a color temperature system that warms the screen up. I am pleased to report that both the front-lit display and glowlight work wonderfully. There is little to no light bleeding on the edges of the screen.
In order to initiate the front-lit and glowlight systems you need to hit the top bar and a dropdown menu appears. You can independently adjust the lighting system with a slider bar, or just turn them both off. This menu is also where you can sign into your wireless network or connect up Bluetooth accessories. There is also a sync button which will query the Pocketbook servers for firmware updates.
The Touch HD has an IPX7 rating, so it will survive being completely submerged for around 30 minutes and will also be immune to dumping liquids on it. This is great if you are looking for a $149 dollar e-reader to take with you on vacation.
Underneath the hood is Dual Core 2.1 GHZ dual core processor, 512MB of RAM and 16GB of internal storage, but does not have an SD card. One of the big selling points behind this device is the audio support. Integrated audio features are available via an accompanied micro USB audio adapter and Bluetooth wireless connection. The PocketBook Touch HD 3 supports both mp3 and m4b audio formats, providing a convenient opportunity to listen to and bookmark your audio books. The Text-to-Speech function converts text into voice and allows the e-reader to read aloud any text file from the device's supported formats.
Professional e-Readers
The Note PRO features a 10.3 inch E-ink Mobius and Carta display and a resolution of 1872×1404 and 227 PPI. It has a WACOM screen for the stylus and a capacitive touchscreen for interactions involving swipes and gestures. The PRO will also feature the same glass based display as the Note Plus, so the screen will not get damaged no matter how hard you press on the stylus, and doesn't really need a screen protector. It also has a front-light and color temperature system.
Underneath the hood is a 1.6GHZ quad core processor, 4GB of RAM, 64GB of storage, dual speakers, mic, Bluetooth 4.0, USB C and WIFI. Onyx was the first e-reader company to employ a quad processor and it dramatically increases the performance of navigating around the device, surfing the internet, turning the pages of a book or using Android apps.
The Boyue Likebook Mimas features a 10.3 inch capacitive touchscreen display with a resolution of 1872×1404 and 227 ppi. It comes with a WACOM enabled screen for stylus interactions, but it also has a capacitive touchscreen for interactions and gestures. This is useful for swiping pages of an ebook or playing casual games.
Underneath the hood is a 1.5GHZ Rockchip RK3368 Octa-core , 2GB of RAM and 16GB of internal storage. It has an SD support, which is capable of reading cards up to 128GB. It will be powered by a giant 4700 mAh battery and have USB-C for charging and transferring of data.
The Mimas also has audio functionality via the two speakers on the bottom of the device, next to the status indicator light and the MicroSD port. The positioning of the speakers on the Mimas is actually very interesting, because all other e-readers who have speakers, put them on the bottom, so the sound is muffled. I feel that the speaker positioning is very much akin to the way Apple does it with the iPad or iPhone.

Michael Kozlowski is the Editor in Chief of Good e-Reader. He has been writing about audiobooks and e-readers for the past ten years. His articles have been picked up by major and local news sources and websites such as the CBC, CNET, Engadget, Huffington Post and the New York Times.