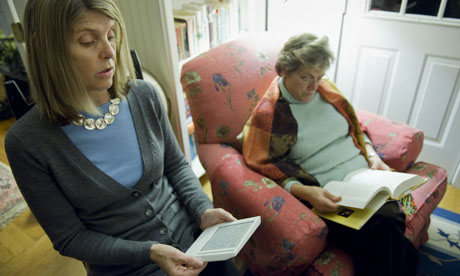 If you want to start or join a book club, you don't have to look much further then your local Meetup.com or Craigslist. Digital Book clubs, are a little bit harder to find because of some major technical aspects and mainstream companies like Amazon, Kobo, and Barnes & Noble have never offered their own programs.
The Tangible book is a social experience, you can loan them out to friends or bring them to book club meeting. eBooks for the most part can't be loaned out, although B&N and Amazon have select titles you can loan out once during the lifetime of the book and only for two weeks. Most digital books also don't have real page numbers, some apps support it and some companies support it, but its not a viable solution that works on different apps and across different platforms.
Sony is the only company right now with a digital book club, which is called The Sony Readers Book Club It basically allows readers the ability to participate in LIVE chats via Facebook and Twitter with each author, access bonus material, and enter for a chance to become a VIP member to attend an in-person events.
There is one book a month that Sony promotes, but does not give any discounts on the titles. The first eBook that kicked off the program was Laini Taylor's Daughter of Smoke and Bone. Flight Behavior by Barbra Kingsolver which was available on January 16th, the latest one was The Black Box by Michael Connelly, which started on February 16.
You would figure that major companies that sell eBooks like Amazon or Barnes and Noble would have started a program ages ago. It really seems to me that the big boys don't really care much about new programs or innovation, as much as just maintaining the Status quo.
If a major online retailer of eBooks hired me today to organize a solid long term program that acted as a digital book-club, here is what I would do. First of all, I would charge a small monthly fee that people would pay in advance for one full year. This would have a selected major eBook title delivered to your e-reader or tablet every single month without fail. It does not make sense to buy a title independently, because its extra work. I would also allow people who bought into the membership program to vote on a list of five titles to see which ones would be the selected edition for the next month. This would encourage interactivity and great arguments on what people consider to be the best book of the bunch.
Next, each author participating in the program would do a live Spreecast, that would occur at the end of the month. This would give everyone a chance to have read the book already and talk to the author live. We have organized many Spreecasts in the past with the likes of H.P. Mallory and Isaac Marion. People love to be able to show up on camera and talk to the author, or just engage in text based discussion.
Social Media elements are a huge factor, and obviously the easiest solution were to be to take advantage of a Facebook Group devoted to the event. This could be a sub-group of the companies main profile and would not only give a unified place for all discussion to occur but also attract new people to the brand. I would offer the creation of a forum, but no major e-reader company maintains their own.

Michael Kozlowski has been writing about audiobooks and e-readers for the past twelve years. His articles have been picked up by major and local news sources and websites such as the CBC, CNET, Engadget, Huffington Post and the New York Times. He Lives in Vancouver, British Columbia, Canada.