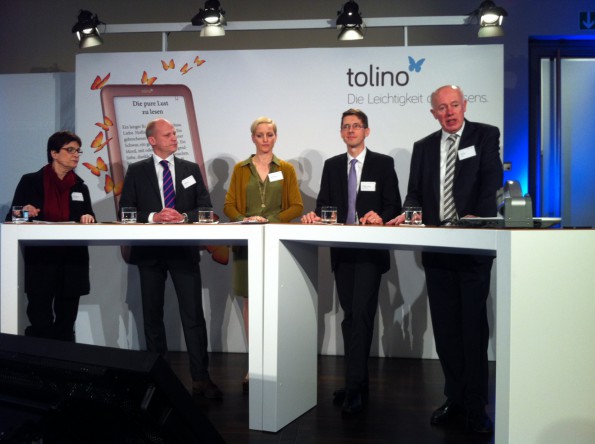 At a massive event in Germany, a new e-reader was announced today that should gain a massive amount of traction due to the companies involved in the development and distribution. The Tolino Shine e-Reader is the joint offering from Hugendubel, Thalia, Bertelsmann Club, and telecom. This new e-reader will feature an illuminated e-ink display screen, much akin to the Kindle Paperwhite.
The e-reader is available right now for pre-order and will be sold in all of the Thalia bookstores, Weltbild, Hugendubel, Bertelsmann Club, and Deutsche Telekom shops. Over 12,500 stores will be carrying this new reader and when you're connected to a hotspot offered by Telekom, you will be able to get free audiobooks. These are some of the largest companies in Germany that will be selling this device. The alliance that was forged today is truly remarkable. Under the leadership of Deutsche Telekom, the parties want to exert pressure on e-commence giant Amazon. Weltbild chief Carel Halff said at the press conference that "The future of the German book industry must start with us and not a U.S. company."
The Tolino Shine features a six inch e-ink Pearl display with a resolution of 1024×758 pixels. You will be able to garner around seven weeks of battery life and store 2,000 ebooks on it with 4 GB of storage. If you need more memory, you can upgrade it via the Micro SD card. It primarily will read EPUB and PDF files. It does have support for Adobe Digital Editions, so you can read books you purchased from other stores. It will also be running on the Google Android operating system, so it will only be a matter of time before diligent German hackers end up rooting it.
There is a massive ebook store bundled on the device and can be accessed via WIFI. Over 300,000 ebooks are available and 25 GB of cloud storage is given to each owner to store audiobooks and other media. The Tolino Shine will ship March 7th and retails for €99. It is seeking to compete with the Cybook Odyssey HD with Frontlight and the Amazon Kindle Paperwhite in Germany.