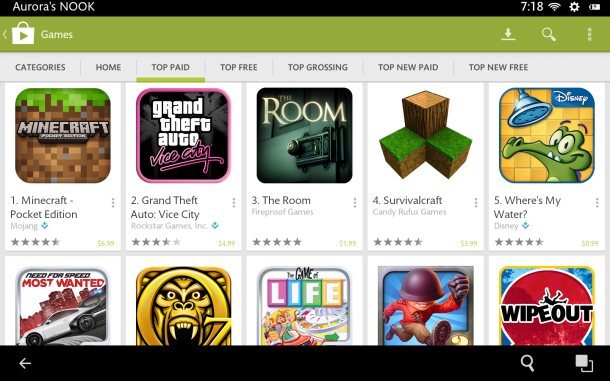 Barnes and Noble announced a few weeks ago that the entire Nook HD Tablet line will get full access to Google Play. We have heard from many readers that they intend to buy one for the first time, or decided to stick with their device because of this new enhancement. Google Play gives international users a viable ecosystem of content to tap into, and for the first time, you can use the Nook outside of the US and UK.
The Nook HD and HD+ are fairly economical in price, due to the recent discounting. The resolution and internal processor speeds are fairly robust. To be honest, these are great tablets that give you a big bang for your buck. In the past, users had to make due with Barnes and Noble's own curated app store. The one drawback is the absence of any business that competes directly with the bookstore chain. You won't find any Amazon, Kobo, Sony, or comic reader apps. Now that the Nook's have access to Google Play, you will be able to download all of this and more!
Now that Google Play is available via a new automatic firmware update, there is a breath of life infused into the Nook HD and HD+. 750,000 apps are at your fingertips, and in our video review, we show you how the entire experience looks on the Nook HD. You can get a sense on how big the update is, and how it looks.
Peter Carotenuto is a graduate of the Vancouver Film school and is extensively involved in the local Film Industry. He is an accomplished actor and has been in many of the Vancouver based movies and made for television shows. Peter is the head of the Good e-Reader media division and is responsible for all of our video editing and production. You can e-mail him at peter@shopereaders.com