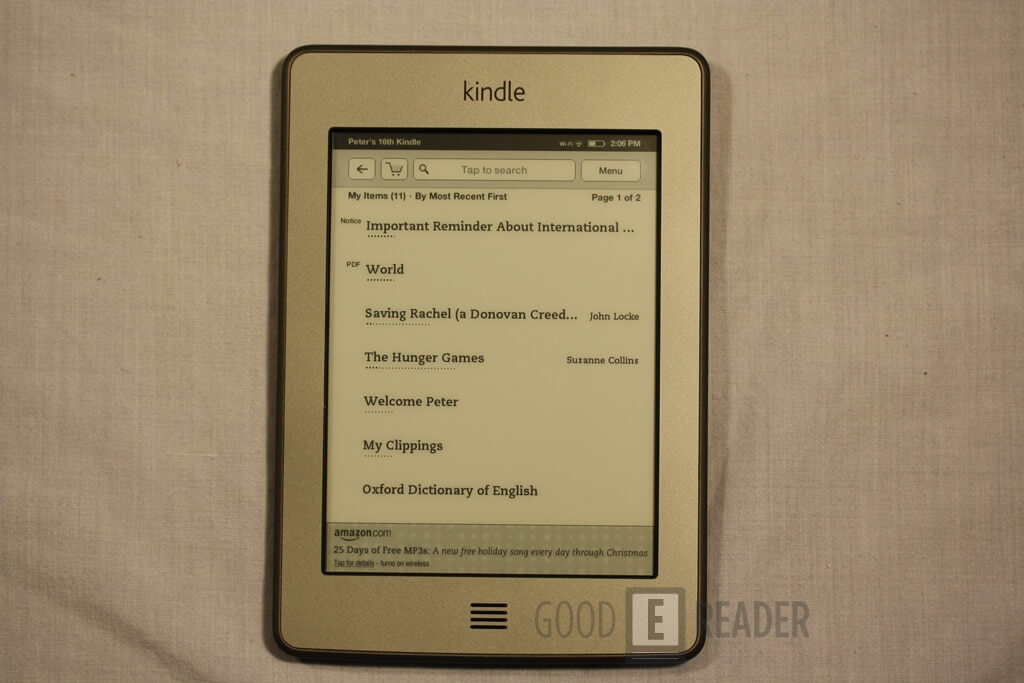 Welcome to another exclusive Good e-Reader Review Video! Today we take a comprehensive look at the latest generation e-reader from Amazon. This is the first touchscreen e-ink based reader the company has released and we break it down and give you the scoops on what to expect.
First of all, this is a great device and you can really feel the elevated processor powering it. All of the touchscreen functionality is as good as it gets, although I found the Nook Simple Touch provides a more robust experience. This little guy has stereo speakers and a 3.5mm headphone jack to listen to music and audiobooks. One of the coolest new features is called X-Ray and is only found in the Kindle Touch. It gives you an indication on any given book who the main characters are and how often they are referenced throughout the book. It also gives you places and main themes which will help with textbooks, kids books and book-club members.
This is one of our FULL review videos that really shows you everything you need to know if you are thinking of purchasing it. We show you the ebook experience and options you have to change the fonts, linespacing and margins. The internet browser is solid and we show you how fast webpages normally load. We run it through the paces of the most common tasks and even show you how complex PDF Newspapers look on it.
Peter Carotenuto is a graduate of the Vancouver Film school and is extensively involved in the local Film Industry. He is an accomplished actor and has been in many of the Vancouver based movies and made for television shows. Peter is the head of the Good e-Reader media division and is responsible for all of our video editing and production. You can e-mail him at peter@shopereaders.com