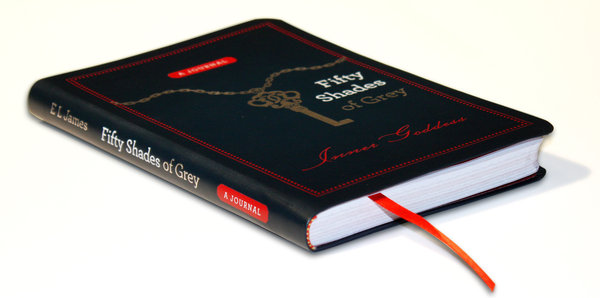 While critics may rightfully scoff at the writing quality of the 50 Shades of Grey series and jokes have flooded the internet about James' audacity at helping aspiring writers, no one can argue with the financial and popular success of her three one-time self-published books. Growing out of what she saw as a very real need based on face-to-face interaction with her readers, James' and her publisher are now releasing a writing journal for would-be authors.
Entitled 50 Shades of Grey: Inner Goddess, the leather-bound book will include a foreword from the author, writing prompts and tips, excerpts from the novels, and more.
A quote in an article for The Bookseller by James's editor Anne Messitte at Vintage/Anchor explained the journal's creation and purpose: "As E L James travelled and met with her readers, there was a great curiosity about how she got started writing. Her personal story as a writer is inspirational to many women, and journaling has been an important part of her creative process from the start."
Viking writes, "Developed as a creative collaboration between EL James and her US publisher, the bonded-leather soft cover journal will offer readers and aspiring writers a place where they can record their innermost thoughts.
While the response to the news has been mixed, some outlets are not passing up the opportunity to poke fun at the author of what many have complained is barely-readable and barely-disguised fan fiction. Abbey Stone for Hollywood.com stated in her article, "… leave it to James to release a 'book' that consists mostly of empty, lined pages. Who knew that blank journals had authors? She really is revolutionizing the industry."
James is currently at work on another novel, as well as collaborating on the much-anticipated 50 Shades of Grey screen adaptation. The journal is expected to be released on May 1st.
Mercy Pilkington is a Senior Editor for Good e-Reader. She is also the CEO and founder of a hybrid publishing and consulting company.