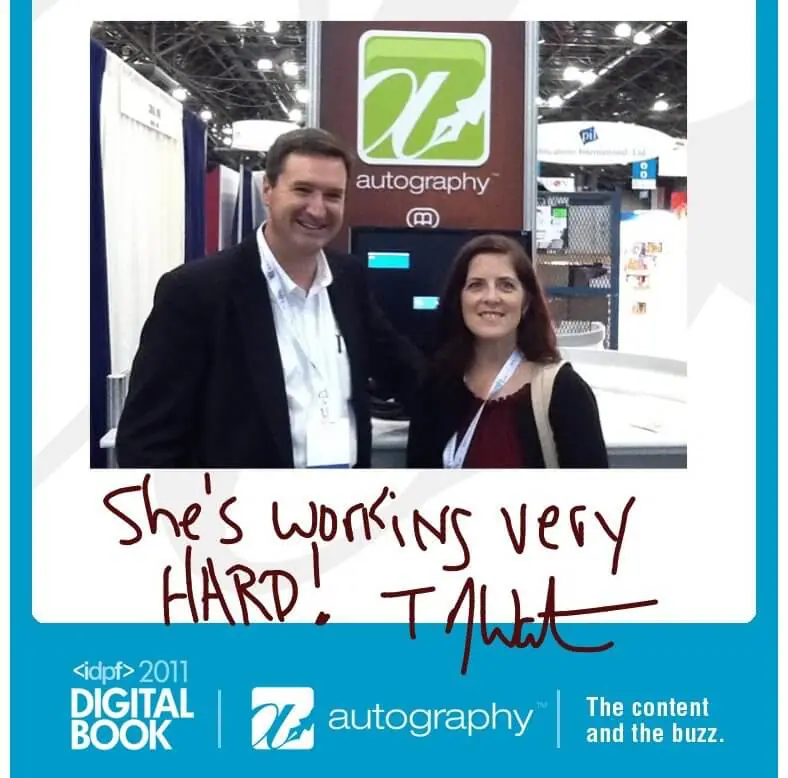 While standing at the Autography booth in the Digital Zone at the BEA2011, author and company co-found Tom Waters did something fairly amazing. He signed my e-book copy of his novel. Only I didn't have my e-reader with me, and in fact, I didn't actually own a copy of his work. Don't tell him I said that.
Even stranger, when Waters told me to check my email, there in my inbox was not only a custom page for my ebook, it was a photograph of Waters and me standing in that very spot, signed with his name and a personal salutation to me.
"Autography allows readers and authors to connect, despite the popularity of ebooks," says Waters. "And it can be done anywhere."
Waters was recently participating through Skype in a radio interview with a station out of Dublin, Ireland. During the course of the broadcast, listeners who called in for autographs were directed via email to Waters, who signed e-copies and sent them back to the listeners in real time. Now, instead of waiting for authors to come to a local brick-and-mortar book store, e-book signings are taking place online, allowing readers to have greater access to their favorite authors and giving authors the ability to market themselves like never before. A listing of a few upcoming virtual signings can be found here.
"The idea for this software came out of a recent USO tour I participated in where I visited our troops stationed in the Middle East," Waters continues. "I found that the soldiers were able to carry e-readers with them, fitting them neatly in the side-leg cargo pockets of their uniforms. I actually did a book signing at 13,000 feet for one pilot. But what I saw was that once I signed that copy for the airman, he wouldn't loan his ebook to another soldier. It was his own personal copy of the book and he didn't want to let it go."
Waters realized he had stumbled on more than just a great way to bring authors and readers together. This capability could easily reduce e-book piracy since it was now a more personalized experience for the consumer. Plus, Autography is also able to embed their watermark into the e-book, basically alerting them to where pirated copies of books are originating. The metadata they are able to recognize through this software can also provide valuable feedback for authors and publishers about who is buying and where particular titles are selling in great numbers.
The software supports both epub and mobi formats, as well as iPhone and Android market smartphones, essentially allowing readers of any device to enjoy the personalization from their favorite authors. Once an author autographs a page for his fans, readers can share those pages on social networking sites as well.
As e-book developments are catching up with the total experience of reading, Autography is one more way to bridge the gap between what many naysayers still dispute as detracting from the classic enjoyment of a good book and the "wave of the future" reading that some readers embrace.
Mercy Pilkington is a Senior Editor for Good e-Reader. She is also the CEO and founder of a hybrid publishing and consulting company.