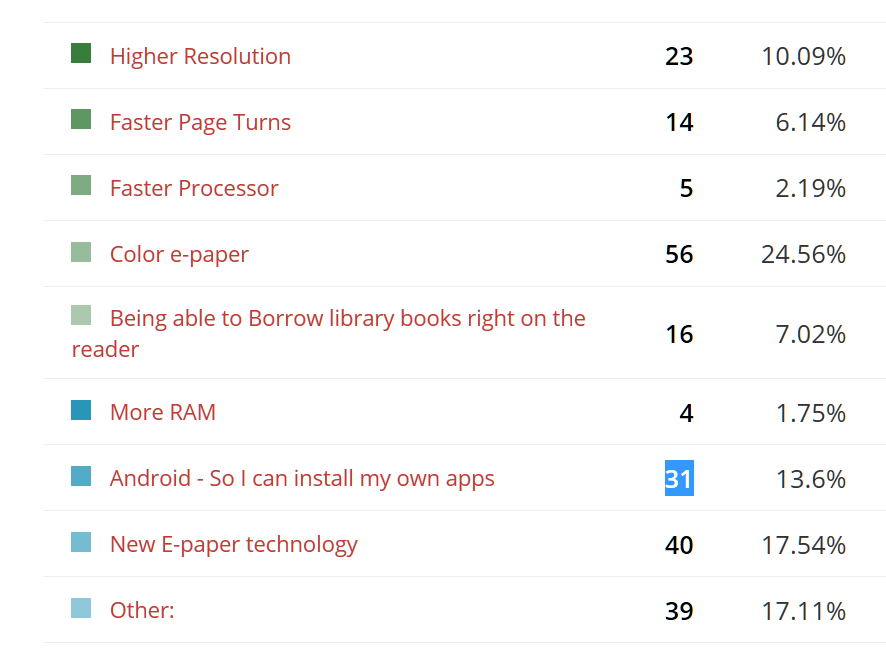 e-Reader technology does not improve at the exponential rate as tablets and smartphones do.  New e-paper comes out every two or three years and there seldom is a compelling enough reason to spend a hundred dollars to buy a new device.  Once in awhile new e-readers like the Kindle Voyage and Kobo H2O comes out and pack in new features not seen before. So the question is, what would make you upgrade your e-reader?
Over the course of the last 13 days we ran a poll on Good e-Reader and poised a new series of questions on what type of new hardware features that would make them spend their money and upgrade their existing device.
The number one thing that people want to see  on a new e-reader is colored e-paper. 56 people that represented 24% of the entire vote want to see e-Ink Triton 2, Liquavista or new technology on a mainstream e-reader. We have reviewed every single colored e-reader on the market and its not there yet. I would like to see an investment of new technology that would not only give people a solid color e-reader, but also carry over to devices like the Yotaphone 3 or smartwatches.
New e-paper technology came into second place with 40 votes (17.5%). The latest and greatest is E-Ink Carta and it originally came out in 2013. Only a handful of e-readers currently employ this technology, such as the Kobo H2O, Kindle Paperwhite 2 and Voyage. Lately, the price has decreased and a number of 3rd party companies are starting to issue new devices.
The problem, is that Carta is over two years old and I think people want to see higher resolution screens and the true elimination of full page refreshes. People want an e-reader that is indistinguishable from a real book.
39 people (17.1) of the vote said that they wanted a larger screen. The industry standard is six inches and once in awhile someone bucks the trend and does something a bit bigger. The Kobo H2O and Aura HD was 6.8 inches, Cybook Ocean 8 inches and Onyx Boox i86 is also 8 inches. Sometimes they even get a bit larger, such as the Icarus Excel and Amazon Kindle DX. The problem with 9.7 inch e-readers is the price is often over $350 and people tend not to want to invest that much in a singular purchase digital reader.
Still, apparently people are tired of six inch e-readers. The most common thing people wanted was an A4 screen, 10 inch screen or a company like Amazon to release an 8 inch e-reader.
The other most notable poll result was the fact people want to see Android on more e-readers. I have been lobbying for years that companies such as Barnes and Noble should firmly embrace an open version of Google Android and optimize the Nook App Store for e-ink devices. Many European brands such as Icarus, Onyx, Energy Sistem and Boyue have released e-readers with either Google Play or the Good e-Reader App Store. This gives people the ability to not be locked into any one specific book ecosystem and give true freedom to deal with whatever company you want. Sadly, the average person has not heard of these small European companies before and want a mainstream e-reader with a vanilla version of Android.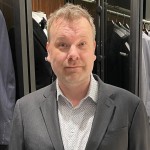 Michael Kozlowski has written about audiobooks and e-readers for the past twelve years. Newspapers and websites such as the CBC, CNET, Engadget, Huffington Post and the New York Times have picked up his articles. He Lives in Vancouver, British Columbia, Canada.