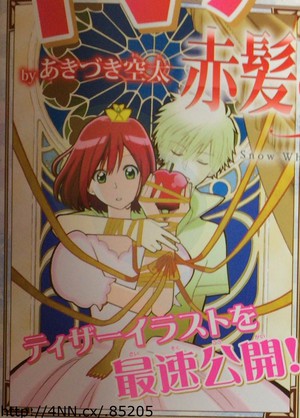 There are certain times of year that tend to gather multiple anime releases, and July is one of them. This year, news of July 2015's anime lineup has been given a start by shojo manga Akagami no Shirayuki-hime.
Known in English as Red-Haired Princes Snow White, the manga began in 2006. It's a fantasy romance, telling the story of Shirayuki (Snow White), a medicine woman whose red hair is her standout feature. Because of her hair, she is ordered to become the Prince's concubine. Not wanting that life for herself, Shirayuki cuts her hair and runs away to the neighbouring kingdom of Clarines. On her way, she meets Zen, the Prince of Clarines, and saves his life after he eats a poisoned apple. After this encounter, Shirayuki decides to join Zen's court as the royal pharmacist.
The series is being helmed by Studio Bones, the company behind Noragami and Fullmetal Alchemist. Although the manga has been around for some time, and has received moderate popularity, Bones is most likely choosing to animate the series now due to the boost of positivity for the fantasy genre. With shows like Sword Art Online, fantasy anime is gaining a comeback after not having much on the radar in past years.
If the adaption of Shirayuki is well-received, it could further boost demand for fantasy anime. Moreover, it may lead to the manga, and subsequently the anime, being licensed for an English release. There are a lot of positives on the horizon for Akagami no Shirayuki-hime.

Laura is a Douglas College student and an avid anime aficionado. She can sleep through anything, except the latest manga chapter release. Any questions, fire off a message to lmdeheer@shaw.ca!