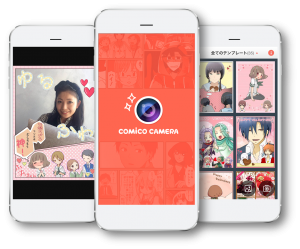 Ever wanted to turn your life into a manga? Taken a silly selfie and thought,' this belongs in a comic strip?' The app of your dreams has just been released.
Japanese app company, NHN PlayArt, has partnered with the company comico to create an app that allows you to take selfies and turn them into a comic. The app, called 'comico CAMERA,' has several different features. There are 35 different manga-page templates to choose from, along with 18 types of speech bubbles, and an array of comico characters to stamp on. The app also features 27 filter types, ranging from the 'comic' filter to shojo manga sparkles. Once you're finished building your masterpiece, you can share the pictures on Facebook and Twitter.
The app is available on Android and iOS devices. It is free to download, but must be used on an Android 4.0.3 or newer, or iOS 6.0 or newer. The app itself and all the features are in Japanese, but that only adds to the authenticity of your pictures. Download comico CAMERA here!

Laura is a Douglas College student and an avid anime aficionado. She can sleep through anything, except the latest manga chapter release. Any questions, fire off a message to lmdeheer@shaw.ca!