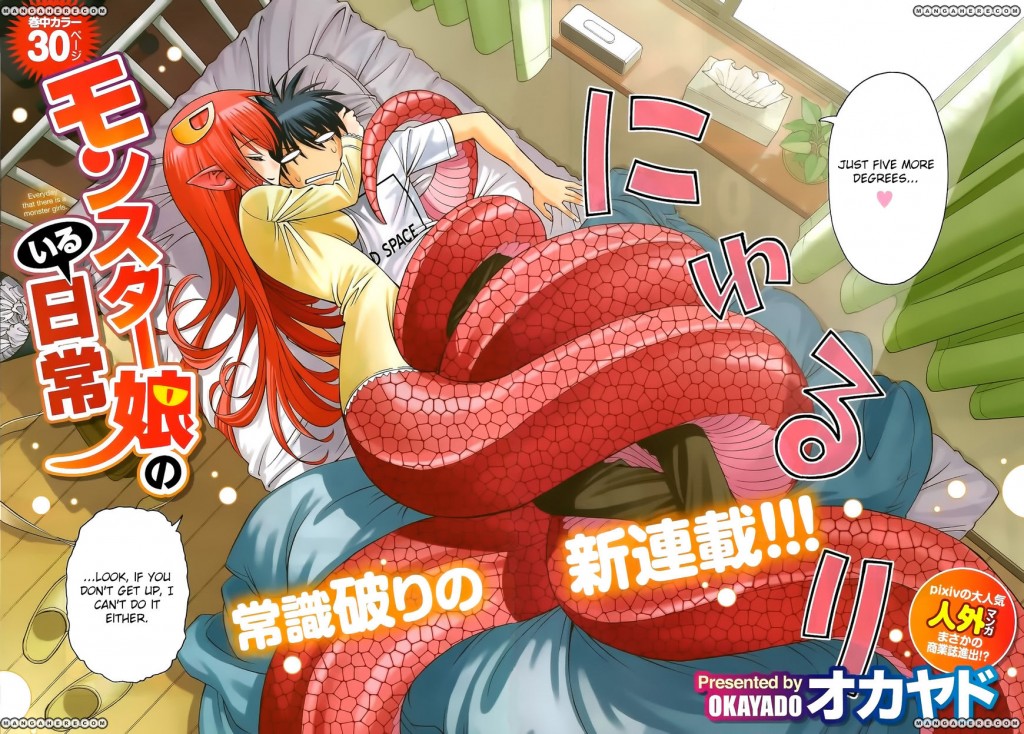 An anime adaption for Monster Musume no Iru Nichijou has been announced, scheduled for July 2015.
The manga, often shortened to Monster Musume, has been published in Monthly Comic Ryū since early 2012. Despite the author being relatively unknown, the series has rocketed into popularity, both with Japanese and Western audiences. The first five volumes of the English translated manga have reached the New York Times Manga Best Seller List.
The story takes place in a world where mythical creatures like lamia, harpies, and centaurs exist. The government kept these creatures a secret for years, but has now decided to let the existence of these creatures be known, and published the "Interspecies Cultural Exchange Act": the creatures will be integrated into human society, living in host houses with them. One of these host houses belongs to the protagonist, Kimihito Kurusu, a regular citizen who never offered to be part of the program to begin with.
The series' popularity no doubt springs from the subject matter. While the harem genre has been done before and the stories are often repetitive and uninteresting – Monster Musume is no exception, in terms of plot. But what sets this manga apart is the actual harem itself: the monster girls.
All of the monster girls of the series, especially the half-human, half-snake Miia, have been a huge hit with male audiences. And female audiences, myself included, have come to appreciate the unique and different nature of these monster girls. For all that the characters maintain the usual figure we have come to expect from anime, the monstrous nature of the girls have a certain ring of body positivity. This especially shows through the half-spider Rachnee, who has clearly had trouble in the past dealing with people finding her form disgusting. No matter how light-hearted and raunchy the manga can be, it doesn't change the message that everyone is born beautiful – just takes a different direction in showing it.
Whether you're already in love with monster girls or not, July is one of the hottest seasons for new anime and this one only adds to the heat. Catch Monster Musume when it airs!
Laura is a Douglas College student and an avid anime aficionado. She can sleep through anything, except the latest manga chapter release. Any questions, fire off a message to lmdeheer@shaw.ca!