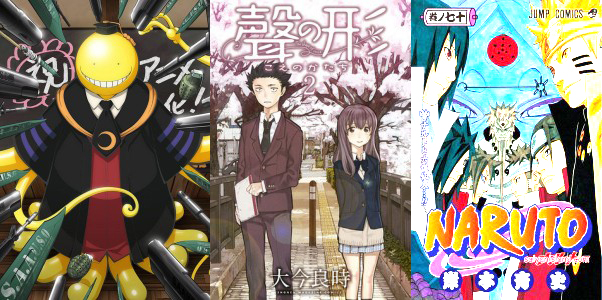 It's awards season everywhere, including the world of manga. This week, the nominees for the 19th Annual Tezuka Osamu Cultural Prize were announced.
The award is given in the name of Tezuka Osamu, a manga pioneer who penned such manga as Astro Boy and Kimba the White Lion. Osamu has been referred to by some as the king of manga, and since his death in 1989, manga readers have done their best to honour his memory. One of these is by handing out the Cultural Award, given to the year's manga that best follows in his footsteps.
This year's nominees are:
A Silent Voice – Koe no Katachi
Yoshitoki Oima
A heatrfelt manga that centers around love and forgiveness, this story revolves around a deaf girl and her previous bully. Shouya Ishida, the boy who was a bully, meets the girl a few years after his actions caused her to transfer schools. From there, a beautiful relationship blossoms that changes both of their lives. The manga is available through Crunchyroll, and an anime film adaption has been announced.
Aizawa Riku
Yoriko Hoshi
This little-known manga short chronicles the story of a middle school girl, whose fake tears can be turned on like a faucet.
Aoi Hono
Kazuhiko Shimamoto
A coming-of-age tale that fictionalizes the time the author spent at the Osaka University of Arts. Many manga artists have chosen their life story as inspiration for a manga but not many get adapted into Japanese television dramas. Aoi Hono, otherwise known as Blue Blazes, has.
Assassination Classroom
Yusei Matsui
When an octopus-like creature destroys the moon, lands on Earth, and gives mankind the news that he's going to annihilate us all, the only logical decision is to assassinate him. That's what the government is trying, but it's a little easier than expected, seeing as this creature has struck a bargain with mankind: give him one month as a homeroom teacher in Japan, and let one of the students assassinate him. Otherwise, he will destroy the Earth. Odd, but fun, as logic is thrown out the window in this action comedy. The manga is available through Viz Manga, and the new anime has been licensed by Funimation.
Chaser
Jokura Koji
Speaking of the Tezuka Osamu award. This manga takes place in 1955, when Tezuka Osamu himself is known as the God of Manga. Fellow artist Kōichi Umitoku is challenging himself to become greater. He's the same age as Tezuka, and has three popular manga already serialized, but it isn't enough for him. Although fictional, this manga does its best to honour the memory of the God of Manga himself.
Five Colour Boat – Goshiki no Fune
Yasumi Tsuhara & Yoko Kondo Kadokawa
Another little-known manga, this chronicles the story of a family struggling to survive in a war when they can't see the attacks. They make their living by running a freak show. Eventually, this family ads a real onster to their show. His name is Gudan, and he can see the future.
Heisei Uro Oboe Zoshi
Hajime Toda
Who doesn't love a good time-travel story? This (completely fictional) tale of an Edo-era painter recounts his visit to the modern era. He drew the story of all the things he witnessed, including mascots, pop bands, and the Sky Tree (most likely, Tokyo Tower.)
Naruto
Masashi Kishimoto
As if anyone didn't know the story behind this one – the massively popular manga follows the journey of Naruto Uzumaki, a young ninja who dreams of becoming the Hokage. This epic tale stretched over fifteen years of publication, earning its place in the manga hall of fame, and developing an almost cult-like fanbase. You an find the manga on Viz, and the extensive anime can be found at Crunchyroll.
Silver Spoon
Hiromu Arakawa
The manga details the story of Yugo Hachiken, a city boy who flees his family to attend agricultural school, after failing his high school entrance exams. He soon discovers that agricultural school is anything but easy. But despite the hard work, Yugo comes to appreciate the lifestyle, and starts to make choices regarding his undecided future. The manga has already won some awards, has an anime adaption, and received the live-action treatment in a film released in 2014.

Laura is a Douglas College student and an avid anime aficionado. She can sleep through anything, except the latest manga chapter release. Any questions, fire off a message to lmdeheer@shaw.ca!