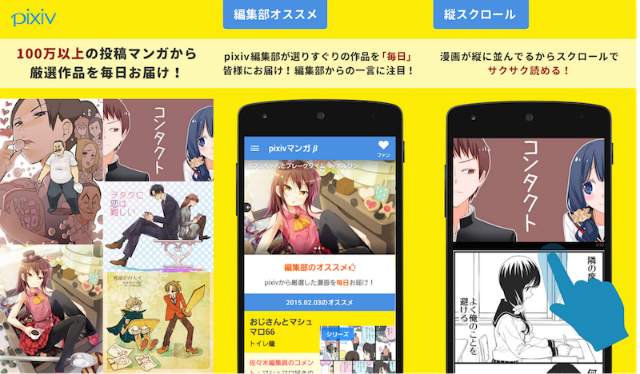 Pixiv, an image sharing site popular in Japan, has come up with its own app for smartphone devices.
The app features a daily update of cartoons, along with editorial comments and recommendations. While most of the cartoons featured are e-comics and webcomics by indie authors, the app will also feature works of authors that run in weekly magazines. The app comes with a 'like' button, and by pressing it and using the app, you are helping to support the author. As indie manga has gotten increasingly popular in recent years, more and more young artists are choosing to take this route as opposed to the traditional way. This app is an excellent way to support those looking at the industry from a different angle.
As of yet, the app is only available for Android 4.0.3. or a newer model. Although an app for iOS devices has also been considered, a release date has not yet been set. One can only assume that it will be coming soon, as the two companies are so keen to compete with one another. The opportunity for equal marketing will be too good to pass up.
The app is available in Japan and the US. In order to view the app, you must must have a Pivix account. For most manga fans, this won't be a problem, as Pivix has become a popular image sharing site in North America as well. If you don't already have an account, you can sign up for one here!

Laura is a Douglas College student and an avid anime aficionado. She can sleep through anything, except the latest manga chapter release. Any questions, fire off a message to lmdeheer@shaw.ca!