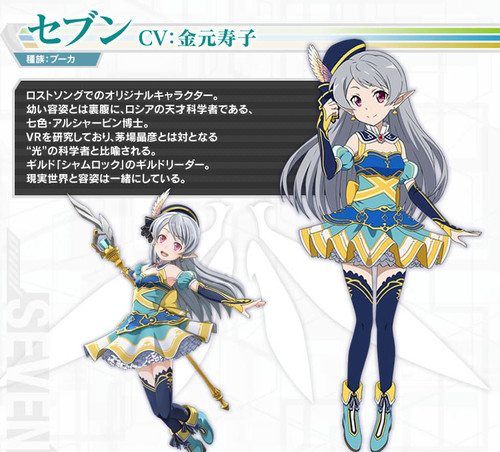 With the end of Sword Art Online's second season fans are eagerly awaiting the next, though it might be some time before the series returns. But for now fans can now enter the SAO universe with the upcoming game "Sword Art Online: Lost Song".
Announced at last year's Tokyo Game Show, the new game will be released in Japan on March 26th and will be available for the Playstaion 3 and the Playstation Vita platforms. The new game will be localized in English later in 2015 as well as traditional Chinese in other Asian countries. The game will be an open world RPG with an original storyline.
Set within ALfheim Online, Characters will be able to take flight and be able to engage in epic aerial battles with the help of Kirito's friends. So far, Bandai Namco has revealed the characters that will take part in the action will include Kirito, Asuna, Leafa, Silica, Lisbeth, Sinon and Philia. Also recently announced will be Klein and other character who've made appearances in the past of Sword Art Online Strea and Argo.
While we don't know too much abut the game's story yet, the producer Yosuke Futami has previously spoke why it will take place in the alternate ALfheim online and about how it will focus less on the death game aspect and more abut Kirito and friends having fun in the world, for a change.
There will also be a special edition of "Sword Art Online: Lost Song" available that will include a soundtrack CD, bonus Blu-ray content, a poster and a special booklet. Included will be the localized English and Chinese versions of the game that Bandai Namco says will contain better translations than Sword Art Online: Hollow Fragment.
The "Sword Art Online" anime had started as a series of light novels written by Reki Kawahara that has then adapted into two seasons of anime that can be seen on Crunchyroll and season 1 on Netflix. You should really check this out, Season 1 is very good.
Thi Lathi Chao is a graduate from Vancouver Fine Arts College and reports for Good e-Reader on all of the latest anime and manga news. In her off hours, she is enamored with playing games, drawing and writing short stories.