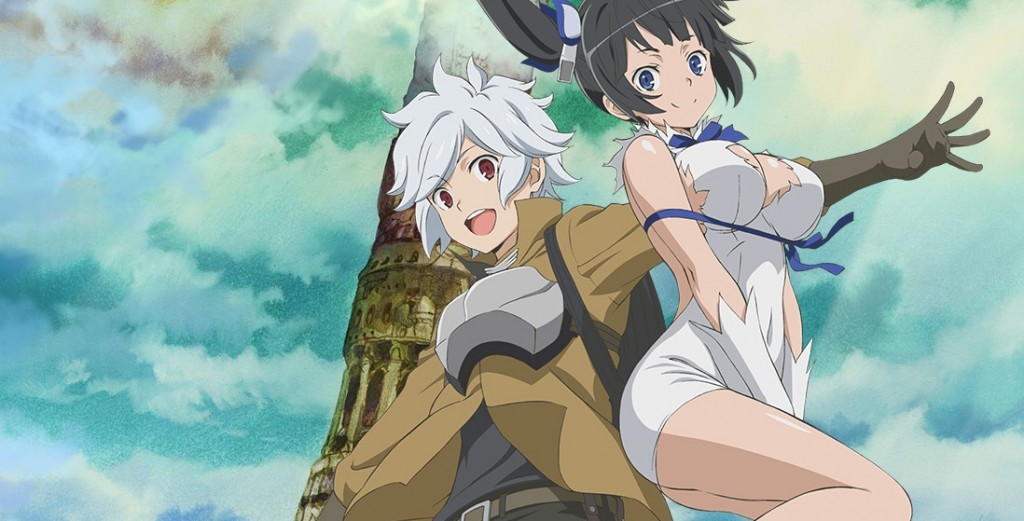 There is plenty of excellent anime that started in the early Spring and is currently ongoing. Crunchyroll and Funimation both have the bulk of the content and each have their own license to stream specific franchises. Want to discover some excellently written shows or zany circumstances? Our top 5 list will cure all of your ills.
Is It Wrong to Try to Pick Up Girls in a Dungeon? – The story follows the exploits of Bell Cranel, a 14-year-old solo adventurer under the goddess Hestia. As the only member of the Hestia Familia, Bell works hard every day in the dungeon to make ends meet while seeking to improve himself. Bell looks up to Aiz Wallenstein, a famous and powerful swordswoman who once saved his life, and with whom he fell in love. Bell is unaware that several other girls, deities and mortals also develop affections towards him; most notably Hestia herself.
Seraph of the End – In 2012, the world allegedly comes to an end at the hands of a human-made virus, ravaging the global populace and leaving only children untouched. It is at this time that vampires emerge from the recesses of the earth, likely followed by age-old horrors of the dark thought only to be myth. The vampires sweep the earth and claim it in a single violent stroke, subjugating the remnants of humanity and leading them beneath the surface to safety. The show is about heroes, wielding cursed weapons imbued by demons to fight the vampires.
Plastic Memories– Plastic Memories takes place in a city in the near future, in which humans live alongside androids that look exactly like humans and have human emotion and memory. SAI Corp, the leading android production company, has introduced the Giftia, a new android model with the most human-like qualities of any model. The lifetime of a Giftia is 81,920 hours (roughly nine years and four months), and if they pass their expiration date, it causes personality disintegration and memory loss. As a result, the employees of the Terminal Service (responsible for retrieving androids who are close to reaching the end of their service lives and erasing the androids' memories) must go to the owner of the Giftia and collect it. Those assigned to the Terminal Service work in teams consisting of a human (called a "spotter") and a Giftia (called a "marksman"). The story follows protagonist Tsukasa Mizugaki and a Giftia named Isla, both of whom work in SAI Corp's Terminal Service No. 1 office. You can think of this as an Android romantic comedy.
Assassination Classroom – The Earth is threatened by a powerful creature who destroyed 70% of the Moon with its power, rendering into the shape of a crescent moon forever. The creature claims that within a year, Earth will also be destroyed by him, but he offers mankind a chance to avert this fate. In class 3-E at Kunugigaoka Junior High School, he starts working as a homeroom teacher where he teaches his students not only regular subjects, but the ways of assassination. The Japanese government promises a reward of ¥10 billion (i.e. 100 million USD) to whomever among the students succeeds in killing the teacher, whom they have named "Koro-sensei". However, this has proven to be an almost impossible task, as not only does he have several superpowers at his disposal, including the capacity of moving at Mach 20, but he is also the best teacher they've ever had. I really like this one, its comedy gold and each episode stands up well on its own.
Ultimate Otaku Teacher – The story follows Jun'ichirō Kagami, whose sister Suzune is angry at him because of his complete disinterest in the real world. As Jun'ichirō is interested in nothing but anime, manga and games, Suzune forces him to go on a job as a physics teacher substitute at the same high school from which he graduated. Jun'ichirō proves himself a capable and hardworking teacher who comes with unorthodox methods based on the seemingly useless knowledge he obtained as an otaku to teach and motivate his students.

Michael Kozlowski is the Editor in Chief of Good e-Reader. He has been writing about audiobooks and e-readers for the past ten years. His articles have been picked up by major and local news sources and websites such as the CBC, CNET, Engadget, Huffington Post and the New York Times.