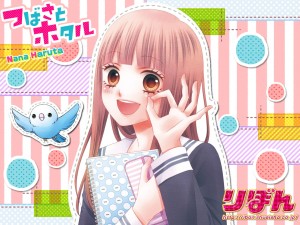 The Shueisha Ribon magazine's April issue is unveiling on March 3rd that Nana Haruta "Tsubasa to Hotaru Shojo" romantic comedy manga is going to be inspiring more anime!
The anime will begin it's run on March 6th, 13th, 20th, and 27th as segments within the chilren's television program "Oha-Suta" (Good Morning Star) on TV Tokyo. The cast of Kanae Ito as Tsubasa Sonokawa, Yoshitsugu Matsuoka as Aki Hidaka and Takahiro Sakurai as Yūma Toba will be returning for these new shorts. The magazine also hits that the scenes during the school trip and culture festival will be animated!
The very first adaption of Haruta's manga was a special that was screened at last year's Ribon Fest 2014 event.
The story follows Tsubasa Sonokawa, a 15 year old girl who falls in love with her upperclassman after saving her at a train station, where she fainted from Anemia. Tsubasa thought the meeting was fate and began to visit him at his class every day however, he told her that her feelings were too "heavy". She once again meets another boy after taking over her friend's job as a boy's basketball team manager. Tsubasa learns that she might have more of a connection with this boy named Aki than she first thought.
Haruta began the manga in 2013, and Shueisha will ship the fourth compiled volume of the manga in Japan on March 13th. The first chapter is available to read for free on Ribon's official website!
Thi Lathi Chao is a graduate from Vancouver Fine Arts College and reports for Good e-Reader on all of the latest anime and manga news. In her off hours, she is enamored with playing games, drawing and writing short stories.