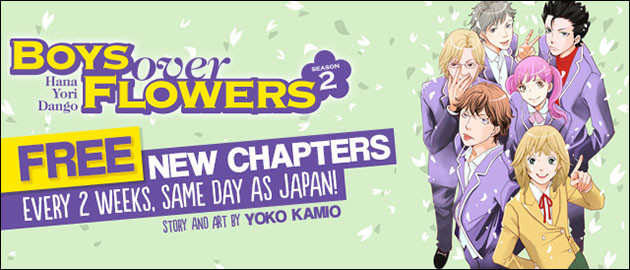 Viz Manga has announced the next round of manga they'll be running in their Jump Start initiative, and one is the long-awaited Flowers, Then Sunny Skies; otherwise known as Boys Over Flowers Season 2.
The manga serves as a sequel to 1992's shojo hit. The original Boys Over Flowers follows the life of a sixteen-year-old girl named Tsukushi Makino. She is a poor student at Eitoku Academy, a school for the rich and upper-class, where she is known as the "weed" of the Academy. The school is ruled by a group of handsome, high-society boys known as the "Flower Four," or the F4. Tsukushi finds herself on the wrong side of the F4 when she becomes the only girl in school who doesn't immediately fawn over the F4 leader, Tsukasa Domyouji.
Boys Over Flowers was a hit from the start, spawning a movie, two live action adaptions, and seven television dramas including a top Korean drama. The author, Yoko Kamio, has done several other manga series since, but is now returning to Eitoku Academy. Season 2 takes place a few years after the graduation of Tsukushi and the F4, bringing all-new charactes to the cast list. It will tell a new story from the familiar setting, but hopefully the readers will still get some hints at how the lives of the old favourites are going.
It will begin on February 16th. The issue of Shonen Jump will be running the first three chapters, and after that, a new chapter every two weeks. As Boys over Flowers Season 2 is part of Viz Manga's Jump Start program, chapter releases will be simultaneous with Japan's.
Anyone who was a fan of Boys Over Flowers, who liked the Korean TV drama, or who enjoys shojo in general will need to read this manga! The original was a staple of the genre, and Season 2 will certainly not disappoint.

Laura is a Douglas College student and an avid anime aficionado. She can sleep through anything, except the latest manga chapter release. Any questions, fire off a message to lmdeheer@shaw.ca!