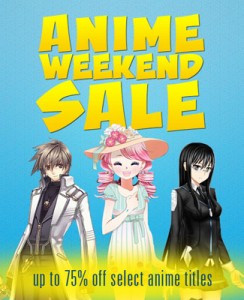 Valve is having a Steam weekend sale that focuses on Japanese games with anime art styles, with savings ranging from 20 percent to 70 percent off. With these savings, the games range in price anywhere from $1.49 to $29.99. The sale ends on January 12, 2015 at 10:00 a.m. PST.
The weekend sale includes various types of games. Dating sims are represented by Hatoful Boyfriend. Visual novels, such as Analogue: A Hate Story, Hate Plus, Sakura Spirit, Long Live the Queen, Cho Dengeki Stryker All Ages Version, Fading Hearts, Go! Go! ~My First Trip to Japan~, Pyrite Heart, and Planetarian ~The Reverie of a Little Planet~ are also part of the sale.
For fighting games, there's Naruto Shippuden: Ultimate Ninja Storm 3 Full Burst, Naruto Shippuden: Ultimate Ninja Storm Revolution, Croixleur Sigma, BlazBlue: Calamity Trigger, BlazBlue: Continuum Shift Extend, The King of Fighters XIII, Fairy Bloom Freesia, and Vanguard Princess. Shoot-em-up games like QP Shooting – Dangerous!!, eXceed – Gun Bullet Children, eXceed 2nd – Vampire REX, and eXceed 3rd – Jade Penetrate Black Package are also included in the sale.
The sale also features role playing games, such as Fortune Summoners, Agarest: Generations of War, 99 Spirits, Recettar: An Item Shop's Tale, The Sacred Tears TRUE, Ys Origin, Ys I & II Chronicles+, The Legend of Heroes: Trails in the Sky, and Chantelise – A Tale of Two Sisters. War of the Human Tanks and other strategy games are included in this weekend sale.
Lesley Aeschliman is a freelance writer and blogger who has spent the past seven years writing about anime and manga. She served as the Anime Editor for BellaOnline for almost six years, and was also a contributor to Blogcritics.org's "Sixty Minute Manga" feature for almost two years. She also served as the Lead News Editor for the Digital Media FX website in the early 2000s.