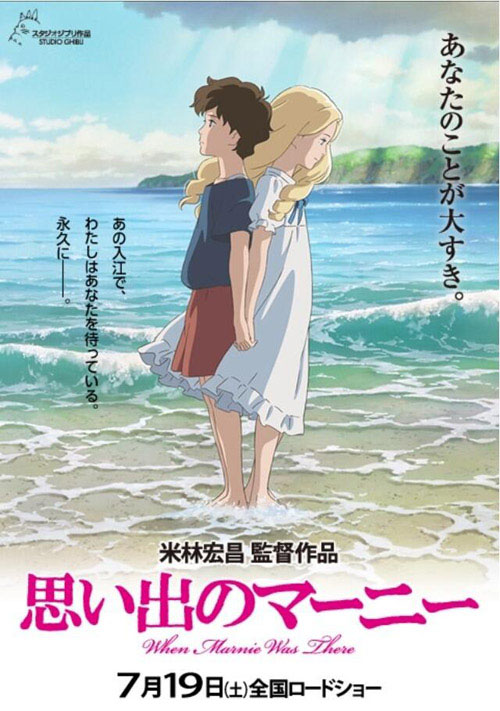 It's been almost a year since Studio Ghibli's film 'When Marnie Was There' came out in Japanese theatres. Now, North American fans are getting the chance, as the GKids English dub of the movie is coming to select theatres starting May 22.
The film is adapted from the novel of the same name, changing the setting to Japan instead of Great Britain. It follows a girl name Anna, who moves up to a small seaside town to live with relatives. Tomboyish and shy, Anna soon makes a mysterious friend named Marnie, who lives in a house on the marsh that changes between dilapidated and abandoned, to vibrant and full of life.
The film holds a special place in the hearts of Ghibli fans. This is the last film produced after Ghibli announced their short hiatus, taken after the release of The Tale of Princess Kaguya. The hiatus, combined with the retirement of Hayao Miyazaki, means that this could potentially be the last feature film by Studio Ghibli. Almost every child in the world has been touched by Ghibli's films, from My Neighbour Totoro to Spirited Away. If this really is the last film of a company that reached so many lives, you should be sure to see Studio Ghibli's last hurrah.
Have a look at the theatres and dates below and see if 'When Marnie Was There' is coming around to a theatre near you!
May 22:
-New York, NY – IFC Center
-Los Angeles, CA – Landmark Nuart
May 29:
-Toronto, ON – TIFF Bell Lightbox
-Vancouver, BC – Vancity Theatre
-Pasadena, CA – Laemmle Playhouse
-Encino, CA – Laemmle Town Center
-Irvine, CA – University Town Center
June 5:
-San Francisco, CA – Landmark Embarcadero
-Berkeley, CA – Landmark Shattuck Cinemas
-Philadelphia, PA – Landmark Ritz at the Bourse
-Boston, MA – Landmark Kendall Square
-Minneapolis, MN – Landmark Theatres TBD
-Denver, CO – Landmark Theatres TBD
-Portland, OR – Regal Fox Tower
-Austin, TX – Regal Arbor at Great Hills
-Phoenix, AZ – Harkins Valley Art
-Santa Cruz, CA – The Nick
-Montréal, QC – Cinéma du Parc
-Montréal, QC – Cinéma Beaubien (in French)
-Québec City, QC – Cinéma Le Clap (in French)
-Sherbrooke, QC – Maison du Cinema (in French)
June 12:
-Washington, DC – Landmark E Street Cinema
-Salt Lake City, UT – Broadway Centre Cinemas
-Providence, RI – Cable Car Cinema
-Columbus, OH – Gateway Film Center
-Pittsburgh, PA – Regent Square Theatre
-Knoxville, TN – Regal Downtown West
-Charlotte, NC – Regal Park Terrace
-Tucson, AZ – The Loft Cinema
-Santa Fe, NM – Regal DeVargas
-Amherst, MA – Amherst Cinema
June 19:
-St Louis, MO – Landmark Plaza Frontenac
-Indianapolis, IN – Landmark Keystone Art
June 21:
-Atlanta, GA – Landmark Midtown Art
Watch the GKids trailer below!
Laura is a Douglas College student and an avid anime aficionado. She can sleep through anything, except the latest manga chapter release. Any questions, fire off a message to lmdeheer@shaw.ca!