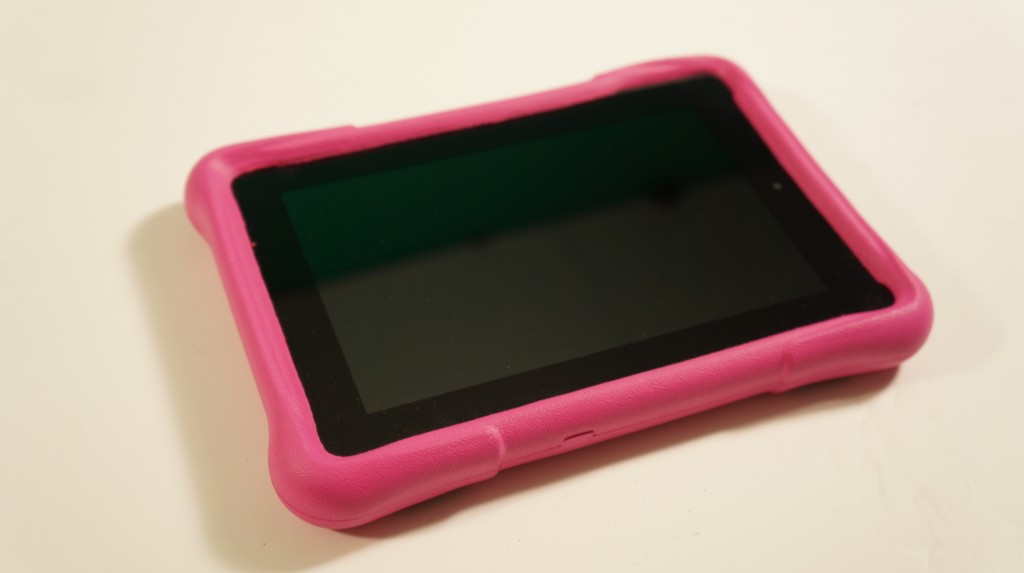 Amazon has put together their first true true tablet aimed at children with the Fire HD Kids Edition. This device incorporates a free subscription to Kindle Unlimited, which has thousands of apps, books and movies on a À la carte basis. It also has a child proof case that ships with the unit and a two year warranty.
Hardware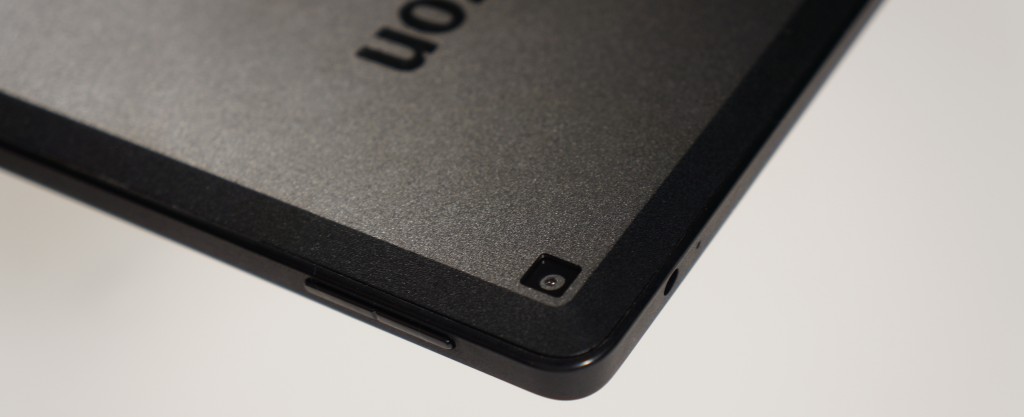 The Amazon Fire HD Kids Edition on a fundamental hardware level is the exact same as the Fire HD7. It has a seven inch capacitive touchscreen with a resolution of 1280 X 800 pixels. The colors look rich and vibrant, but it certainly won't break any barriers in terms of the 216 PPI.
Underneath the hood is a quadcore 1.5 GHZ processor, 1 GB of RAM, and 8 GB of internal storage. There is also a rear facing camera with 3 MP and a fairly woeful front facing .03 MP camera.
When you buy the kids tablet it comes with your choice of colors for the rubber protective housing. There is a few that will appeal to boys and girls, such as blue, pink and yellow. There is ample room for the speakers, Micro USB and power buttons, as to not obfuscate them from easy access.
Speaking of speakers (see what I did there?) the stereo ones on the back provide some fairly bombastic sound levels. It does not exceed the Dolby Audio found on the HDX 8.9, but Amazon consistently delivers the best audio experience on tablets. This makes sense, because they are heavily invested in their Instant Video division, music and audiobooks.
If you have been a parent for long, when kids attach themselves to something that makes a lot of noise, it can be frustrating. This unit has a 3.5mm headphone jack, so you can get them to attach some earphones, when they read the enhanced eBook for the 100th time.
Software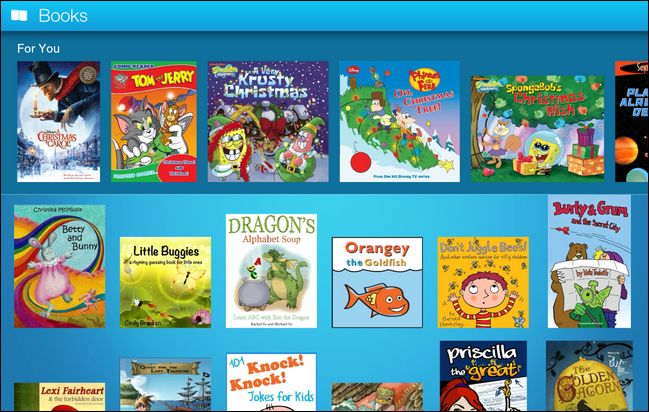 The Fire Kids Tablet has Android 4.4 loaded on it, but since its so heavily skinned you will likely not tell the difference between an older version of Android. When you fire (see what I did there again?) up the device for the first time you are presented with the option to register some children profiles. If you have one, or many, they can personalize their app, book and video experiences so they don't overlap.
Parents will get one year of Freetime Unlimited with purchase, this gives over 5,000 books, videos and apps. Anything accessed via the Freetime interface is completely free. So you won't have to worry about any types of apps with micro transactions, there simply aren't any.
There are a number of options that can be employed to keep your kids using the tablet on a respectable level. There are options to establish when the tablet can be used and when it automatically turns off. Parameters can be defined for the weekday and weekends. I like the fact there can be reading goals, such as read for 2 hours a day and play video games for X hours. It encourages kids to read, with the proverbial carrot being mindless entertainment.
This tablet is perfect for a household because on one hand you have a unique interface, clearly aimed at kids. When you enter the parental password it turns into a quintessential Amazon experience. You can buy eBooks, audiobooks, apps, movies, television shows and any other core digital content Amazon sells. You can read your favorite newspaper and read some manga.
The Fire HD Kids Edition is a tablet that is aimed at a household with not a lot of money to spend. They want these types of customers to feel confident that they will have an unlimited two year warranty if anything should go awry with it. It has enough bells and whistles on a software level to keep the little ones entertained, without having to spend anything extra for a year. Parents can access any of the content they bought on prior Fire models or if they had a Kindle, everything is preserved.
Wrap Up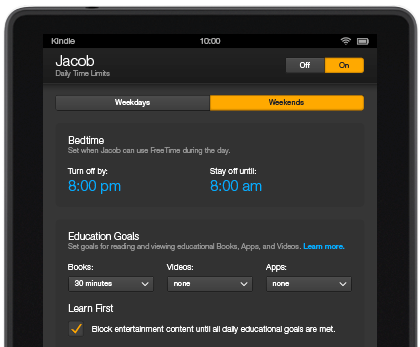 There are many companies involved in the tablet sector that aim their products at kids. Fisher Price, Samsung, V.Tech and others have all sorts of gadgets you can buy at Walmart or your local Toys R US. Amazon did something different. They made a product aimed at kids, but also at adults. It doesn't feel like a cheap tablet, made of plastic, its rugged and durable.
I would recommend this tablet to parents on an extreme budget and don't have luxury items like the iPad. If you have the 2013 edition of the Fire HD, there really isn't any need to upgrade to this.
PROS
1 Year Freetime Unlimited
2 Year Unlimited Warranty
Durable Rubber case to protect the tablet
Speaker quality is solid
CONS
Resolution could be better
Video service is only relevant in the US only
Hardware specs are average
Rating: 7.5/10
Michael Kozlowski is the Editor in Chief of Good e-Reader. He has been writing about audiobooks and e-readers for the past ten years. His articles have been picked up by major and local news sources and websites such as the CBC, CNET, Engadget, Huffington Post and the New York Times.