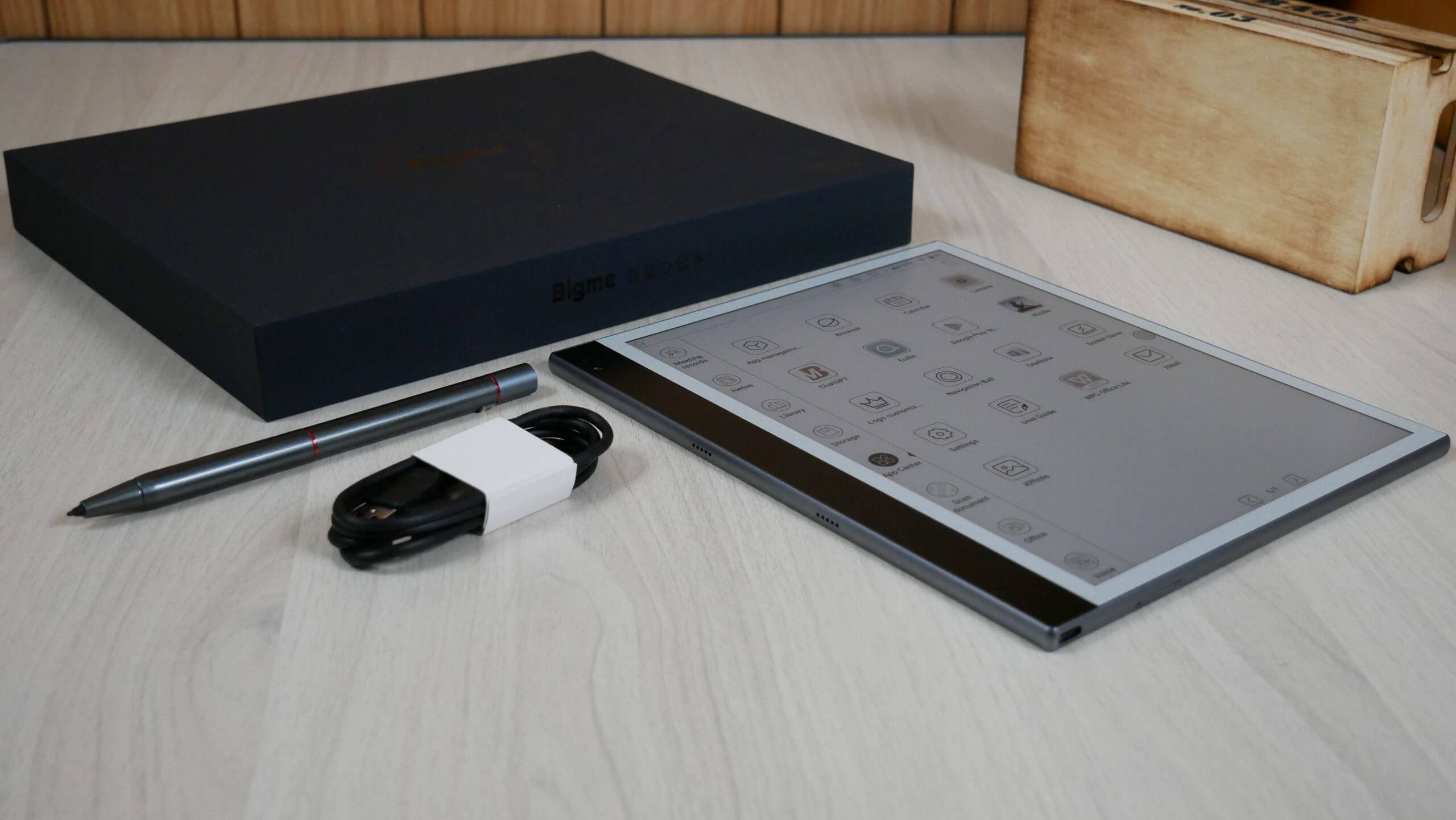 The Bigme InkNote Color Lite is a new digital note-taking device now available. This product is designed for freehand drawing, making notes and editing PDF files. This is all done in full colour at 300 PPI. This is a game changer for people who need a way to replace paper at home, work or for students. The Lite has 4GB of RAM and 64GB of storage, whereas the regular InkNote Color+ has 6GB of RAM and 128GB of storage. This slight decrease in RAM and storage is not a big deal for most users who want to read colour content or draw and are not sideloading thousands of PDF documents or audiobooks. The Bigme InkNote Color Lite hits all the right spots to make a surefire bestseller.
The Bigme Inknote Color came out in 2022 with an E INK Kaleido 2-colour e-paper panel. The colours were a bit messy, and when reading ebooks, the background wasn't grey, but a mixture of colours trying to make it grey. The company returned to the drawing board and added the latest generation E INK Kaleido 3 colour e-paper screen instead in early 2023. This has made of world of difference. The background is pure grey, similar to the black-and-white reading experience found on mainstream e-readers from Amazon or Kobo. You finally get the best of both worlds, a great reading experience and the new Kaleido 3 panel, which makes colours vibrant.  Bigme is trying to compete against the Onyx Boox Tab Ultra C, a new colour e-paper e-note that just came out. They think their InkNote Color Lite will be a more viable alternative since it is more affordable.
Hardware
The Bigme InkNote Color Lite features a 10.3-inch E INK Carta HD capacitive touchscreen display with a black-and-white screen resolution of 2480 x 1860, 300 PPI and a 4:3 aspect ratio. The colour e-paper employs the latest generation E INK Kaleido 3 colour filter array and has a resolution of  1240×930 and 150 PPI. The new panel can display a wider colour gamut, and the 4,096 colour combinations make content such as pictures, magazines and webtoons pop. The vibrancy of colour has been improved; colours now blend into each other better than the previous generation E INK Kaleido 2 screen.
The tablet is completely flush with the bezel and protected by a layer of glass. The colour scheme is black. Its front-lit display has 36 white and amber LED lights, allowing you to mix white and a warm candlelight effect.
The InkNote Color Lite has a WACOM screen and comes with a stylus. This is used to draw on PDF files, ebooks, comics, newspapers, magazines or the stock drawing app. The pen is black and can magnetically attach itself to the side of the device. It can also connect via Bluetooth so that you can turn pages of a PDF or ebook with just the click of a button; you no longer have to swipe, tap or gesture on the touchscreen to do this. It has 4096 degrees of pressure sensitivity, and it is voice controlled.
Underneath the hood are an A53 2.3 GHZ octa-core processor, 4GB of RAM and 64GB of internal storage. If this storage is not enough, for whatever reason, it has an SD card capable of an additional 128GB of storage. WIFI can connect to the internet and fetch firmware updates, which you should do immediately. Four noise-cancelling mics on the bottom of the tablet are used for voice dictation, such as voice-to-text in the note-taking app. Speech recognition is compatible with over 31 languages with 98% accuracy. You can also use the microphones for apps like WhatsApp, Discord or WeChat. You can listen to audiobooks, podcasts, music or anything else via the dual stereo speakers. It also has Bluetooth 5.0 for optional wireless headphones or earbuds. There is an 8MP rear camera and a 5MP front-facing camera. You can use the fingerprint sensor to unlock your device and set a passcode for more security.  It has a G-Sensor for automatic screen rotation, which helps when wanting to switch quickly between portrait and landscape mode. The battery is 4,000 mAh, which should be suitable for a few weeks. You can charge it via the USB-C port.
Software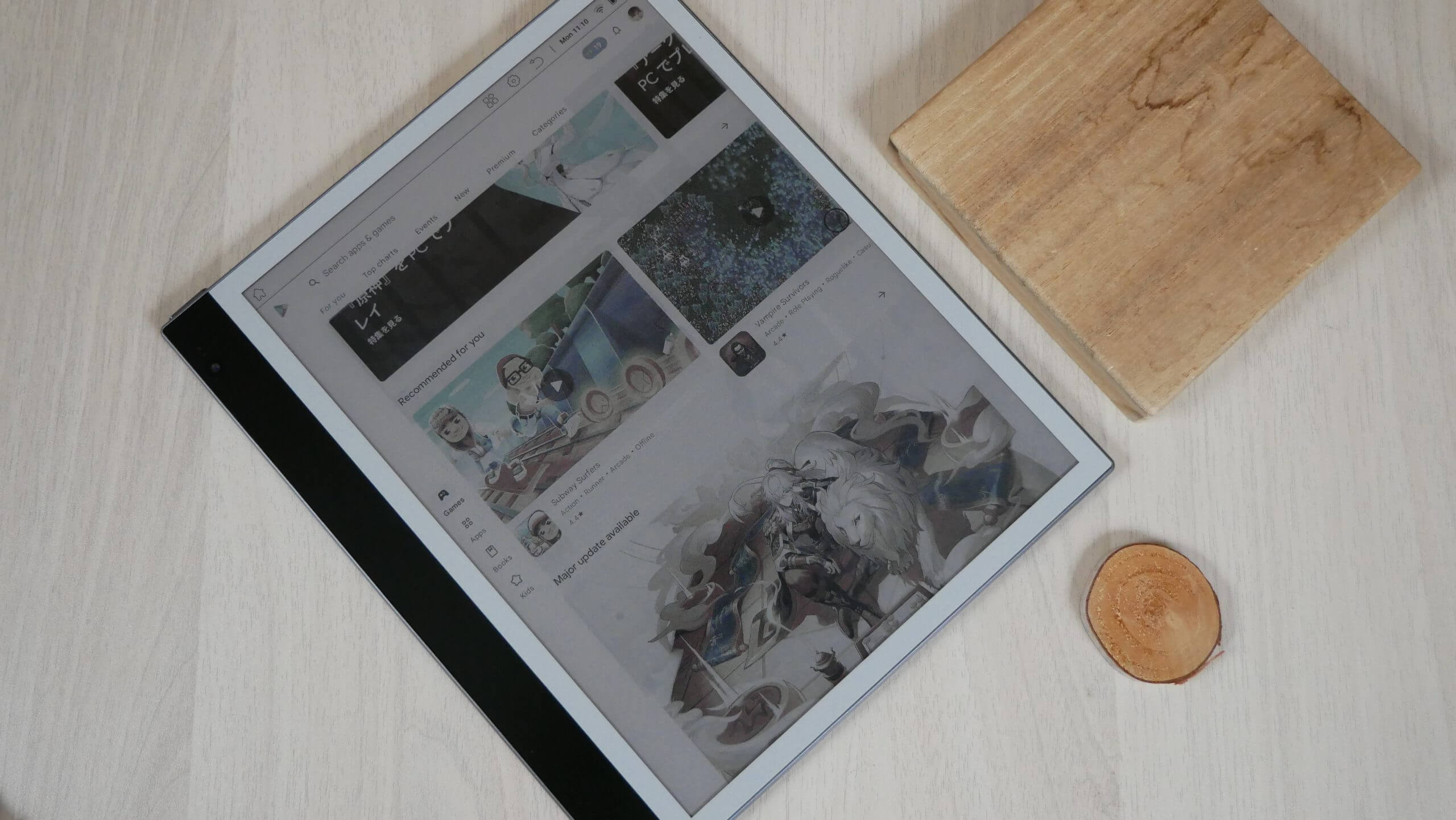 The InkNote Color Lite is running Google Android 11 and has full access to the Google Play Store. Bigme is making a big deal, no pun intended with the inclusion of ChatGPT. This generative AI onboard, is capable of pulling off such tasks as creating a summary of meeting minutes, writing essays, video scripts, or other compositions, writing emails, real-time translation of texts, reading or editing notes, writing codes, and so on. In fact, the list can be endless given how generative AI is smart enough to add to its vast repertoire of skills and continues to evolve over time. With the Chat GPT-enabled, Bigme is promising a more streamlined and structured operation of your daily office proceedings.
The main UI comprises a sidebar with a few options on the top. The sidebar can record meetings, access notes, create a task list, library, office documents, local storage, cloud files, voice assistant, settings and a home button. There are close to three pages of options on the menu, but you can access the menu management feature. This will provide a list of all of your apps and all of the default menus. You can merely uncheck the ones you do not want to be displayed and checkmark the things you want there. This allows some degree of personalization to the entire navigational structure. If you swipe down from the top, there is a dropdown menu with many sound settings. You can establish what speed mode you want, control the brightness of the front-lit display and colour temperature system, control the volume, Miracast, conduct a screenshot, and do a full page refresh.
A few different speed modes on the InkNote Color+ dramatically increase the performance. The default mode is HD, which gives you the best picture quality and synergizes well with all stock apps. If you intend to do internet browsing or run some light apps, you will want to engage in speed mode, which is an A2 mode. Normal mode is the middle ground between HD and speed mode. These are all global settings; however, you can ensure specific apps or programs open with a particular mode.
The settings menu provides all the typical Android settings but doesn't have a vanilla experience; Bigme has added and removed many things. You can do the usual WIFI login and passwords, pair Bluetooth accessories, language settings, data and time, sleep timeout, check for firmware updates, run various calibrations for the Smart Pen, and even control what you want the side buttons of the pen to do. By default, the cell has a home button, an eraser and a forward and backward button, which makes reading ebooks a walk in the park. With e-readers, you have to tap on the screen or swipe. The Bigme pen can control page turns with a click on the stylus. I can't think of another product that does this.
The software experience is polished. Everything is great for me. One feature I liked was killing all background processes, which helps conserve battery life. The speed modes improve listening to Spotify, YouTube Music or Audible since it reduces latency. You won't be able to watch videos, mainly due to the limitations of E INK, although you can run apps and light games.
Now let's talk about languages; there is native support for 37 languages. These include German, Thai, Slovenian, Icelandic, Turkish, Ukrainian, Russian, Vietnamese, Laotian, Slovak, Dutch, Khmer, Spanish, Romanian, Norwegian, Croatian, Finnish, Greek, English, Arabic, Hindi, Danish, Malay, Catalan, Portuguese, Chinese, Japanese, Swedish, Hungarian, Bulgarian, Czech, French, Korean, Polish, Hebrew, Tamil, and Italian. This is more languages than any other e-note support.
Writing and Drawing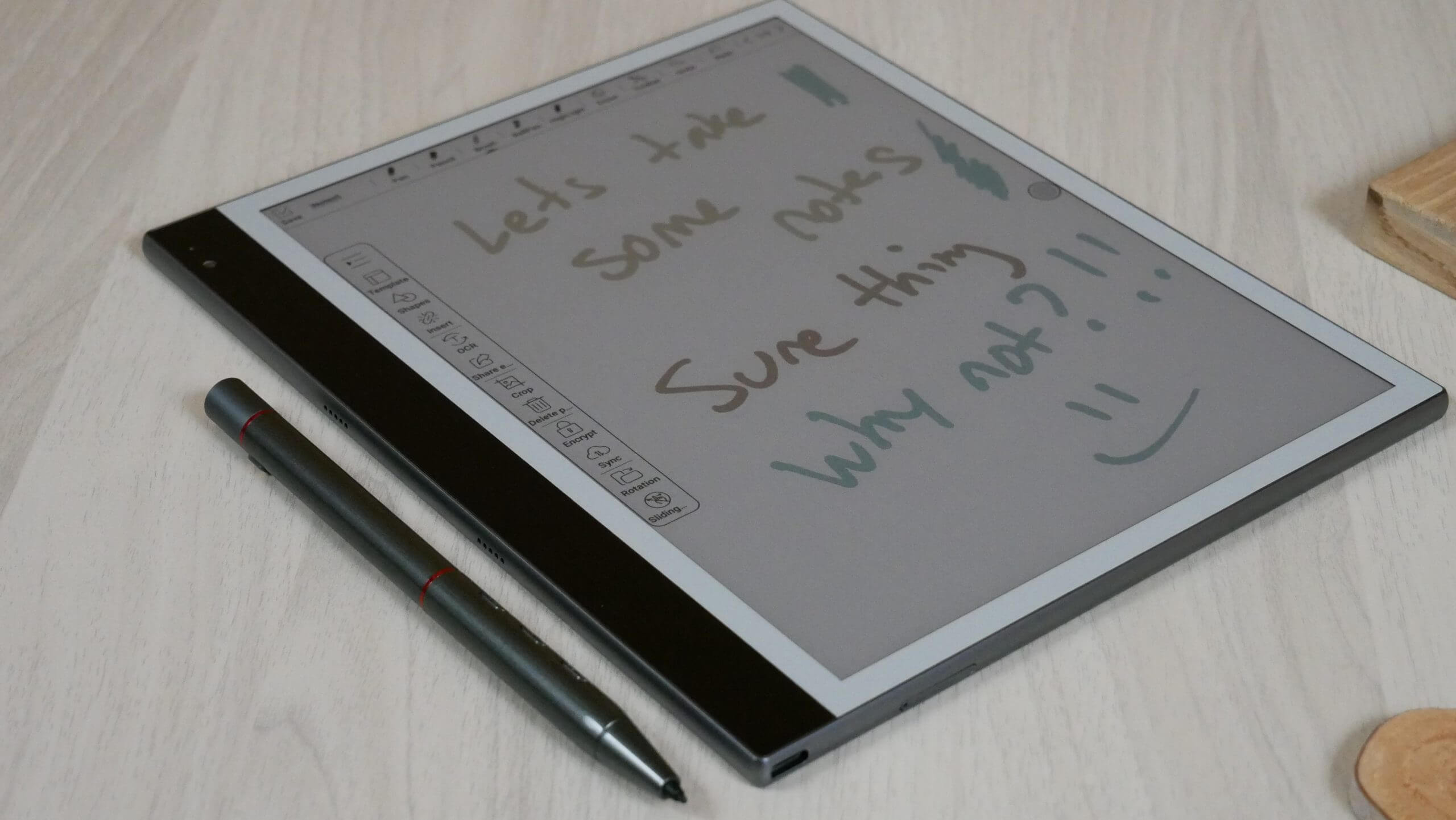 Writing on the InkNote Color Lite is slick and seamless. Drawing or making annotations is not exclusive to the drawing app, but you can do it in all pre-loaded ones. You can view and edit PDF files, make highlights or write in the margins. Load in your favourite books? You can edit those too. There are a total of 16 colours that you can select from the palette. They are; purple, light blue, lilac, black, white, dark green, yellow, orange, pink, sky blue, blue, red, green, light grey, dark grey and grey. One exciting thing about all these colour choices is that Bigme supports the most comprehensive array of colours. Their competition, such as Onyx, only has ten colours.
The main drawing app has many excellent features. You can select your writing utensil, eraser, undo/redo, insert text, insert photos/clipart, pick one of the 40 background templates, save or create another page. There are only a few settings that are relevant to freehand drawing. One is the writing tools; you can select between pen and pencil, each has a slider bar to control the thickness of the lines, and the other is the colour palette. The writing latency is very low when putting the stylus on the screen. Everything appears in under 20 milliseconds. You can easily spend hours just drawing in colour. You can insert text, images, and vector art or use quad-microphones to use speech-to-text and inject them into your notes. The AI system is marketed very well but could be more robust. There were many simple grammatical errors and failure to use any punctuation. I found this more a gimmick than an essential feature everyone would use. There is also no lasso tool to move things around quickly.
Kaleido 3 makes a world of difference when drawing; colours blend. Here is what I noticed when inserting pictures or mixing colours. The old Inknote Color with Kaleido 2 would show colours as hexagonal, whereas Kaleido 3 squares, miming how pixels are meant to look. If you have ever opened Adobe Indesign or Photoshop and zoomed in to a considerable degree, all the colours are little squares, which makes colour matching way better. This is the best way I can explain how great Kaleido 3 is as a digital note-taking device for freehand drawing and editing image-heavy PDF documents.
I have not noticed any decrease in performance with drawing or editing PDF files with the decreased RAM, vs the regular InkNote Color+. I think the Lite is the way to go to both save money and get the most of your Kaleido 3 color display panel.
Reading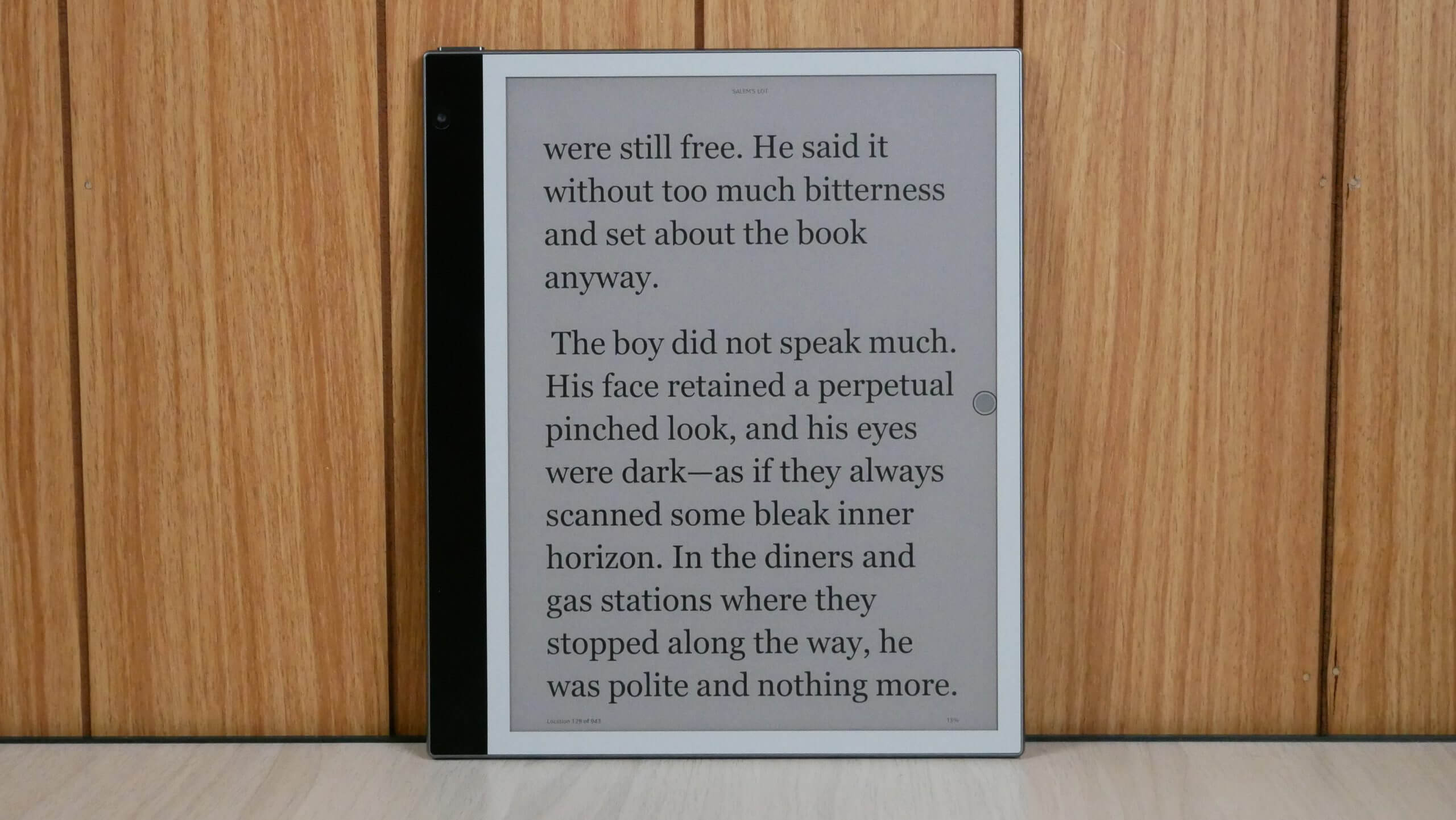 The Inknote Color Lite has a stock reading app installed and is great for getting started when reading books. You will have to sideload your collection, which is OK for severe readers with extensive collections on their computers or cloud storage.  It supports many formats, including PDF, EPUB, TXT, FB2, and AZW3. It is also great for reading manga, magazines, comics, webtoons and any other colour content that doesn't look great on a black-and-white screen.
One of the other benefits of this InkNote Color Lite is due to the hardware; it is ideal for large PDF files. Page turn speeds are lightning quick, even on 900 MB or more important files. You can quickly draw all over the document, make underlines, and highlights, write in the margins and control the PDF file with options such as scale, rotate landscape/portrait mode, crop, contrast and even prevent the reflow. PDF files shine, and the colour accuracy is excellent. This is one of the best PDF writing experiences on any e-note.
Not everyone will have an ebook collection that is DRM-Free. However, downloading your favourite reading app from Google Play is the central selling point. Google Play and Google Play services come pre-installed. You can download Amazon Kindle, Kobo, Nook, and thousands of other apps you might use on your smartphone and tablet.  The page turn buttons on the stylus make turning pages a little bit easier.
I tested Kindle, Nook, Kobo, Libby, Audible and Spotify, and they all worked great, although I would install the "Lite" and "Go" apps on E INK devices since they are stripped-down versions of the main app and lack things like animations. Animations are an E INK killer, but the Bigme is armed with tools to combat this. The speed modes will make sure work of animations, providing the best user experience. I even tried some games, and they worked fine at 30 frames per second, which the Inknote Color+ supports.
Wrap Up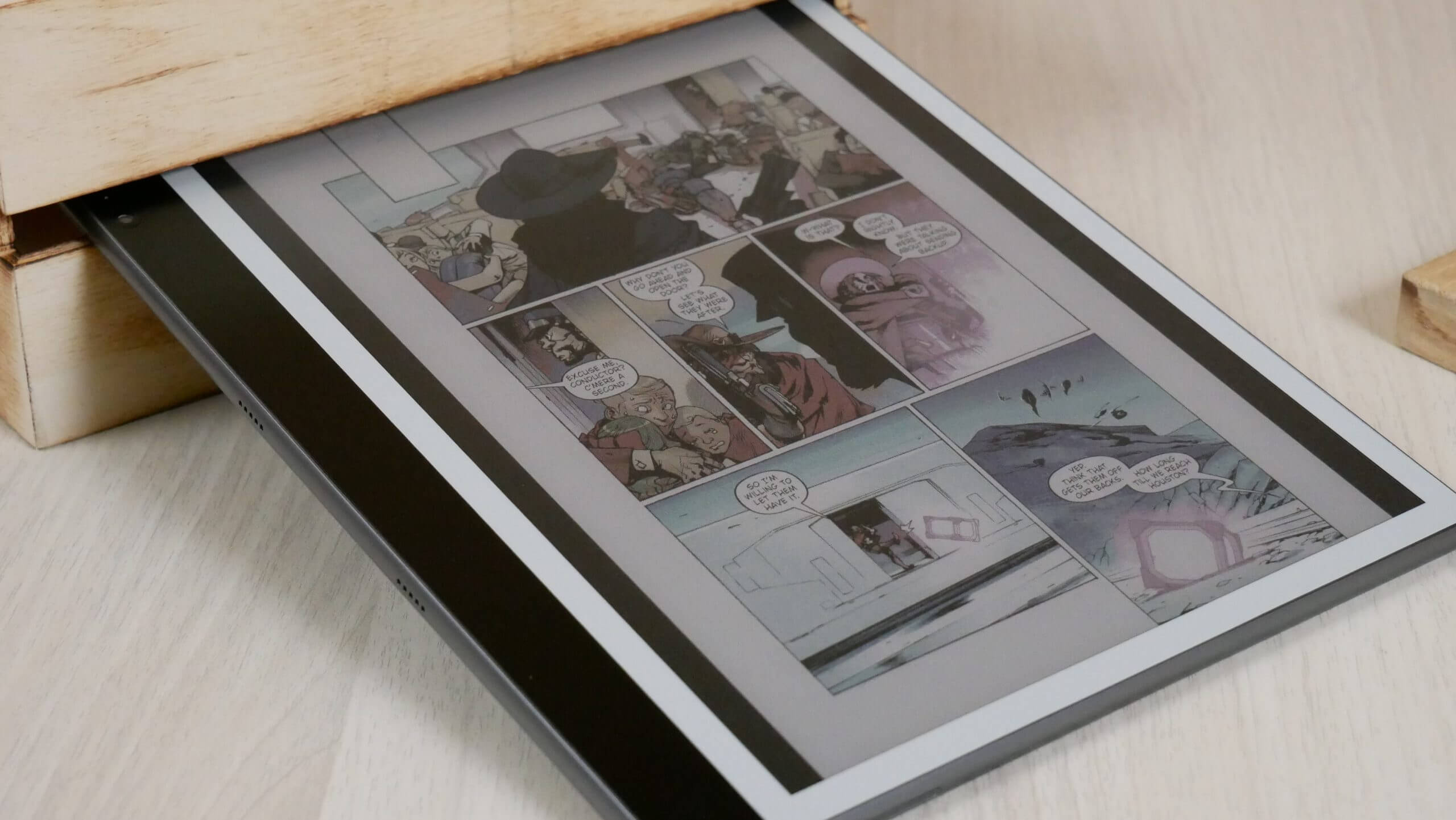 There's not too much to say. It's the exact same thing in every conceivable way to the InkNote Color+, except for four small points. They removed the 4G antenna, they cut the storage in half, and took the RAM from 6GB to 2GB of RAM. Not only that, they have managed to shave off $200 from the price point, which is significant. In terms of the speed and operation, it appears to be identical to the older brother in every conceivable way, and was not hindered in anything we tried to do. I could imagine if you ran multiple things at once, you could run out of memory, but on a task by task basis, there were no noticeable differences whatsoever
Bigme InkNote Color Lite
$489.99
Pros
Kaleido 3 color e-paper display
Excellent for note-taking and drawing
Excellent PPI for Color
Affordable
Android 11 and Google Play
Cons
I wish it had Android 12
Bigme removed 4G sim card
Global handwriting does not save everywwhere
Chat GPT on e-notes is a mixed bag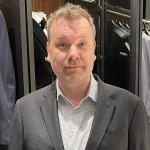 Michael Kozlowski has written about audiobooks and e-readers for the past twelve years. Newspapers and websites such as the CBC, CNET, Engadget, Huffington Post and the New York Times have picked up his articles. He Lives in Vancouver, British Columbia, Canada.