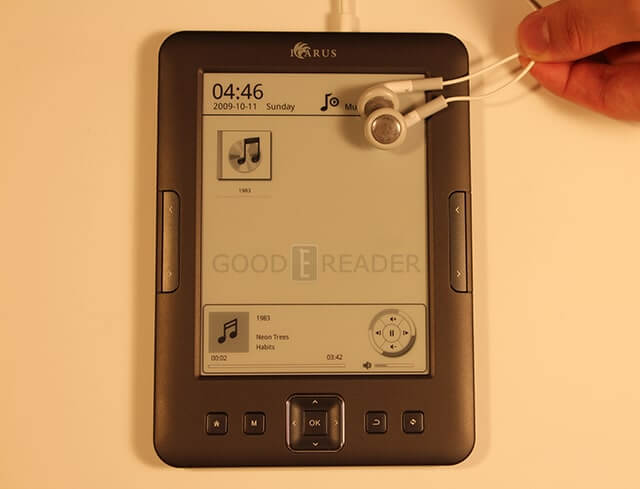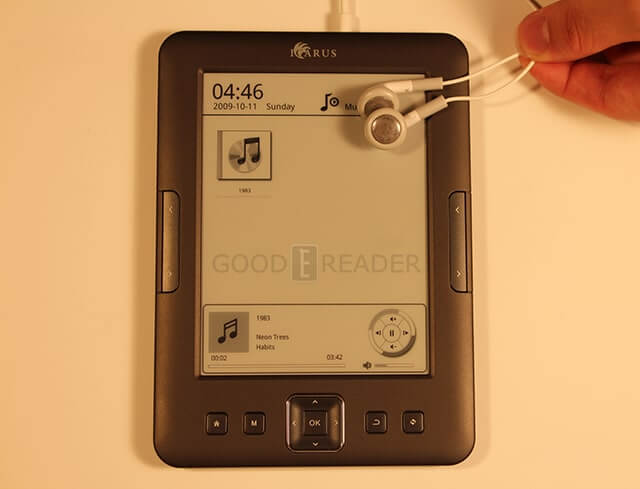 Icarus has a number of fresh e-ink based readers that have just hit the market. One of our favorites was the Excel 9.7 inch reader with the best PDF augmentation in the world. The Icarus Pocket was released a few months ago in Europe and is starting to creep into North America. How does this six inch reader compare with other indie readers on the market, and is it a viable investment?
Hardware
The Icarus Pocket is a very lightweight six inch e-reader with a resolution of 800×600 pixels and 167 DPI. Underneath the hood lurks a Rockchip 2818 622 MHZ processor, which keeps it loading fast. It has 4 GB of internal memory and can be enhanced further with a MicroSD card up to 32 GB.
In a world of touchscreen e-readers, the Pocket keeps things retro with a non-touchscreen model. It has physical page turn keys on both the left and right hand side. This allows people to hold it with either hand and be able to comfortably turn the pages of the book they're reading. It also has 4 main buttons and a d-Pad in the center to allow you to click Home, Back, Refresh, and Menu.
Many e-readers these days have abandoned audio. Most of the mainstream releases by Kobo, Amazon, and Barnes and Noble cut costs to compete with each other, and audio was an added expense. Although this device does not have a speaker built into it, you can plug your headphones into the 3.5mm headphone jack and listen to music while you read. Playing music is persistent and you can do other things while grooving to some solid rhythms.
Charging the reader is done exclusively by the Mini USB connector and the device ships with a free cable. You will normally garner about 10 hours of continuous reading or around 8,000 page turns via the 1,400mAh Lithium Ion battery.
There is no internet access on this model from Icarus, but you can download books from the internet and load them onto your reader with the USB cable. It is fully compliant with Adobe Digital Editions, so you shouldn't have any problems purchasing books from online retailers that sell them in the ePUB format.
In the end, the hardware is fairly solid. It was designed to be an e-reader that only costs around $129.99 and comes packed with features. It has a very small form and is tremendously lightweight and portable. It feels more like a higher end e-reader than most other devices around this price level from indie companies.
Software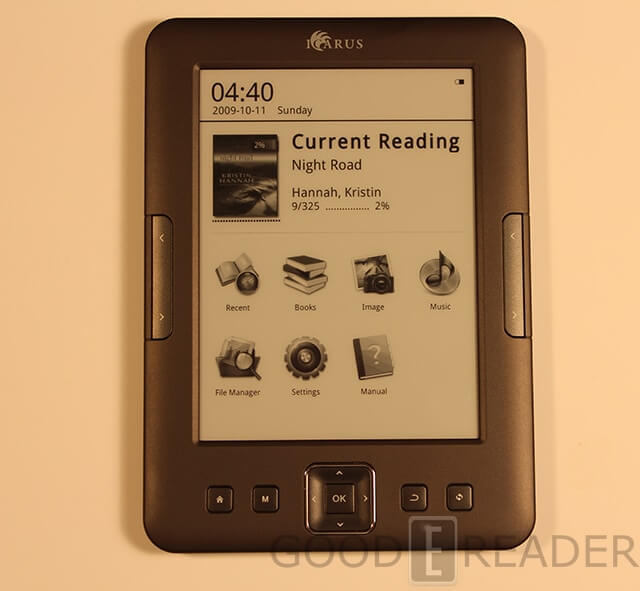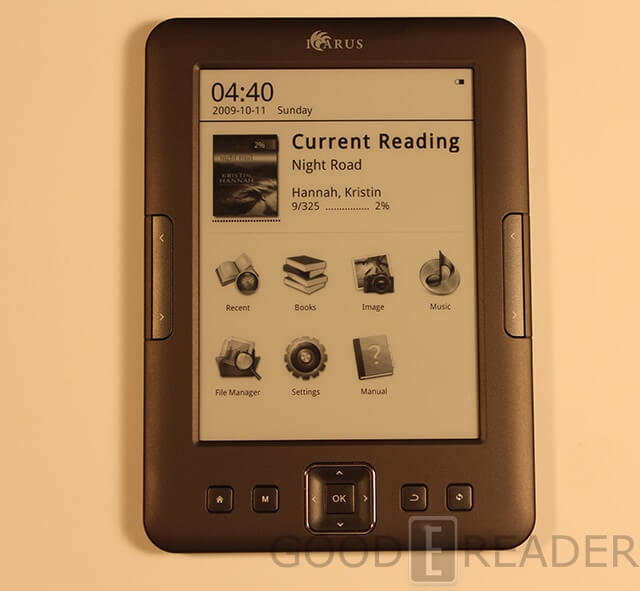 The Icarus Pocket is running on a Linux operating system and has a very clean main menu. At the top is the most recent ebook that you are reading and it gives you the stats on your progress. The most essential options on the main menu are Library, Images, Music, File Manager, and Settings. There are also links to the user manual and the most recent files you have opened.
Pictures always tend to look very good in full e-ink glory and you can easily load your own in. It supports a wide array of formats including; JPG, BMP, GIF, PNG, and TIFF. The audio player is fairly basic, but does allow you to multitask while playing tunes. You can copy them over in the MP3, WMA, WAV,FLAC, AAC, and OGG formats.
This is a truly international reader with many different languages available to have your settings and UI changed. Polish, Russian, Romanian, English, French, Spanish, and 12 other options are available. Most other readers just have a few supported options for the markets they have a presence in, but this one really takes it to an entirely new level.
Reading Experience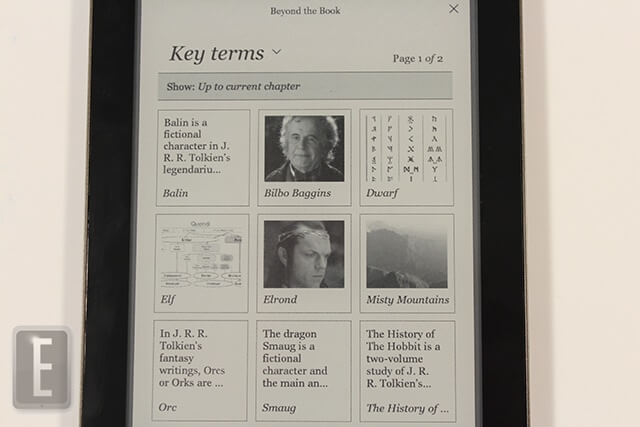 If you have ever used an Amazon Kindle, Kobo, or Nook Reader you should feel right at home with the sheer number of options you can employ to tailor your reading experience.
When you are reading an ebook you loaded onto the Pocket yourself, you have the option to configure 17 different font sizes, line-spacing, margins, and 9 different font-types. If you mess around with these and you don't know what you did, you can click on "Publishers Defaults" and the text goes back to the way it was. I really like the augmentation of the reading experience. So many devices on the market really don't allow many options to customize the way text looks, but this is one of the few indie readers that does.
When reading a book there are no features for notes, highlights, and annotations. This may be a deal breaker for some people, but for casual readers, there are little to no distracting features. This reader is perfect for the book lover, because once you establish what fonts and sizes look best for you, just turn the page. There is a bit of elegance in the simplicity of the reading experience. Fonts are clean and crisp, and if they're not, there are options to fix it. You can actually customize the light/dark levels of fonts with a wide range of options to find that sweet spot.
Most six inch readers don't handle PDF files all that well. At best you have a few zoom features and on touchscreen readers you can pinch and zoom. One of the downfalls of pinch/zoom is that its not carried over to the next page you turn. This device has solid reflow options to make a newspaper appear as an ebook. You can conform the text in a PDF document with a ton of different zooming options. Every time you zoom, the text is nice and centered. If you just want to read the document as is, when you click on the page-turn button you can scroll further down in the document. If you want to load in very large PDF files, like 80 MB or higher, be prepared to wait at least fifteen seconds for it to load properly.
This reader might be perfect for the most tech savvy user and newbies alike with the sheer number of supported book formats. It currently reads PDF, FB2, EPUB,RTF, MOBI, TXT, HTM, CHM, PDB, DJVU, DJV, and DOC Files. It is also fully compliant with Adobe Digital Editions. This will allow you to transfer books you buy from other ebook stores right to your unit. Cover art normally shows up fairly well in your library, but there are scant options to make your own collections.
In the end, the reading experience on the Icarus Pocket is very good for an indie reader. It does not sacrifice the integrity of reading to cut costs on selling the product. It is available in Europe for around 89 Euros and up to $129.99 in North America.
Wrap Up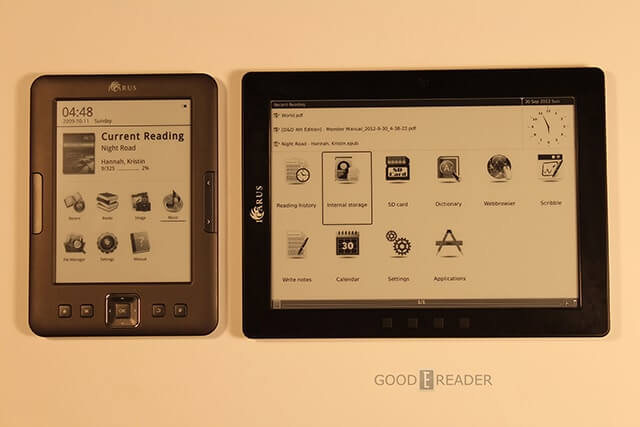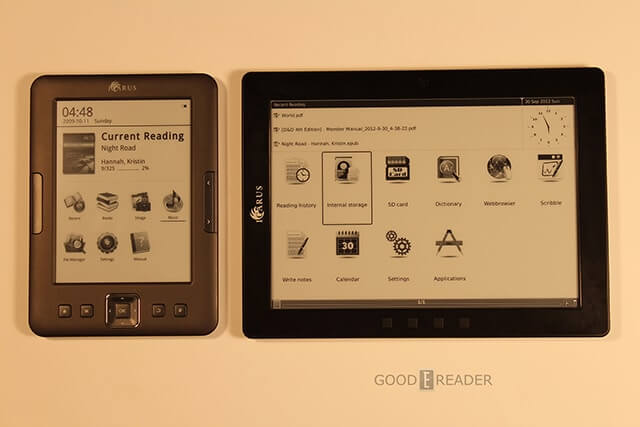 Icarus is doing some very innovative things in the e-reader sphere. The company has only been around for a few years and most people have never heard of it. I only recently became aware of Icarus when researching good 9.7 inch readers to appeal to students and working professionals. After our Hands-on Review of the Icarus Excel, I naturally had to test its other new products.
I am really pleased with the overall build quality and reading experience. There are no crazy advanced features to clutter the UI or make life anymore confusing thn it needs to be. It is marketed to compete with companies like Onyx Boox, Ectaco, Pocketbook, Bookeen, and others. Many sub-par devices launched by the competition give you a lackluster experience. Pocketbook has good build quality, but the internal hardware components often make it rather sluggish, Onyx Boox has abysmal customer service and good luck trying to RMA anything. Ectaco often makes very low-quality products, but is a shining beacon of hope in the e-reader world with the Jetbook Color, which uses e-Ink Triton. Icarus does an excellent job at maintaining both good customer service and a quality e-reader.
Pros
Good Design
Supports Adobe DRM and Many eBook Formats
Solid Page Turns
360 Degree Software Orientation (Landscape/Portrait Mode)
Lots of PDF Support
Good ePUB Customization Options
International Language Support
Cons
No WIFI or Internet
No Highlights or Note Taking in EPUB but can with PDF
No Collections or Good Library Management
Internal Directory Structure Is a Root, with No Folders
Rating: 8.5/10
[cincopa AMLAx8Kt9-Ce]

Michael Kozlowski is the Editor in Chief of Good e-Reader. He has been writing about audiobooks and e-readers for the past ten years. His articles have been picked up by major and local news sources and websites such as the CBC, CNET, Engadget, Huffington Post and the New York Times.