The Blackberry Q10 is the second phone to be released using the new Blackberry 10 operating system. This new model maintains the same type of keyboard that has been a seminal success with the Blackberry Bold and Curve. It maintains a smaller screen compared to the Z10, but is a step in the right direction when compared to the previous models. Can the Q10 compete against other top smartphones on the market and is it a viable investment at $700.00 to buy it straight up or $200.00 on a three year contract?
Hardware
The Blackberry Q10 features a Super AMOLED 3.1 inch touchscreen with a resolution of 720×720. It has 2 GB of RAM and a dual core 1.5 GHZ processor in conjunction with 16 GB of storage. You can expand the memory quite easily via the MicroSD card up to 32 GB.
There is a front facing 2 MP camera used for Skype or other video conferencing software, you can also employ the rear-facing model that garners you 8 MP and has a LED flash. Taking photos is fairly quick and there are some cool features like Time Shift that give you advanced tinkering. Overall, the camera is a bit better than prior models of the Blackberry, but is rather identical to the Z10.
Overall, the hardware will appeal to the crowd that desires a physical keyboard and did not grow up with touchscreen devices. Many people find adapting to a virtual keyboard when you to have to reply to a copious amount of emails and text messages is quite arduous. The Q10 will appeal to the type of people that demand a physical keyboard with fairly modern smartphone specs.
The back of the device has a pseudo textured weave, but is only for visual aesthetics. It does not have the firm grip that many other Blackberry phones have had, and I can imagine it slipping from your grip, unless you invest in a better carrying case.
One of the biggest advantages the Q10 has on the competition is the removable battery. Being able to swap them out while traveling is a huge advantage and upgrading to a higher capacity aftermarket model is very compelling. It has a Li-Ion 2100 mAh battery and should give you between 12 and 18 hours of use, depending on what you are doing.
In the past, if you had a Blackberry device, you could not hook it up to a projector, media center, or computer. The Q10 has added a micro HDMI port right next to the Micro USB. This will allow multimedia and business users to hook up their devices in a work environment and run presentations.
This phone honestly feels like the type of high-end device that is very similar to the Blackberry Bold, the keyboard feels a bit more refined than prior models of Blackberry. This unit is the best full keyboard model that BB has ever released. The resolution, camera, processor, and RAM will allow you to watch videos, play games, and be productive, without dreading every time you open the internet browser. Speaking of internet, this phone is one of the first models to feature LTE, so if you are on a fast network, like Rogers, Bell, Telus, or American providers, you will be able to get around 7 MB per second download and around 2.4 MB upload.
Software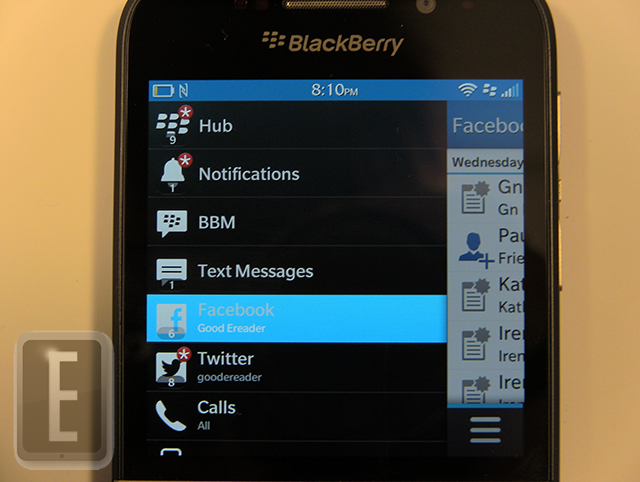 Blackberry 10 is one of the most refined operating systems the company has ever generated and allows users to load in their own Android apps. There are a few big hyping factors around the hardware, such as the robust multitasking and Blackberry HUB. If you swipe upwards from within an app, you can see a very large portrait of all the apps you have open, whereas prior models from Blackberry merely had icons.
Blackberry HUB is basically your Mailbox, BBM, Text Messages, Twitter, Facebook, LinkedIn, and app/game notifications. You can get everything from your social media network to email friends in one easy place. There are options within the HUB to turn off particular notifications, which is useful if you have thousands of Twitter Followers and Facebook Friends and don't want to see 10,000 status updates and tweets a day.
One of the biggest advantages Blackberry has always had was its money email support. BB is one of the few companies to have a 'Delete Prior' feature that will allow you to mass delete emails at the push of a button. If you have an iPhone or iPad, you can't mass delete emails, you have to manually do it one by one. Blackberry will allow you to long-press on today's date and then swipe the garbage icon and delete everything within your HUB. I get around 600 emails a day, and often don't read them all, so it's useful to just delete everything within a few seconds.
One of the big drawbacks on the entire BB10 operating system is the lack of BIS email. This was one of the big claims to fame for Blackberry back in the day. All email went through the company's own internet servers and had built in compression. This meant that emails were instantly pushed to your device from the company's own servers as a compressed package, so your data ratios were always low. If you are a traveler and are often roaming, it is very useful to have a reduced data consumption. With BB10, the company has done away with BIS for your average user and instead goes through the carrier's own data networks. This results in no compression and higher data usage rates! We have heard from many users that their bills have increased by almost 3/4 when using a BB10 device. Emails also don't arrive as quickly as they once did, but still are faster then iOS or Android.
Email support is one of the biggest selling points. Most phones fetch emails every 5 minutes by default and don't really have a instant sync function. Blackberry has always done an amazing job at fetching emails faster than anyone else, so if quickly getting this type of thing is important to you, look nowhere else.
The phone does not come with a ton of apps installed by default on the Q10. You have LinkedIn, Facebook, Twitter, BBM, File Explorer, and a few others. It is clearly not the type of bloatware you could get when you buy a phone from Samsung or HTC .
New apps are downloaded from Blackberry World, which is the new app store. This edition is optimized for the Q10, and you can buy songs, movies, apps, and games. Blackberry claims over 100,000 apps on its ecosystem, but honestly it feels like 75% suck or are Android ports. Hardly any developers are actually making native versions of their apps for Blackberry and are simply just converting their APK files to BAR files.
App selection is something that has improved since the initial launch of the Z10, and we now have WhatsApp, Kindle, and MLB at the ballpark, and many more. In essence, these are all Android ports as well, but have been optimized for the two screen sizes. Really, finding quality apps like Netflix, Instagram, Kobo, and Marvel Comics are nowhere to be found through official channels. Luckily, Good e-Reader has the LARGEST BB10 App Store for converted Android apps. We have all of the above apps and over 5,000 other apps! It's weird to think Blackberry does not have Instagram or Netflix, but we do. Go figure.
Reading Experience
The Blackberry Q10 only has a 3.1 inch screen, which makes e-reading a bit tedious. There simply is not a lot of screen real estate to read ebooks, comics, or apps like Pulse.
When you rely on reading just pure text, reading on the Z10 is not completely bad, it's just impractical. If you are reading using the Kindle app, there is only so much text that be displayed on the screen at any given time. Since the screen is essentially a square, you don't gain any advantage from landscape mode. Speaking of such, there is no landscape mode; the entire ability has been locked out of the hardware. This means video, books, and everything else will not show up. So if you are more comfortable reading in portrait mode, look elsewhere.
More graphic heavy content like Manga and comic books are readable, and you can employ the pinch and zooming functionality to isolate particular frames and read the text. You can really do a ton with this in terms of reading graphic heavy content, but again, it's not very practical.
In the end, there are lots of RSS apps, e-reading, and comic book apps for the Q10. The 3.1 inch screen is just too small to really fit enough content on the screen that can give you the most out of it. I would recommend the Z10 for almost all apps, games, and reading.
Wrap Up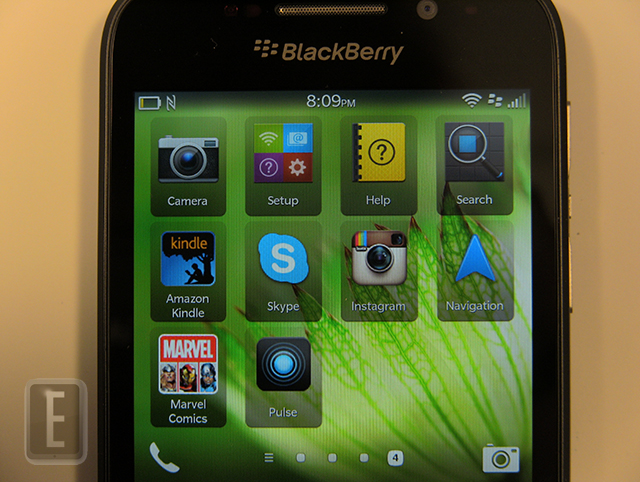 The Blackberry Q10 is the spiritual successor of any prior Blackberry that had a built in keyboard. It is meant to be a productivity device with a heavy emphasis on typing text messages, emails, and status updates. The phone experience is actually very solid with a mic on the top and bottom and two speakers. The audio quality is the best out of any phone we have had in the past.
When it comes down to it, you should only buy the Q10 if you are really dependent on a physical keyboard and you type a lot. You should buy the Z10 if you are into games, apps, reading, watching videos, and doing more multimedia endeavors.
My own viewpoint is that the Q10 will likely be my primary phone until the new slider model comes out in September. A physical keyboard is very important to me and will replace my aging Torch 2. I get a copious amount of emails every day and have to respond to many as quickly as possible. It would be nice if the screen was a bit bigger, even by an inch. If you look at the Torch 2, this screen is only smaller by .1 inches, so it's not a huge deal. It dwarfs prior models, and is the second best phone Blackberry currently offers.
In the end, for your average business user, I would recommend the Z10. It is more versatile and gives you more bang for your buck.
Rating 7/10
Michael Kozlowski is the Editor in Chief of Good e-Reader. He has been writing about audiobooks and e-readers for the past ten years. His articles have been picked up by major and local news sources and websites such as the CBC, CNET, Engadget, Huffington Post and the New York Times.