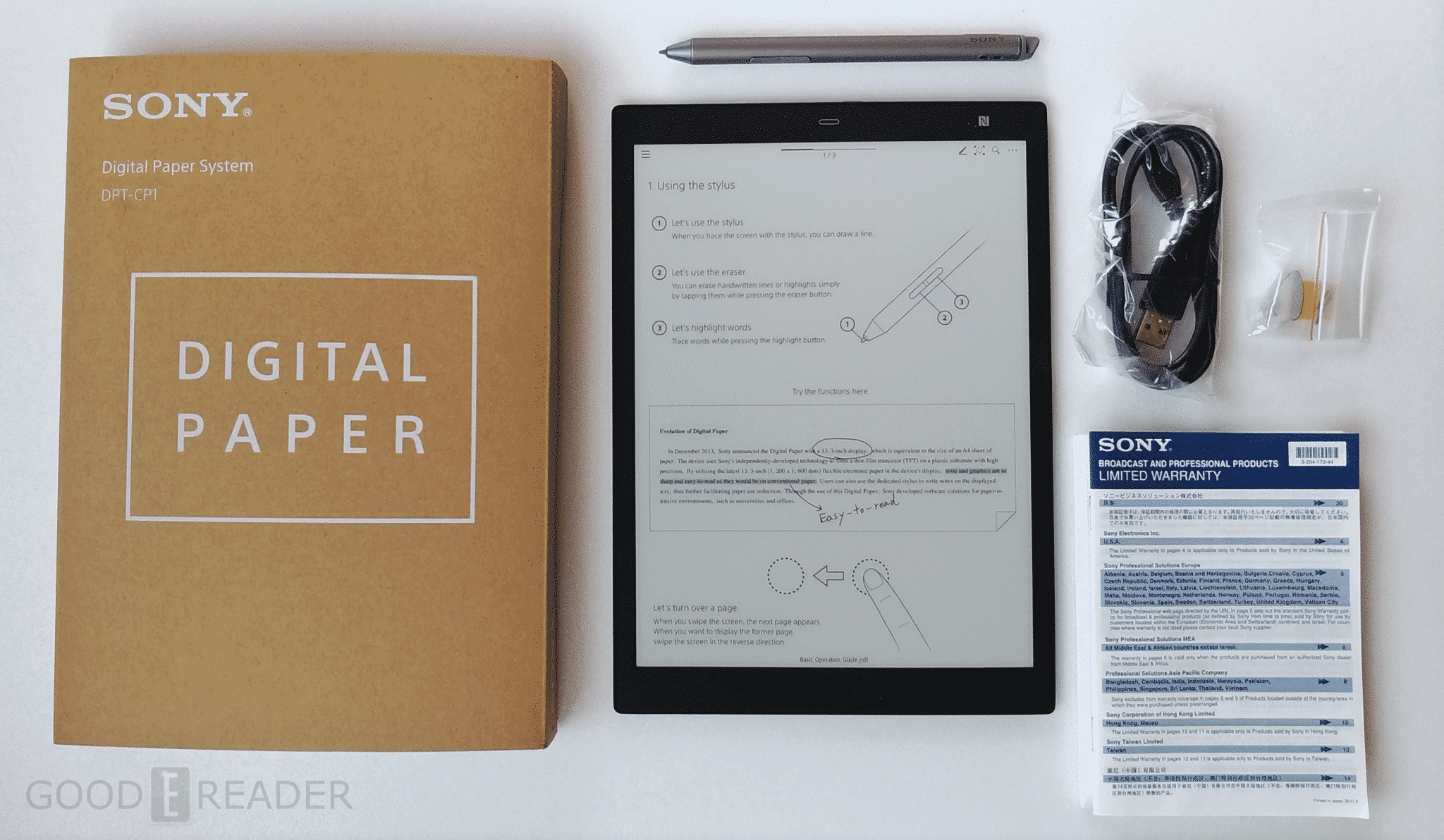 The brand new Sony Digital Paper DPT-CP1 is the companies first 10.3 inch model and it is fairly comparable to the 13.3 inch version. It is running the exact same operating system and firmware, so there are no cool little features that make it distinctive. Sony primarily developed this model because they wanted a low cost alternative for businesses, companies or government agencies to go paper free.
Hardware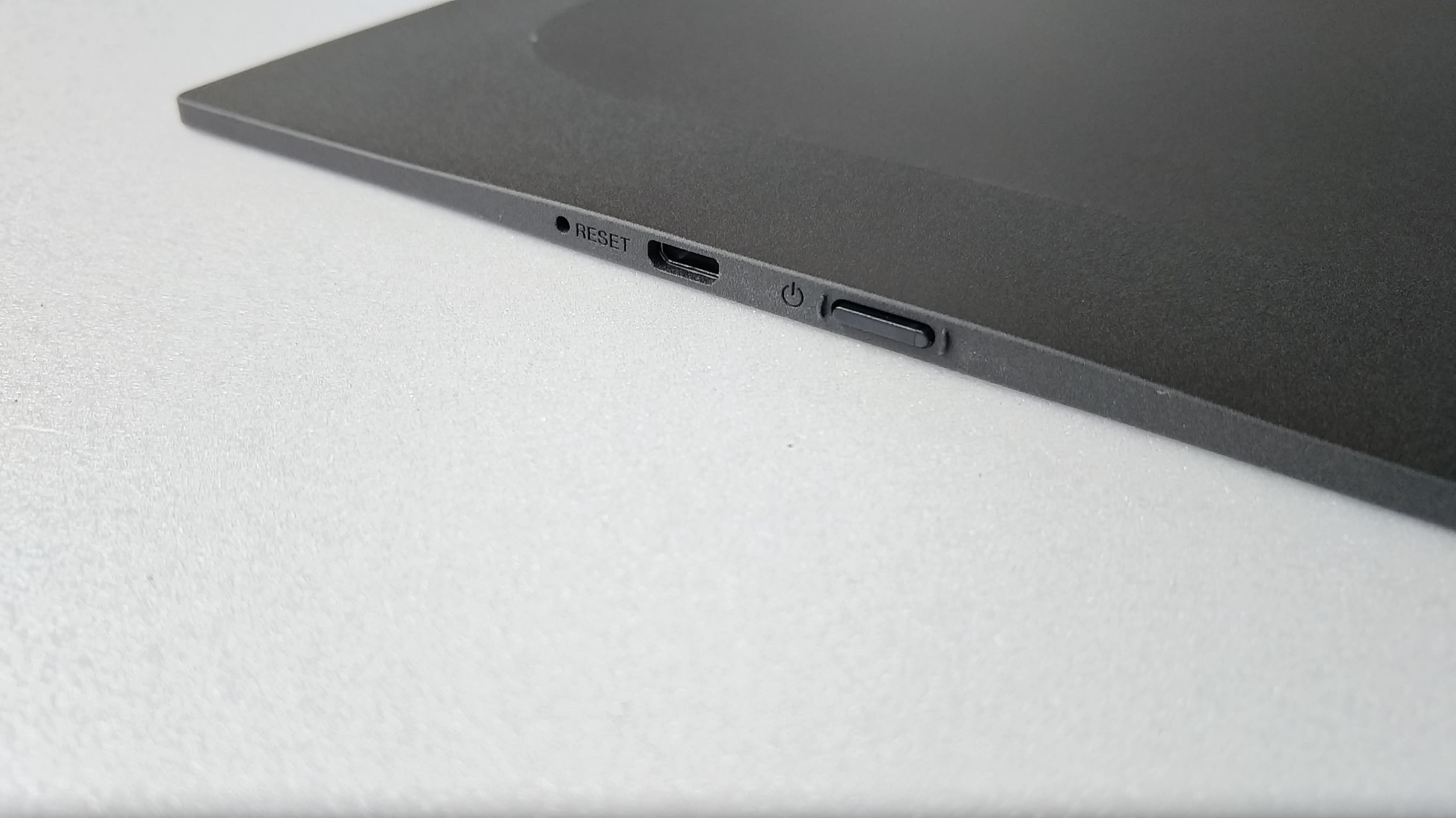 The DPT-Cp1 features an E-Ink Carta display with a resolution of 1872×1404 with 227 PPI. It has a capacitive layer for touchscreen interactions and also one for the stylus to take notes and write on PDF files.
The screen itself doesn't have a back or front light, and has the slightly gray background of lower-cost Kindles. The PPI is not as sharp as the standard 300-ppi display on the latest ebook readers, and you can tell that when trying to read very small text or look at maps. The 16 levels of grayscale are standard for E Ink and are fine for graphs, charts, documents or maps.
Underneath the hood is a Marvell IAP 140 64-bit Quad-core IoT Applications Processor,1GB of RAM, 16GB of internal storage, WIFI and Bluetooth 4.2. The dimensions are 174.2 × 243.5 × 5.9 mm and it weighs approximately 240 g.
You cannot connect up to the internet via WIFI. Instead this connection option is used for connecting up to a PC using the Sony Desktop Software or Sony Digital Paper Mobile Application – Smartphone companion app for Android and IOS for easy, convenient transfer of documents, forms and notes.
One of the best aspects of the Sony Desktop Software is the Screen Capture/Display Output Mode option, which can display real-time handwriting and mark-up to a projector. This option is tremendously useful for meetings or being on stage. It is one of the most underrated uses that most people are unaware of.
Stylus and Digital Note Taking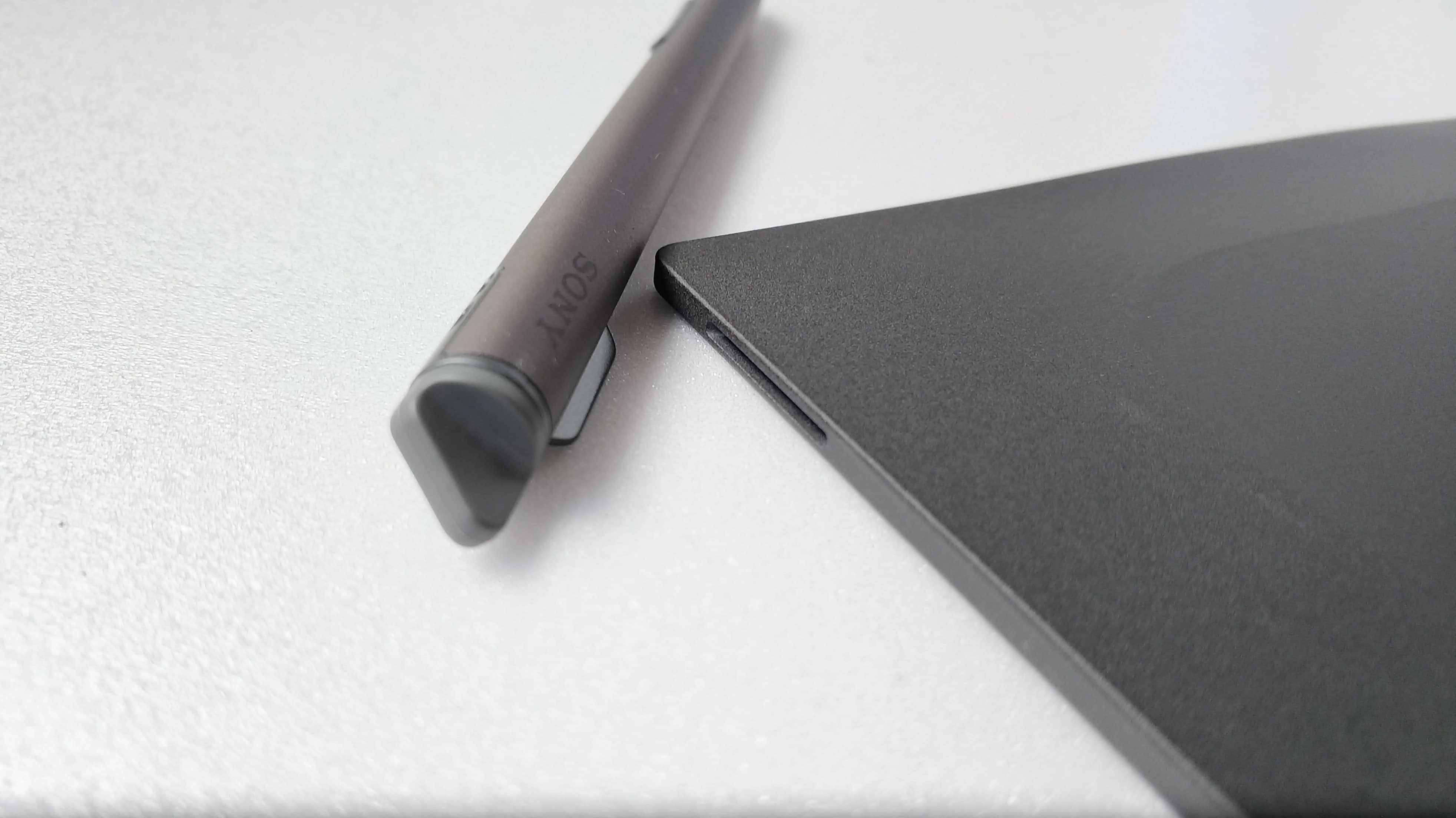 In 2017 Sony redesigned their stylus for the Digital Paper DPT-RP1 and it is using the exact same model with the CP1. The stylus has two different buttons, one to make highlights and the other is an eraser. The highlighting experience is especially interesting, because not only can you highlight a specific word or body of text, but also you can make highlights over highlights. This is very innovative because you can for example highlight a paragraph, then a specific sentence in the paragraph and then finally a specific word. Each highlight makes the next one a little bit darker and very discernable.

Inside the box are four replacement nibs that can be used for two purposes. One set of nibs are made of plastic and the other graphite. I find the graphite one is emulating a pencil and the plastic a traditional styli.
Unlike the Remarkable or Onyx Boox Note, this stylus needs power. It uses a small rechargeable lithium-ion battery and the top of the stylus comes off, revealing a micro USB port. You can then use the accompanied USB cable to connect it up to your PC and it takes 3 hours to fully charge.
The stylus does not provide you with different degrees of pressure sensitivity so you will be relying on the five different pen sizes. It goes from very fine lines to extremely bold. It also has two different pen colors, blue and red. These colors do not directly influence what is displayed on the e-ink screen, but when you copy your edited file or take a screenshot, the colors are preserved when viewing it on your MAC or PC
The DPT does not have a pen loop or stylus holder, instead it magnetically clamps directly to the side of the device. I think this stylus has a good build quality, it feels premium. It is made of a brushed aluminum and weighs 16 grams.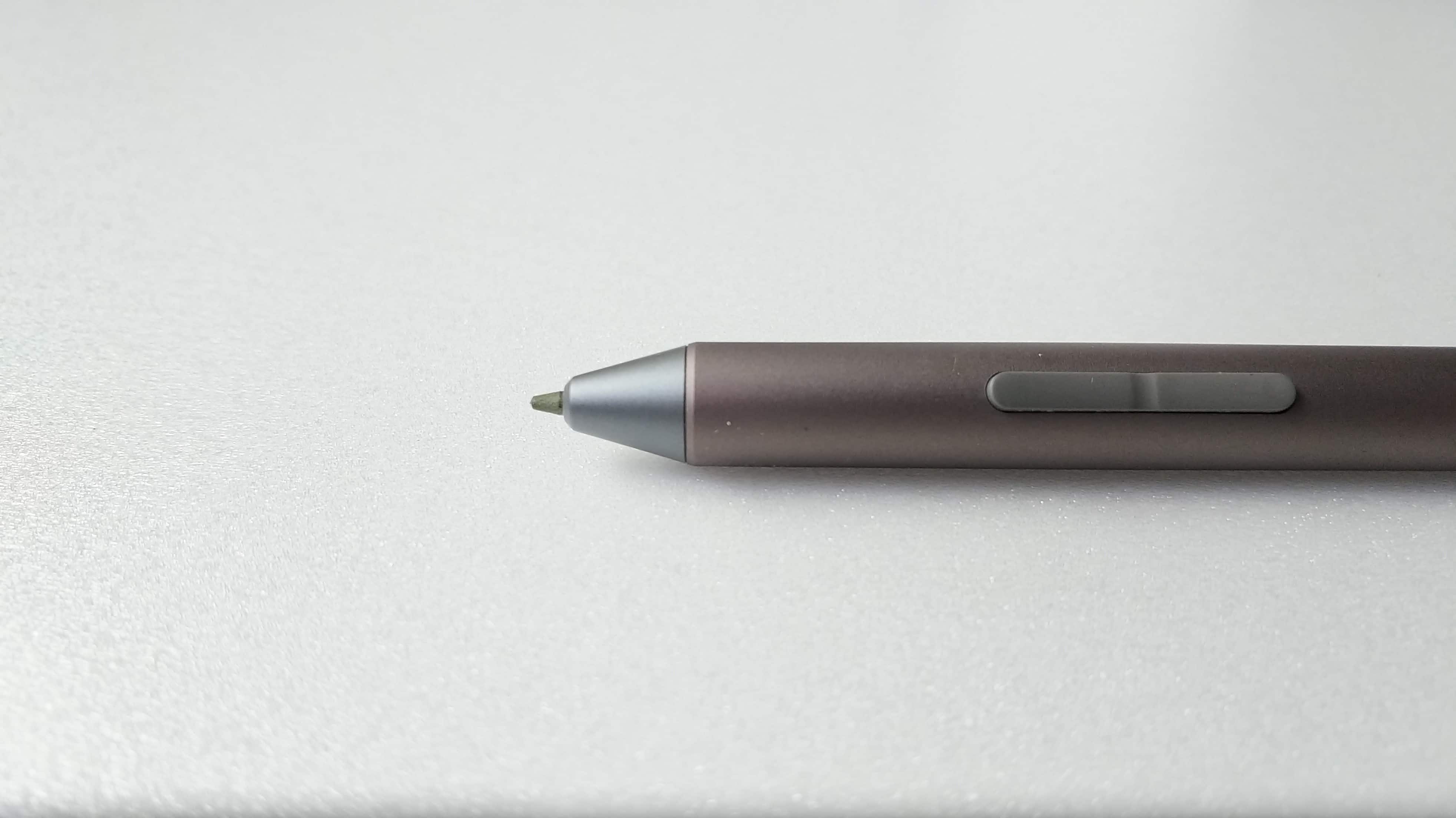 Taking notes are the big reason why you want to purchase the Digital Paper, but the main problem is it only reads non-DRM protected PDFs. Not ePub, not Mobi, not CBR, not library PDFs, not any other format. If you have an extensive collection of EPUB, TEXT or MOBI files, you can convert them to PDF by using Calibre. This free e-book management tool gives you super advanced options to customize the conversion process.
If you are making notes from scratch using the default app there are six different backgrounds that are available. This includes a college rule or ones that are completely blank, but have textures. Sony does have a dedicated website with hundreds of others, with big icons that give you a preview of what they look like. You can download them to your PC and transfer them via the Sony app directly to your device. There is also an option to remove any note taking backgrounds that you no longer want.
An autosave function saves annotations and hand-written notes to internal memory and the saves are searchable. A print to digital paper function allows users to convert a web page or file such as Word or Excel (among others) to a PDF and save it to the digital paper device.
One of the most compelling aspects about the Digital Paper is the split screen view and multi page view systems. Multi-page view will open up a PDF file in landscape mode and give you a secondary page. This makes viewing 100 page documents easier to view because you can fit more pages at once on a single screen.
Split Screen view allows you to have two different PDF files opened at the same time. You can use the stylus or your finger to turn the pages of an individual document, without affecting the other.
This might be a boon for students who have a digital textbook open on one side of the screen and note-taking app on the other. Alternatively, you could have two different e-books open at once, and independently make edits on both of them at the same time.
When viewing a PDF file you do not have the ability to pinch and zoom by using the touchscreen. Instead, you can use a small zoom tool to isolate a specific area; all you need to do is tap. When zoomed in, you will still be able to make edits.
One of the drawbacks about the zooming system is that it is irksome for documents that have small text or a combination of text and images. There is no reflow option to strip away the CSS elements and have pure text displayed.
If you are reading manga in PDF form, there is an option to change the directions that pages turn. By default, you would turn a page by tapping on the right hand side of the screen and use the left hand side to go backward, you can reverse this.
Although the DPT can only read PDF files, you are not exclusively reliant on digital textbooks or work related materials. You can load in your personal PDF collection, such as D&D gaming books or even e-books.
The DPT does is not Adobe certified, so it does not have a DRM system that would allow you to view PDF files that you borrowed from the public library or ones purchased from bookstores.
You can read ebooks on the DPT, as long as they are in PDF. If you have an extensive collection of EPUB, TEXT or MOBI files, you can convert them to PDF by using Calibre. This free e-book management tool gives you super advanced options to customize the conversion process.
Wrap up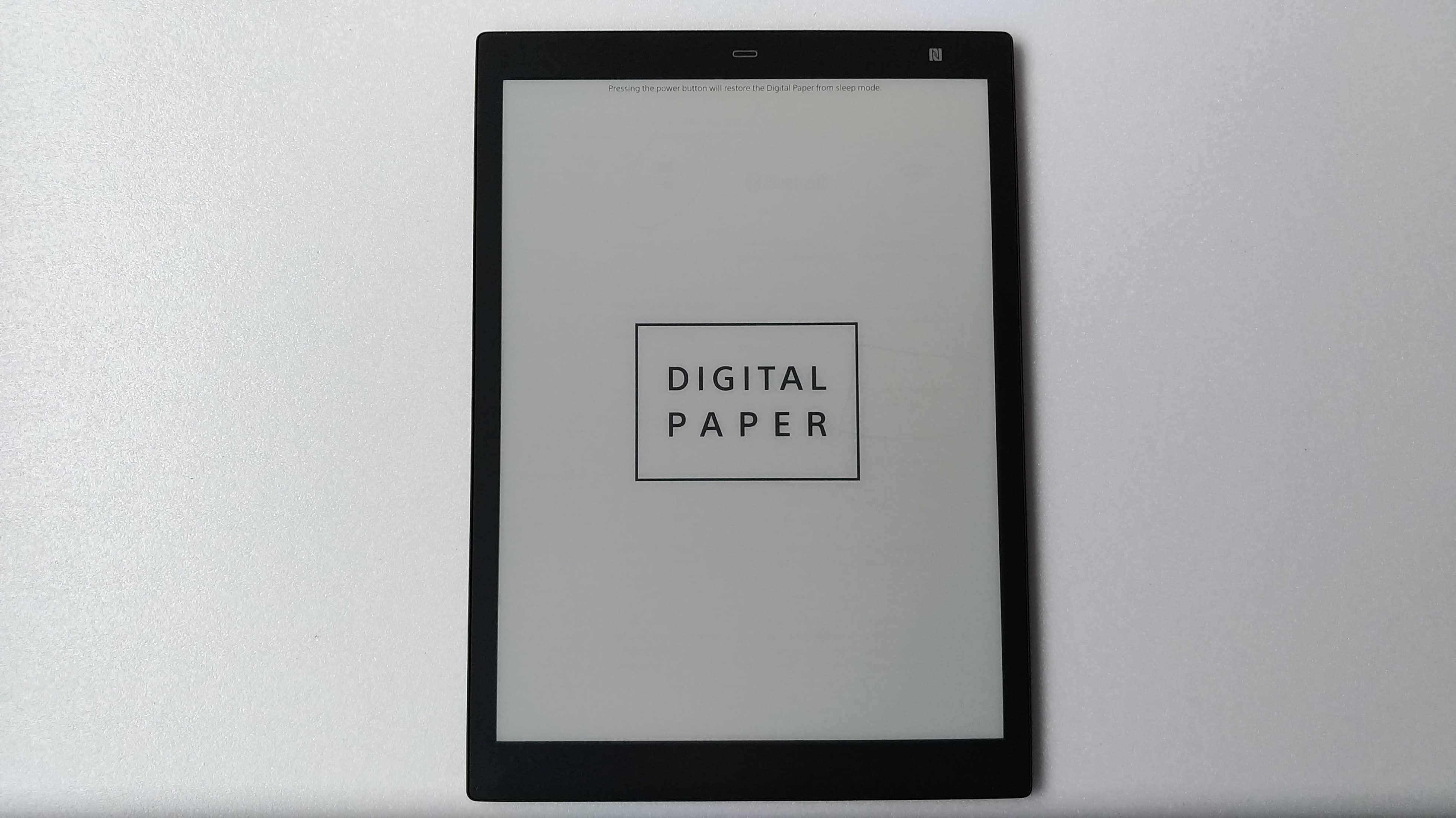 The DPT-RP1 has some limitations but it really opened up when I was reading textbooks, sheet music, or heavily graphical travel guides. It also made a big difference when I was looking at pages of notes and trying to absorb them—I could just read more notes at a time on the big screen than I could on a smaller e-reader.
Sony is entering a crowded market of 10.3 inch digital note takers and this model is not up to par with the others. The Remarkable pioneered the 10.3 category and their their drawing software has many advanced options. A few cool elements to the Remarkable are worth mentioning. The rotation tool allows you to rotate,​ ​move,​ ​scale​ ​and​ ​copy​ ​text​ ​or​ ​a​ ​drawn​ ​object. There is also a layering system, similar to Adobe Photoshop. You can have a maximum of six different layers that you can use to draw, shade, or highlight. Layering is great for doing things in the foreground and background. The erasing system is the most advanced I have ever seen. You can do the normal things such as clicking erase and gloss over any area that you want to delete lines or a series of text. You can also select the freehand tool to draw around a specific area you want to erase. Finally, you can simply delete everything on a specific layer.
The Remarkable also has a fully functional ebook reader app with the ability to read EPUB and has a number of options to optimize the reading experience.
The Sony is also competing against the Onyx Boox Note, which has better internal hardware and a better battery. The Onyx is running Android 6.0 and has the Google Play Store for downloading thousands of apps that are compatible with E ink. You can listen to audiobooks or music with wireless headphones, use an internet browser or read ebooks with Kindle. The Onyx stylus is also pressure sensitive, which makes it more intuitive for taking notes.
The DPT-CP1 retails for $599 and is only available in the United States and the 13.3 inch model is only $100 extra. The Good e-Reader Store has them in stock, but we charge extra. I would not recommend to buy the DPT-CP1 and instead buy the larger DPT-RP1 that came out last year. That model will at least read full sized paper.
Michael Kozlowski has been writing about audiobooks and e-readers for the past twelve years. His articles have been picked up by major and local news sources and websites such as the CBC, CNET, Engadget, Huffington Post and the New York Times. He Lives in Vancouver, British Columbia, Canada.