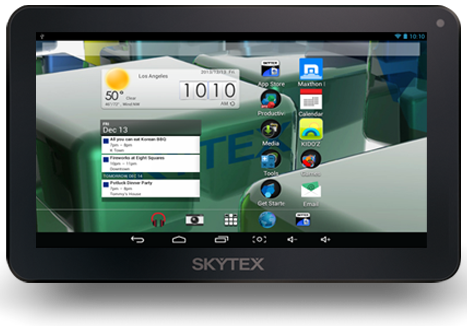 Welcome to another Good e-Reader Video Review. Today we are looking at the brand new Skytex Skypad SP727 Android tablet. How does it handle HD video, eBooks or top end games? We let you know exactly what to expect if you are thinking about buying this.
The SkyPad SP727 has seven inch display screen with a resolution of 1024 x 600. Underneath the hood is a Cortex-A9 1.3 GHz quad-core Processor, 1GB of RAM and 8GB Storage. You can elect to expand it up to 32 GB via the Micro SD if that is not enough for you.
Running on one of the latest Android operating systems, Android 4.2 Jelly Bean, the SP727 is equipped for you to surf the web, play apps, and read eBooks.
The Skytex Skypad definitely contends with the big boys of 2014. Skytex really goes out of their way to make app discovery both simple and plentiful. HDMI out, a corner mounted camera, and enough processing power to run any app or game available in today's market makes the Skytex Skypad SP727 a quick, affordable, robust little tablet.
Peter Carotenuto is a graduate of the Vancouver Film school and is extensively involved in the local Film Industry. He is an accomplished actor and has been in many of the Vancouver based movies and made for television shows. Peter is the head of the Good e-Reader media division and is responsible for all of our video editing and production. You can e-mail him at peter@shopereaders.com