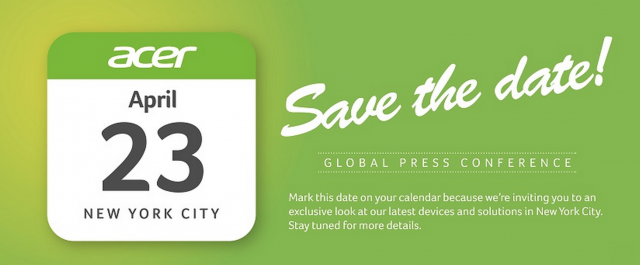 It's been a rather busy and exciting start to 2015, with the first few months seeing exciting news from high-profile events like CES, Mobile World Congress followed by a buzz-worthy launch courtesy of Apple. With that in mind, it seems a little strange to hear that Acer has scheduled a 'global press conference' in New York City for April 23 –not so much because they wouldn't have reason to do so, but it seems like rather advanced notice (perhaps an attempt to pull attention away from Apple and remind folks that 'hey, we are still here').
Either way, this much notice is bound to give people time to speculate as to what Acer has up their sleeves –but it needs to be good if they are going to compete.
Acer has already given us a look at two of their new products earlier this month at Mobile World Congress, taking the form of two entry-level Android-powered smartphones: Liquid Z220 and Liquid Z520.
For anybody looking at a really basic smartphone with a 4-inch screen, the Liquid Z220 seems a decent enough contender (especially at the projected $100 USD price). Oddly, the device is being marketed and reviewed as a good 'second cell' that could be taken on holiday or used at times when having an expensive device may not be wise –which kind of makes it sound a bit like something made of cardboard that is ultimately worthless and disposable.
The Liquid Z520 is a larger-format phablet-style smartphone at a bargain price (estimated at approximately $120 USD). Specs on the phone are remarkably blah, with the unit featuring: a 5-inch display with 800×480 pixels resolution, 1.3GHz Snapdragon 400 processor, 8-megapixel rear-facing camera with LED flash (and a 2-megapixel front-facing camera), 1GB of RAM, and 32 GB of on-board storage (which can be expanded using a microSD card).
Hopefully the event launches a few products that we can get a little more excited about –with some speculating there might be a few new Windows Phones in the mix.
Are there any Acer rumours out there that any of you are excited about?
Jillian Koskie is an experienced software developer, content writer, project manager and usability design expert. With over 17 years in these roles, Jillian has enjoyed applying her skill-set to assist clients and users across a wide variety of sectors including: legal, health, and financial services. Combining these professional opportunities with a love of technology, Jillian is pleased to contribute articles, opinions, and advice to numerous news outlets, websites, and publications.