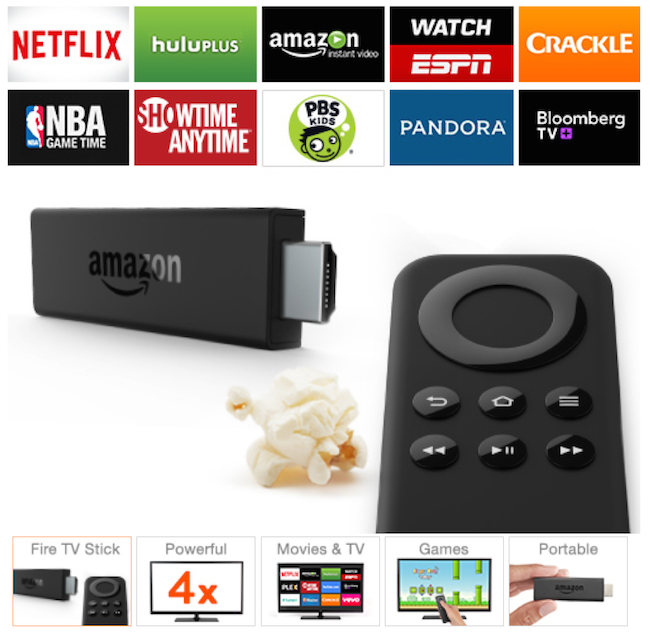 It looks like Apple isn't the only one bracing for the impact Chromecast will have on the way we watch TV, Amazon has released their Fire TV Stick as a viable contender. Built using powerful hardware (a dual-core processor, 1GB of RAM, 8GB of storage, dual-band, and dual-antenna Wi-Fi with MIMO), the Fire TV Stick boasts Amazon's award-winning user interface accessible by the included remote control (or "you can use your phone as a remote with the free mobile app that includes voice search").
Beyond just being easy to use (plug it in and you're basically ready to stream in a matter of moments as it arrives pre-registered), the Amazon Fire TV Stick is content rich:
"[Giving you access to a] vast selection of the most popular video and music services, including Netflix, Prime Instant Video, Hulu Plus, WatchESPN, NBA Game Time, Prime Music, Pandora, Spotify, and more for instant access to shows like Transparent, House of Cards, Orange is the New Black, Game of Thrones, and The Wire—plus the largest selection of movies and TV episodes to rent or buy from Amazon Instant Video."
Like the Chromecast, you can fling or mirror content directly from your smartphone or tablet to the Fire TV Stick as well.
If you are now curious enough to give the Fire TV Stick a try, it will be available for sale on November 19th and can be pre-ordered now for $39 USD. Lucky Amazon Prime members ordering before 6:00 a.m. (PT) on October 29, 2014 will receive a significant discount and only have to pay $19 USD. As an added benefit, eligible customers will also enjoy free trial periods with Neflix and Amazon Prime with their purchase of a Fire TV Stick.
Jillian Koskie is an experienced software developer, content writer, project manager and usability design expert. With over 17 years in these roles, Jillian has enjoyed applying her skill-set to assist clients and users across a wide variety of sectors including: legal, health, and financial services. Combining these professional opportunities with a love of technology, Jillian is pleased to contribute articles, opinions, and advice to numerous news outlets, websites, and publications.