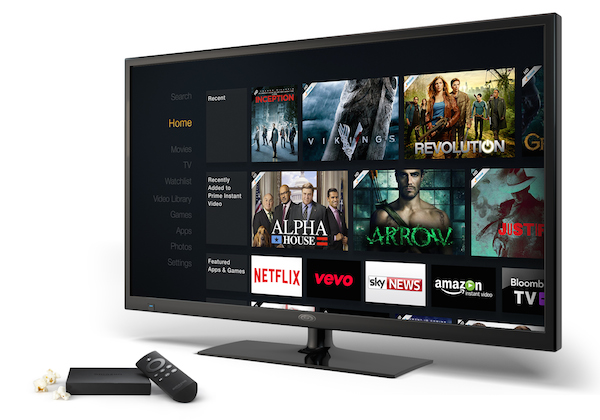 Consumers have been enjoying Amazon Fire TV in the US since the launch in April of this year, but now the device is also available to those waiting eagerly in the UK. Plugging the small Fire TV box into your HDTV allows for you to instantly enjoy access to services like: Netflix, Prime Instant Video, Demand 5, Spotify, Sky News, Curzon Home Cinema, YouTube, as well as low-cost video rentals (not to mention giving you the ability to share your photographs, music and games to anybody in view of the set).
Initial reviews of the Fire TV are positive, with most users ranking the device higher than Apple TV and Chromecast (particularly as it applies to speed and playback fluidity –helping you enjoy 1080p HD video and Dolby Digital Plus surround sound). Even if you ignore that the price is right, there are plenty of reasons to choose the device, including: voice search functionality that actually works (just speak the name of a movie, TV show, actor, director or genre to get started watching your next favourite), hundreds of low-cost games (with titles like Minecraft and the Walking Dead) that can be played using the Amazon Fire Game Controller that is available separately, X-Ray for movies and television shows (telling you everything you wanted to know and more about the on-screen cast and crew), and seamless integration with Amazon's Cloud Drive.
If you happen to be reading this from the UK and want to give Amazon Fire TV a try, now is the time –the hardware is available for the next four days at a bargain €49 directly from Amazon (with the price hiking up to €79 after this initial offer).
Jillian Koskie is an experienced software developer, content writer, project manager and usability design expert. With over 17 years in these roles, Jillian has enjoyed applying her skill-set to assist clients and users across a wide variety of sectors including: legal, health, and financial services. Combining these professional opportunities with a love of technology, Jillian is pleased to contribute articles, opinions, and advice to numerous news outlets, websites, and publications.