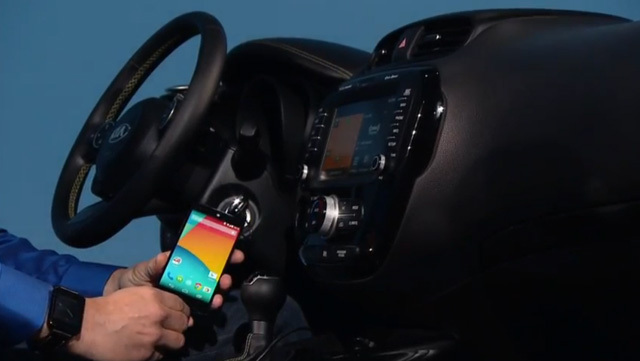 We pretty much knew it had to be coming, but now it's okay to be excited: Google has officially launched their rival to Apple's CarPlay with their own Android Auto! Serving as a redesigned car-specific interface for Android, the software is contextually aware so it knows the moment you enter your car and then presents you with a simplified (read: less distractions) version of your mobile device.
A demo at Google's annual I/O conference this morning shows us how the interface can be mirrored onto a touchscreen in your vehicle's dashboard (which has a certain cool factor that is awfully hard to compete with), that can then be accessed by the user using fingertip or voice commands. But what can it do? Everything you want while on the go: access Google Maps Navigation, control your music, search your contacts, listen to incoming text and email messages (as well as reply using voice dictation), or take things a step further by locating the nearest gas station or coffee shop.
Developers should be excited, because the Android Auto SDK will make it possible for third-party apps to participate in the Android Auto experience –my mind immediately moves toward make-specific features for your vehicle being very easy to control with your voice (instead of the 10 minute search through my car's menus to try and remember just how I faded the speakers toward the back or programmed in satellite radio stations).
With over 40 automakers already on-board to support Android Auto as part of the Open Automotive Alliance, you can expect most vehicles will be supporting this new technology that is set to be released to the public later this year.
Jillian Koskie is an experienced software developer, content writer, project manager and usability design expert. With over 17 years in these roles, Jillian has enjoyed applying her skill-set to assist clients and users across a wide variety of sectors including: legal, health, and financial services. Combining these professional opportunities with a love of technology, Jillian is pleased to contribute articles, opinions, and advice to numerous news outlets, websites, and publications.