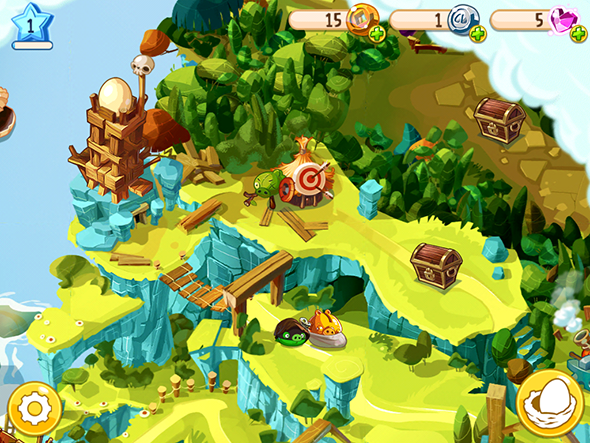 Rovio took a departure from the standard Angry Birds formula with the advent of Angry Birds GO! The game was basically done in a similar vein as Mario Cart, but did not see the critical success of the standard slingshot mechanics. Angry Birds Epic has hit Android and it deviates further with an RPG experience.
The story begins with a unique twist to the quintessential Angry Birds formula, with the pigs stealing your eggs. Well actually, this has been a mainstay plot device employed on every single game they ever made. You start off as the Red Bird and are introduced to the gameplay mechanics. Eventually, you will unlock extra birds, such as Chuck (the yellow dude), and Bomb. All birds have their own unique attacks and abilities – Chuck, for example, can attack all enemies at once with a lightning strike, while Red unleashes a heavy blow at a single opponent. Same goes for the enemies – different pigs have different strengths and weaknesses, which you can actually view during battle.
The difficulty of the game soars higher than the mighty eagle in short order. You will need to loot and craft equipment and weapons, which actually all look different on each bird you outfit. There is also plenty of stat boosts you can purchase via microtransactions. It all feels mostly contrived and is an obvious money grab. See the rest of our review in the video below.
Download Angry Birds Epic for Android for free from the Good e-Reader App Store.
Peter Carotenuto is a graduate of the Vancouver Film school and is extensively involved in the local Film Industry. He is an accomplished actor and has been in many of the Vancouver based movies and made for television shows. Peter is the head of the Good e-Reader media division and is responsible for all of our video editing and production. You can e-mail him at peter@shopereaders.com