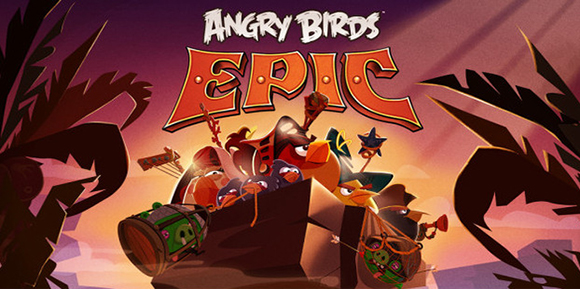 Life is filled with certain truths and inevitability: the nicest thing about the future is that it always starts tomorrow… and at some point, every human being with a smartphone or tablet will become addicted to Angry Birds. Now consider for a moment what would happen if you combine the fun of an RPG adventure game with the bird-tastic awesomeness of the Angry Birds franchise? Sufficed to say, it would be EPIC.
We all know these birds can fly, but can they do battle? Armed with hilarious weapons like a frying pan or a "stick thingy with a sponge on top", you will be charged with leading a heroic flock of feathery familiars (like Red, Chuck, and Bomb) into turn-based combat scenarios across grand worlds (like a fantasy Piggy Island complete with tribal villages, frosty mountains, tropical beaches, and mysterious caves). The more you succeed, the higher your characters level up and the more armor, weapons, and potions become available to defeat King Pig, Wiz Pig, Prince Porky, and more!
The game is shockingly free, though you will be subjected to a little paid commercial content from select partners; seems a small price to pay for the quirky and offbeat humor that Angry Birds offers and we all fall so easily in love with.
Download Angry Birds Epic! from the Good e-Reader App Store for FREE.

Jillian Koskie is an experienced software developer, content writer, project manager and usability design expert. With over 17 years in these roles, Jillian has enjoyed applying her skill-set to assist clients and users across a wide variety of sectors including: legal, health, and financial services. Combining these professional opportunities with a love of technology, Jillian is pleased to contribute articles, opinions, and advice to numerous news outlets, websites, and publications.