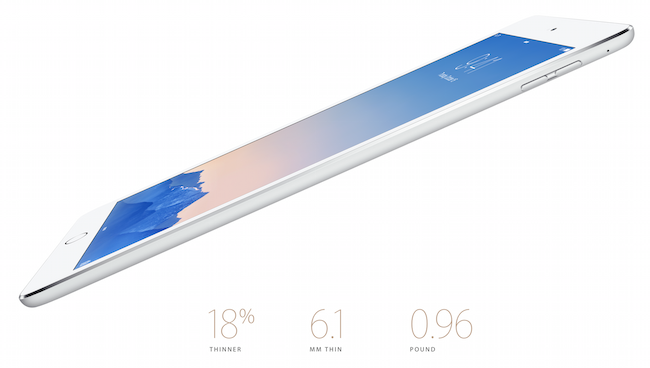 It was a lot of 'yeah, yeah, we were expecting that' at the Apple Event today… leaving many of us to wonder why they didn't just do a soft launch. Brand-loyal Apple fans will be glad to see that the iPad Air 2 is a little thinner (at 6.1mm) and finally features the fingerprint ID sensor that has been present in the last 2 iterations of the iPhone.
Other updates for the iPad Air include a faster processor, more advanced wireless connectivity, better camera (with a new 8 megapixel sensor that captures images in 3264-by-2448 native resolution and continues to take 1080p HD video), and an anti-reflective coating for the screen (which they claim makes it 56 per cent less reflective). If this addition works as well as it appears, this might strike a fairly mighty blow against popular eReaders whose main benefit has included being able to be used in direct sunlight.
If it seems like I have forgotten about the iPad Mini 3, I wasn't the first –Apple really had very little to say about their smaller-format tablet, other than to tell us that it also has the fingerprint ID sensor.
Proof positive that the upgrades for iPads being mainly cosmetic is reflected by the addition of a gold colour option (mirroring the iPhone choices) and brighter Smart Cases to match. While both certainly add curb appeal, it won't go unnoticed that these were some of the biggest announcements today.
For those looking to grab an iPad Air 2, be prepared to hand over $499 USD for the 16GB Wi-Fi model (with a jump to $599 USD for 64GB, and $699 USD for 128GB). For those looking to add Cellular capabilities, the prices start at $629 USD for the 16GB model.
If your sights are set more on the iPad Mini 3, the price tag is a little more affordable at $399 USD for 16GB of storage (moving to $499 for 64GB, and $599 for 128GB). Cellular capability is available for this device as well, with an entry level cost of $529 USD for the 16GB tablet.
All in all, Apple's news today was underwhelming. It might be true that the iPads didn't need much in the way of updates, and I am delighted that every Apple smartphone and tablet now features the incredibly handy fingerprint sensor, but it all seems a little out of the ordinary. It might strike some as a little bit of a 'conspiracy theory', but if I were a betting woman I'd say that Apple just wanted to make sure they had some stage time and a few news cycles to (try and) keep their mobile devices front and centre following Google's Nexus announcements earlier this week.
Is anybody else frustrated that the entry level iPad storage remains at 16GB, with a 32GB model distinctly and noticeably absent?
Jillian Koskie is an experienced software developer, content writer, project manager and usability design expert. With over 17 years in these roles, Jillian has enjoyed applying her skill-set to assist clients and users across a wide variety of sectors including: legal, health, and financial services. Combining these professional opportunities with a love of technology, Jillian is pleased to contribute articles, opinions, and advice to numerous news outlets, websites, and publications.