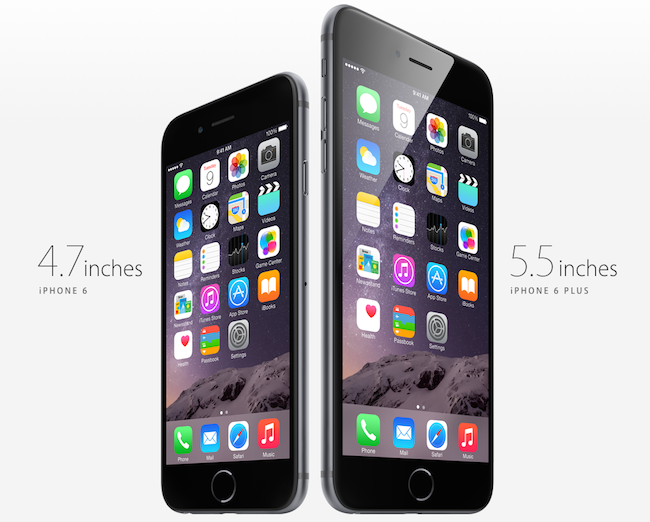 And so begins the longest 10 days of my life (at least so far this month).
Bringing an end to dueling industry expectations, Apple has announced the release of two new versions of the iPhone: the 4.7-inch iPhone 6, and the 5.5-inch iPhone 6 Plus. The screen size may be dimensionally larger, but both models are delightfully thinner than previous versions of the iPhone (coming in at 6.9mm and 7.1mm respectively).
So what else is new? Let's review.
Exterior
Aside from being bigger, yet thinner, the new iPhone remains enclosed in aluminum with the cover glass curving down slightly around the sides (with no gaps) –Apple promises that this design will give the illusion of a single, continuous surface.
The buttons on the phone have been redesigned: the sleep/wake button has been relocated to the side of the device and the volume buttons have been elongated, making all three even easier to use.
As with the iPhone 5S, the latest iteration is available in three colours (gold, silver, and space gray).
Display
Promising higher-resolutions, the iPhone 6 and 6 Plus will deliver higher contrast, dial-domain pixels that offer more accurate colour at wider viewing angles. The iPhone 6 enjoys a resolution of 1334×750 and 326PPI, while the larger iPhone 6 Plus flaunts an impressive 1920×1080 and 401PPI.
For those who have squinted and head-tilted at their iPhone screen while wearing sunglasses, the good news is that an improved polarizer should make this behaviour into a thing of the past.
The most compelling reason to consider moving to the larger iPhone 6 Plus is the added functionality in landscape mode, including a more iPad-like keyboard.
Technology
Of course it's faster (featuring an all-new A8 chip), but the battery is about the same as in previous models. Apple promises that the iPhone 6 makes better use of the battery life, but until I try it for myself I won't believe the claims.
Also featured were the new barometer (sensing air pressure in an effort to determine your relative elevation, letting your smartphone measure hills and stairs climbed), updated accelerometer (that will more accurately measure your movement, including the ability calibrate for your running stride), and a gyroscope that can tell when you're on the move instead of remaining stationary.
For those of you concerned about download and upload speeds, the iPhone 6 has faster LTE –up to 150Mbps. The new smartphone also supports Voice over LTE, offering high-quality calls with clear and crisp sound. Not to be left behind, WiFi is also 3x faster now using 802.11n.
Camera
Without going into too much detail, it is safe to say that the cameras on the iPhone 6 (both front and back) are improved, with improved sensors for Focus Pixels, face detection, and exposure control. Also updated are the video camera functions, with better video stabilization and increased fps.
Software
Both versions of the iPhone will ship with iOS 8; seeing the two paired together in demos at the event today makes it abundantly clear they were designed in tandem.
Capacity and Price
iPhone 6*: 16GB ($199), 64GB ($299), 128GB ($399)
iPhone 6 Plus**: 16GB ($299), 64GB ($399), 128GB ($499)
*/**: All prices assume purchase is being made along with a 2-year contract
Pre-order for the iPhone 6 and 6 Plus will begin on Friday, September 12 –with initial shipments arriving the following Friday, September 19. There is no word yet regarding how limited the supply of phones will be, but is does appear that indiviual carriers will also offer pre-order options.
Jillian Koskie is an experienced software developer, content writer, project manager and usability design expert. With over 17 years in these roles, Jillian has enjoyed applying her skill-set to assist clients and users across a wide variety of sectors including: legal, health, and financial services. Combining these professional opportunities with a love of technology, Jillian is pleased to contribute articles, opinions, and advice to numerous news outlets, websites, and publications.