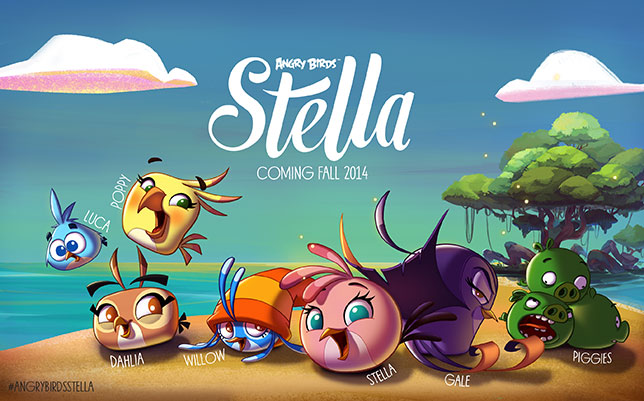 Meet Stella, the fiercest and feistiest of the Angry Birds (and quite possibly the prettiest). Together with her closest friends: Dahlia, Poppy, Willow, and Luca, she will battle her used-to-be BFF, Gale –the Bad Princess who now has Minion Pigs at her disposal! Set on Golden Island in the Big Tree, Stella joins a long list of Angry Birds-themed games (with my favourite so far being Angry Birds Star Wars).
With a starring cast full of female protagonists, Angry Birds Stella looks to be a colourful and charismatic addition to the franchise. Gameplay should be familiar, with the requisite slingshot weaponry pitting good guys against dopey hog servants –which is just what we find comforting (and entertaining).
Angry Birds Stella will be available this upcoming September 4, 2014, but for those of you near to a Barnes and Noble, you can give the game a test-drive on one of their in-store Samsung Galaxy Tab 4 Nook tablets beginning this Friday, August 29, 2014. Moves like this might be what keep brick and mortar style stores alive in this growing eCommerce age, with consumers looking for compelling reasons to actually step foot on a retail floor.
Jillian Koskie is an experienced software developer, content writer, project manager and usability design expert. With over 17 years in these roles, Jillian has enjoyed applying her skill-set to assist clients and users across a wide variety of sectors including: legal, health, and financial services. Combining these professional opportunities with a love of technology, Jillian is pleased to contribute articles, opinions, and advice to numerous news outlets, websites, and publications.