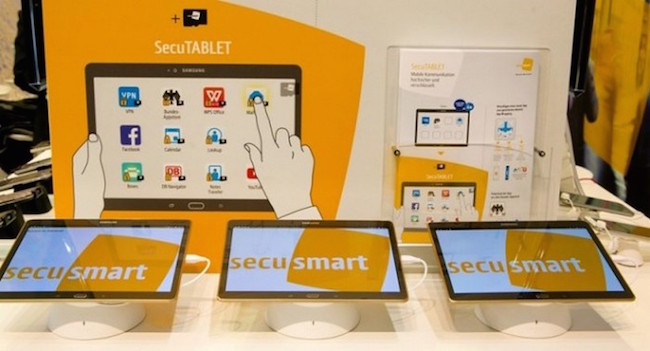 Proving once again to be resilient and surprising, BlackBerry is giving tablets another shot (but not to worry, it isn't anything like the PlayBook). Based on a modified version of the 10″ Galaxy Tab S by Samsung, BlackBerry's new SecuTablet is taking aim at the security-conscious corporate and government sectors.
Cosmetically the tablet looks pretty much like a standard-issue 10″ Galaxy Tab S, but the inside is filled with goodies from security firm Secusmart (acquired by BlackBerry last year) combined with software built in partnership with IBM. Using a complex system of voice and data encryption (by way of a built-in Secusmart Security Card), the SecuTablet intends to protect any and all sensitive data the device contains.
Hopefully it does a truly amazing job, because the SecuTablet doesn't come cheap –sporting a gasp-worthy $2,380 USD price-tag.
The good news is that the SecuTablet isn't all work with no play; standard issue entertainment apps (like YouTube, Facebook, and Twitter) can be installed and enjoyed. It is in this arena where IBM's contribution really shines: their software isolates the data and processes from these seemingly less secure apps. Ensuring the SecuTablet can run these fluffier, personal apps may seem unimportant –but these little touches will go a long way toward making it more appealing for executives not eager to carry multiple devices.
If any mobile manufacturer can take a run at dominating corporate tablet marketshare, BlackBerry should be able to. Even though their previous attempts with the PlayBook were short-lived and poorly received, BlackBerry has long-been trusted by organizations with strict security mandates (which is a relationship that matters far more than cost).
Obviously the average mobile consumer won't be that interested in a SecuTablet, but if the device sees any measure of success it will go a long way to maintain the BlackBerry stronghold in industries such as government (and work hard to keep the brand relevant moving forward).
Jillian Koskie is an experienced software developer, content writer, project manager and usability design expert. With over 17 years in these roles, Jillian has enjoyed applying her skill-set to assist clients and users across a wide variety of sectors including: legal, health, and financial services. Combining these professional opportunities with a love of technology, Jillian is pleased to contribute articles, opinions, and advice to numerous news outlets, websites, and publications.