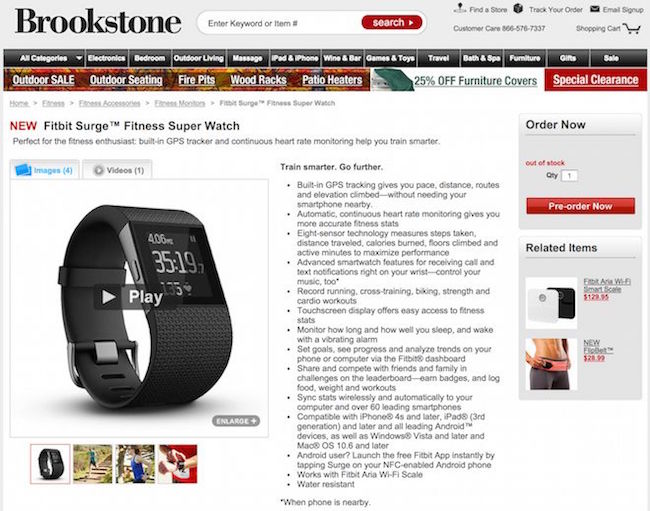 Fitbit hasn't even made their official announcement launching their upcoming wearable, but Brookstone went ahead and started offering pre-orders for the much-anticipated Surge watch… though the page is now unavailable. Often regarded as the king of the fitness-related wearables market, Fitbit's updated entry in this category could be a meaningful contender.
During the time Brookstone had their page active, we were able to get a glimpse into what this device is going to look like –inside, and out. While the main question answered indicates this is indeed a fitness device and not a true smartwatch, a touchscreen display (that tilts up slightly toward you, making it very easy to see) and additional functionality helps it to actually fall somewhere in the middle. A lot of technology is now built-in, like the 8-sensors (for steps taken, distance traveled, calories burned, floors climbed, and active minutes) along with with a GPS to make those details more accurate without the need for a smartphone nearby.
Athletes will love the automatic, continuous heart rate monitor and the ability to record workouts as they happen.
Geeks will appreciate that a few smartwatch features are included, allowing for call and text notifications while also being able to control your music.
Most importantly (and even better than being water resistant and lasting a full 7-days on a single charge), the device syncs wirelessly and is compatible with iOS, Android, Windows and Mac OS (plus with Aria Wi-Fi scale).
With an anticipated price-tag of $249 USD, it's on the expensive side of fitness trackers. It may be seen as worthwhile for those interested in a little more functionality than existing pedometer type trackers can offer, without making the more sizeable jump into a full Android wearable or the upcoming Apple Watch.
Jillian Koskie is an experienced software developer, content writer, project manager and usability design expert. With over 17 years in these roles, Jillian has enjoyed applying her skill-set to assist clients and users across a wide variety of sectors including: legal, health, and financial services. Combining these professional opportunities with a love of technology, Jillian is pleased to contribute articles, opinions, and advice to numerous news outlets, websites, and publications.