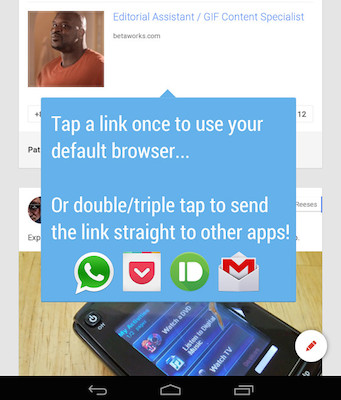 Every so often there is an app released that eases a pain-point you didn't even really realize you had, and TapPath is the perfect example. Created by developer Chris Lacy, TapPath gives you the opportunity to customize the behaviour of web links inside 3rd party apps.
Once you have TapPath installed, you can route links using the number of taps: once to open in your default (likely Chrome), twice to open in another app (such as Twitter for quick and easy sharing), and three times to bring up the app selector that will allow you to choose from any of your available apps.
You may need to adjust the tap delay in your settings, but otherwise it really is that simple.
Dying to give it a try? Download TapPath for $0.99 CAD now.
Jillian Koskie is an experienced software developer, content writer, project manager and usability design expert. With over 17 years in these roles, Jillian has enjoyed applying her skill-set to assist clients and users across a wide variety of sectors including: legal, health, and financial services. Combining these professional opportunities with a love of technology, Jillian is pleased to contribute articles, opinions, and advice to numerous news outlets, websites, and publications.