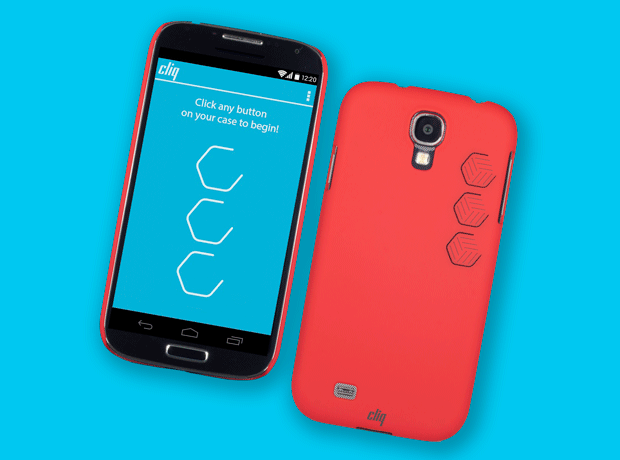 There are millions of case options out there, though arguably so many more for iPhone than for any single Android device… but a case like Cliq is actually more than an accessory, it's quite possibly a -reason- to get one of the phones they support. Currently a Kickstarter project waiting for full funding (approaching 50% of their $40,000 goal required by their June 18, 2014 deadline), Cliq is a touch sensitive case that "shortcuts almost anything on your phone from a dedicated camera button to full music control."
Consider the potential of a case that adds 3 additional, customizable, button controls to your smartphone.
While the developers are quick to suggest the case could save you precious time (but putting frequently used features literally at the tip of your fingers), and love boasting that it requires no charging and is ergonomic, consumers should be excited by the possibilities –what features inside your phone do you wish there was a shortcut to? Want to call or send a pre-written text to anybody in your contact list? Done. Want to control music inside any app on your phone? Done.
It may be more accurate to describe Cliq as an accessory for your apps more than it is an accessory for your phone!
Assuming their funding goal is reached, the first round of cases is expected to ship in 7 colour options by August of this year.

Jillian Koskie is an experienced software developer, content writer, project manager and usability design expert. With over 17 years in these roles, Jillian has enjoyed applying her skill-set to assist clients and users across a wide variety of sectors including: legal, health, and financial services. Combining these professional opportunities with a love of technology, Jillian is pleased to contribute articles, opinions, and advice to numerous news outlets, websites, and publications.