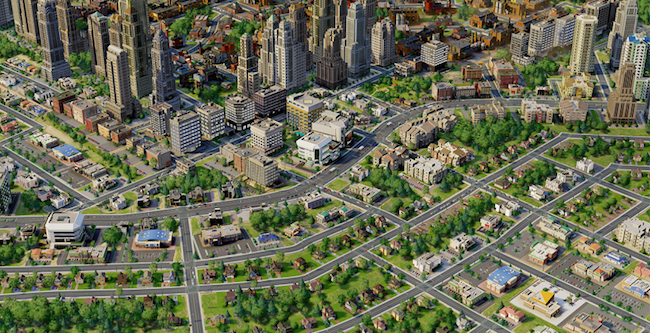 Sometimes it is a good thing that details are forgotten over time. For me, this includes a tally of the total hours spent playing SimCity since the original version of the game was released in 1987. I had certainly played my fair share of games before then, but this one was different. Until then, games didn't make an effort to be authentically 'ongoing'. Every other game could be beaten. Every other game ended. Every other game waited patiently for your next move or response. Time passed for the residents of SimCity in much the same way it does in real life, and with it came change (and progress, good and bad). It may be hard for younger generations to understand how that felt for us as gamers then, because simulated reality is just a given now; but for those of us growing up in the 70's and 80's, it was basically magic. And now it's over. EA has announced the closure of the Maxis development house in Emeryville, CA originally responsible for SimCity.
News of the closure came as a surprise, but it was inevitable. EA has closed historically significant development studios in the past when they have failed to produce, and this Maxis location never seemed to find another slam dunk in offshoot titles like SimAnt and SimCopter.
SimCity and Sims are iconic titles, and they will carry on without Maxis (in sequel'ed perpetuity), but it doesn't much matter because they aren't the same anymore. They are flashy and streamlined, and just like hundreds of other apps out there.
I am well aware how dramatic and cheesy it is to declare it to be the end of an era, but this announcement does carry a hefty amount of nostalgia. My children live in a world where video games are inextricably embedded into pop culture: a new movie means a corresponding app, a new toy will be the star of a game before it has ever seen a retail shelf. Not only that, these games are relatively cheap (or free) and can be carried in the palms of their hands. They can download them moments after a friend recommends them.
That isn't all that has changed. People have a much clearer view of where technology is headed these days: there is an understanding that it will all get faster, stronger, and more affordable. Flash back almost 30 years, and I can tell you that my peers and I had no idea. There was no Internet, no bloggers waxing poetic, and no emails to read. You read the news that was delivered physically to your front door. If you were lucky, your TV got a few more than 3 channels and there were a couple of cartoons to watch on Saturday mornings. So with that in mind, understand that when I got my hands on SimCity, it meant something to me. It was maybe even a little inspiring (I did become a software developer some time later after all).
SimCity was successful at a time when we didn't have tablets filled with hundreds of apps, downloaded for free (or nearly free) and ready to play with a single tap. Video games were expensive, and playing a new release often meant costly upgrades to your hardware as well. Would you still play half the games you enjoy if they each set you back over $80 dollars?
If you've never played SimCity, this is where I lose you… but for the benefit of those who would like to reminisce along side me, it entertains me to admit that these sorts of thoughts still go through my head as I move through life on any given day:
Oh look at that, a park –that will make the people near-by a lot happier!
This is a strange route for traffic to take, if they routed this street over one more block things would flow a whole lot faster!
Wow, this residential area is entirely too close to that commercial district!
There is a lot of land here unsuitable for residential development because of those power lines and how expensive it would be to properly excavate, this would be a great place to drop a little block of industrial space!
With this many blocks of residential, and 'x' amount of citizens per block on average (for light-density housing), there really should be a second police station and fire department somewhere close!
RIP Emeryville Maxis, rest assured you did good work.
Jillian Koskie is an experienced software developer, content writer, project manager and usability design expert. With over 17 years in these roles, Jillian has enjoyed applying her skill-set to assist clients and users across a wide variety of sectors including: legal, health, and financial services. Combining these professional opportunities with a love of technology, Jillian is pleased to contribute articles, opinions, and advice to numerous news outlets, websites, and publications.