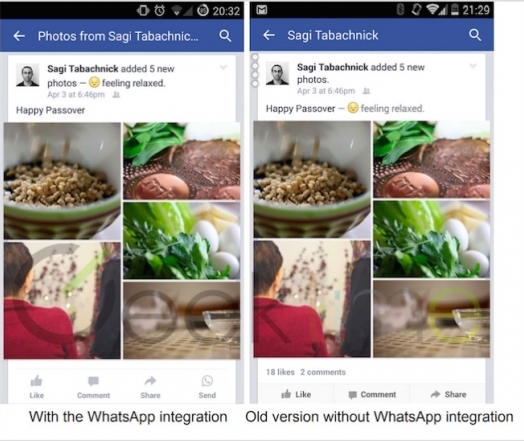 First, Facebook purchased WhatsApp (in 2014 for a mere $19 billion USD). Second, Facebook introduces voice calling into the app. Third, Facebook adds full-on integration of WhatsApp mobile messaging service into their signature social media app.
Loosely translated, this means beta users of the newly integrated Facebook app can use a dedicated 'send' button to share messages and news items with anybody in their WhatsApp contact list.
It should be safe to assume that this is just the beginning of what Facebook has planned for WhatsApp (otherwise, that was a lot of money spent on nothing) –especially when it primarily competes with their Messenger app that is already in play.
If you have been living under a rock and haven't yet installed the Facebook for Android app on your phone, you should grab it now and join the rest of us.