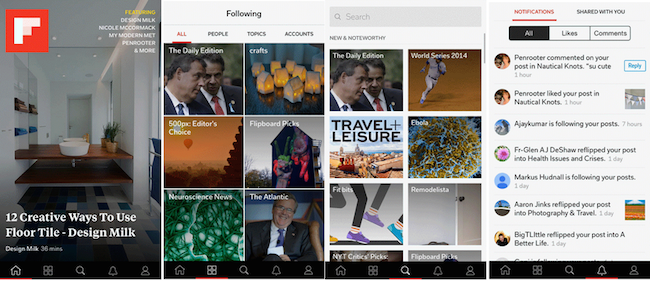 Flipboard describes itself as being your personal magazine, and that is about as an accurate a picture as they could paint. From the first moment you download the app, there is little question that it is refined and a joy to use –and with a complete redesign and a generous helping of updates, this is even more true now.
By choosing the categories and then the stories within them that you most enjoy, a personal magazine is crafted –from there you can flip through your news in a way that feels very visual and enjoyable. Thanks to the latest round of changes, there are over 30,000 new topics to follow.
If you aren't sure where to begin, take a stroll through the Daily Edition, featuring articles (complete with breaking news and an accompanying audio track) hand-picked by the Flipboard team each morning by 7 AM.
Content isn't the only one way that Flipboard has been enhanced. A complete graphic redesign is also ready to be enjoyed, the focus of which being a new top tab bar that allows you to quickly navigate around Flipboard (between those you are following, search, notifications and your profile).
If you still need to try Flipboard: Your News Magazine, download it now and see what you have been missing.
Jillian Koskie is an experienced software developer, content writer, project manager and usability design expert. With over 17 years in these roles, Jillian has enjoyed applying her skill-set to assist clients and users across a wide variety of sectors including: legal, health, and financial services. Combining these professional opportunities with a love of technology, Jillian is pleased to contribute articles, opinions, and advice to numerous news outlets, websites, and publications.