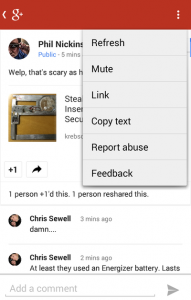 By a show of hands, how many of you have been in the middle of a conversation with somebody and wished desperately that you could just silence them and walk away? It may be entirely too rude to do that in a conversation taking place in-person, but Google+ has given you the power to do it in their conversation threads. Now with a single click, the flood of notifications telling you that there is activity on a post will stop… and you can let your blood pressure return to normal.
The mute button works on individual people or on specific posts –meaning that person who posts things that constantly rub you the wrong way, will all but vanish! Comment on something without fear, knowing that even though it is a popular topic, you won't be afraid to check your phone for the rest of the day. Of course, the best part is that muting the conversation doesn't make it go away –you can always find your way back in, and people will have no idea you were ever gone.
To mute a person, view their profile page and hit the settings button. From there, you click mute and all is well.
To mute a post, bring it up on your screen and click the overflow button that appears in the top-right corner. Mute is found in this menu, click it and silence is golden!
Jillian Koskie is an experienced software developer, content writer, project manager and usability design expert. With over 17 years in these roles, Jillian has enjoyed applying her skill-set to assist clients and users across a wide variety of sectors including: legal, health, and financial services. Combining these professional opportunities with a love of technology, Jillian is pleased to contribute articles, opinions, and advice to numerous news outlets, websites, and publications.