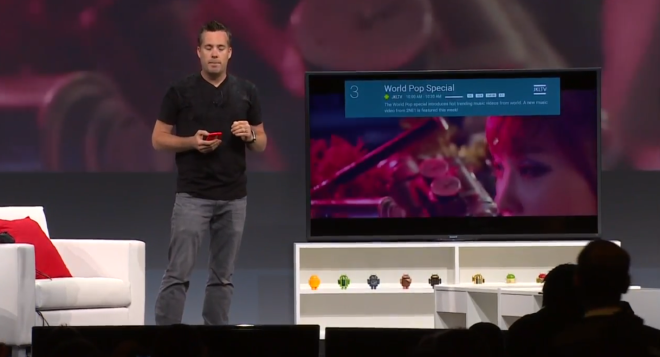 Anybody who is surprised that Google launched Android TV, raise your hands… even considering the fact that I can't see any of you, I feel safe in assuming that no hands were just raised. In the least surprising (but exciting all the same) news coming out of Google I/O this morning, Android TV is a really real reality. Google has been in this place before with a flopped attempt at a set top box, but Android TV is supposed to be different (and it has to be, when you consider Apple, Amazon, and Roku have worthy competitors in this arena).
Designed to function as an entertainment hub in your home, the largest way Android TV differs from those it seeks to dominate is that it isn't actually an additional piece of hardware. There is nothing to plug in, but rather it will be released as a software system to run as a third-party OEM on smart TV's. While this move may seem unwise, when buying a $100 piece of plastic means not having to replace your television, Android TV will also be able to run on set-top boxes made by third party manufacturers like Asus later this year.
Content delivery is exactly what you would expect: streaming movies and TV shows all being controlled by mobile phones and tablets –and of course, developers will have all manner of opportunities to create apps using the Android tool-set to extend the technology. Most exciting to me is the implementation of full Chromecast support, which means users can beam content from device to device (finally a proper rival for Apple's AirPlay).
At this early stage, little is known about what any of this will cost us –but it is safe to say that Android TV has my attention.
Jillian Koskie is an experienced software developer, content writer, project manager and usability design expert. With over 17 years in these roles, Jillian has enjoyed applying her skill-set to assist clients and users across a wide variety of sectors including: legal, health, and financial services. Combining these professional opportunities with a love of technology, Jillian is pleased to contribute articles, opinions, and advice to numerous news outlets, websites, and publications.