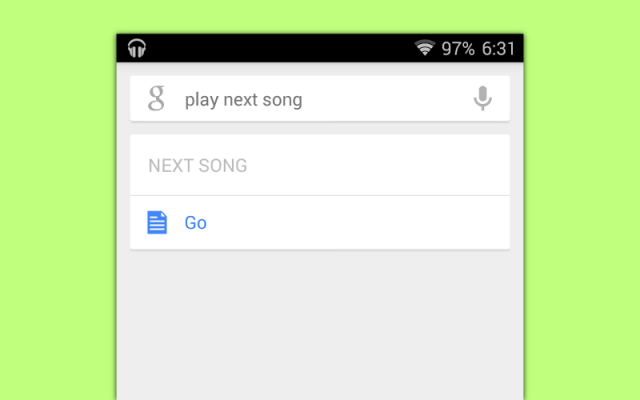 One huge complaint against Google Now has been the lack of voice control support for using key features: especially playback for music apps like Google Play Music or podcast apps. Luckily for us, our wish is Google's command –limited support has been added that allows you to stop and play music (using phrases like: "Okay Google stop music" and "Okay Google resume music") as well as moving forward and backward through your playlists.
The limitation (and strength) is that this new feature works in any audio-enabled app… so if you were last listening to a podcast, that's what will resume. It would be awfully nice if you could somehow specify the details for what you'd like played (though as a first-draft of the new feature, we'll take it!).
Some Android users are already lucky enough to be using these new voice controls, give it a whirl to see if you are among them: start playing music and start issuing commands. Worst case scenario, you will see a note saying that the action is not supported along with a voice message that indicates "Controlling media is not supported on this device."
In the land of wearables and hands-free functionality being needed in cars, voice commands are becoming increasingly trendy (and important, and safe).
Jillian Koskie is an experienced software developer, content writer, project manager and usability design expert. With over 17 years in these roles, Jillian has enjoyed applying her skill-set to assist clients and users across a wide variety of sectors including: legal, health, and financial services. Combining these professional opportunities with a love of technology, Jillian is pleased to contribute articles, opinions, and advice to numerous news outlets, websites, and publications.